Photos and Documents courtesy of Dennis Cardy - son of Roy Cardy, grandson of William Cardy
Ships served in:
(1) Roy Cardy (2) Sailors digging a slit trench, Comox, BC. Roy Cardy, 1st on left. (3) Bank of Kodiak, Alaska - souvenir from HMCS Prince Roberts tour during the Aleutian campaign (4) Russian Church, Kodiak, Alaska - This photo is of the Holy Resurrection Orthodox Church, Kodiak, Alaska, circa 1942. The church burned down in 1943 and was rebuilt (for the 4th time) in 1945 (5) HMS Polyanthus K47 (6) HMS Witch I89 (7) Limey destroyer at St. John's, NFLD, X-Mas 1944 (8) HMS Caldwell I20 (former USS Hale), St. John's, NFLD - HMS Caldwell was commissioned in the RN on 09 Sep 1940. Paid off before the end of the war, she was sold on 20 Mar 1945 and broken up at Granton on Spry, Scotland
(9) RMS Queen Elizabeth, Esquimalt, BC for refit to a troop carrier (10) Unknown minesweeper entering St. John's, Nfld (11) Merchant ship Scottish Musician alongside HMCS Caraquet, Sydney, NS (12) Cable Repair Ship Lord Kelvin off Newfie (13) Unknown minesweeper entering St. John's, NFLD (14) Torpedoed tanker, Mutton Bay, NFLD (15) View from X-gun deck of a River Class Destroyer (16) A Fairmile following a Corvette on a cold North Atlantic day
(17) HNLMS O15 (later N15, P15) (circa 1940-41) served out of Halifax for anti-submarine training until relived by HMS/M P553 in Aug 1942. She then returned to the European theater where she remained for the rest of the war (18) Unknown Bangor Class minesweeper and HNLMS N15 (former O15) - photo taken between May and Aug 1942. Note that her sail was modified during her refit in Philadelphia from Feb to May 1942 (19) HMS/m P.553 - Former USS S-21, she was transferred to the Royal Navy on 14 Sep 1942 and renamed P.553. She was based out of Halifax and was used for anti-submarine training. Returned to the USN on 14 Jul 1944, she was later sunk off New England as a target boat on 23 Mar 1945 (20) Torpedoed tank (left). Roy told his son about one convoy where the ship in front of them and the ship behind them got torpedoed but they were spared (21) The Fort Edward Blockhouse, Windsor, NS, 1945 (22-23) RMS Queen Elizabeth in New York, March 1942 - Photographer: Roy T. Cardy (24) RMS Mauretania in New York, March 1942 - Photographer: Roy T. Cardy
(25) RMS Mauretania postcard - date unknown (26) RMS Queen Mary postcard - date unknown (27) HMS/M L25 (later N25). Note HMS Vanquisher D54 off her STBD bow, tied up to the jetty in the camber. Photo appears to be in Halifax. Date unknown. (28) Leave pass for Roy Cardy (29) RCN on parade in Victoria BC (30) Seamanship Training at Naden - 1941 (31) Royal Canadian Naval Barracks R.C.N.V.R. HDQTRS, 165 Lake Shore Rd Toronto - 1941 (32) Tom Guscott (left) in from of Royal Canadian Naval Barracks, R.C.N.V.R., Headquarters, 165 Lake Shore Rd Toronto - 1941
(33-45) Sailors taking a winter train ride across Canada
(photos are not in sequence)
(33) Train station at Rivers, Manitoba (34) Train stopped at Mount Robson, BC (35) Jasper, BC (36) Town/stop unknown (37) Town/stop unknown (38) Town/stop unknown (39) OS Born and OS Van Allen, 1942 (40) Town unknown (41) Town/stop unknown (42) Town/stop unknown (43) Roy Cardy, Calgary (44) OS Buck, Chapleau, Ont. Jan 1942 (45) Van Allen, Winnipeg, Jan 1942
(46) Empire CAM ship with Hurricane preparing for Atlantic Convoy 1941-42. (47) Jetty at Comox - possibly taken during time ashore from HMCS Prince Robert. Photographer: Roy Cardy (48) Receipt for a bed at the USO 339 N. Charles St., Baltimore, Maryland, 07 Aug 1943 (49) Letterhead from the Coast Guard Yard, Curtis Bay, Maryland (50) Planes on an unknown airfield somewhere in the Maritimes. Photographer: Roy Cardy (51) A Lancaster bomber somewhere in the Maritimes. Photographer: Roy Cardy (52) "A Limey Sloop at Newfy". HMS Dacres at St. John's, Newfoundland. Photographer: Roy Cardy (53) Soviet Minesweepers, St. John's Newfoundland - Two Admirable Class minesweepers that were transferred from the USN to the Soviet Navy in Apr/May 1945 as St. John's Newfoundland after the crews had completed their familiarization training of their ships before sailing back to the Soviet Union.
(54-55) Letter from J.A. McTaggart, HMCS CARAQUET, 16 Jun 1944 to Roy Cardy
(56) Ships with Wings. Photo of the billboard for the movie with a friend / shipmate of Roy Cardy. Though his name is no longer remembered, he was the best man at Roy's wedding. Photographer: Roy Cardy. Historical note from Wayne Mullins: The Paramount was the "first run" movie house that would play a newly released film like "Ships with Wings". In the top right background of the photo is a "Dominion" sign. Next door to the Paramount was, since 1906 and still is, Sievert's Tobacco Store. I believe that is a Dominion Tobacco sign out front at Sievert's. The marquis over the sidewalk in the distant right background with people nearby / underneath would be the Orpheus Theatre.
(57-58) Annex Grounds Slackers - "Waiting for the big explosion" - 1945
(59) 50th Anniversary of D-Day. WW 2 Veterans crossing the English Channel to mark the 50th Anniversary of D-Day. Wreaths were laid in the channel in memory of those who did not return
---
(RC61) Surrendered U-190 at St. John's, NFLD. Note: HMCS HAWKESBURY K415 across the harbour behind U-190 (RC62) Surrendered U-190 at St. John's, NFLD, after the war (RC62) The White Ensign flies over the Kreigsmarine Naval Ensign on the surrendered U-190 at St. John's, NFLD (RC63) Surrendered U-190 at St. John's, NFLD. HMCS LANARK on the left of the photo and HMCS ARNPRIOR on the right (RC64) HMCS U-190. NOTE: for photos RC60-64 the photographer is unknown
---
HMCS PRINCE ROBERT
(RC065) HMCS Prince Rupert Joining Chit for Ordinary Seaman Roy T. Cardy dated 13 Jun 1942
(RC066) "Dhobey" Hart as Admiral on the Quarterdeck of HMCS PRINCE ROBERT, "X" gun, Nanoose Bay, Jun 1942. Webmaster's note: Looks as though they are having a Banyan
(R067) P40s of 111 (F) Squadron RCAF. Location unknown - either at Patricia Bay, BC, or the US station at Kodiak, Alaska
(RC068) "The boys of the Robert". Crew members of HMCS PRINCE ROBERT. Date and place unknown
(RC069) "Chippy Chaps". Two unknown crew members of PRINCE ROBERT wearing some form of breathing apparatus. Location: on the Starboard aft bridge wing in front of the air intake
(RC070-RC071) AB Thomas doing evolutions at "A" gun on HMCS PRINCE ROBERT, Nanoose Bay, BC. "Fully kitted-out in the Canadian Army's latest combat harness.. tin hat, chest mounted gas mask bag, two ammunition pouches, and most useful of all, a bayonet the size of a sword ... for the Lee Enfield .303 rifle."
(RC072) A/Capt Frank Llewellyn Houghton on HMCS PRINCE ROBERT
(RC073) 50 Cal, Afterdeck, HMCS PRINCE ROBERT
(RC074) HMCS PRINCE ROBERT - date and location unknown
Honour Guard on HMCS PRINCE ROBERT for the Lieut. Governor of British Columbia, William Culham Woodard - date unknown
(RC074-RC075) The officer with the single stripe is our gunner or warrant officer
(RC076) Roy T. Cardy is part of the guard and is first man on the right
---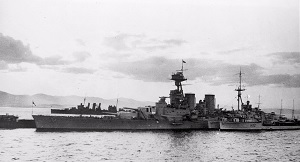 HMS Hood and HMS Glowworm H92 - March 1940, Scapa Flow
Historical note: HMS Glowworm was sunk on 08 Apr 1940 by KMS Admiral Hipper - On the morning of 8 April 1940 Glowworm was on her way to rejoin Renown when she encountered the German destroyers Z11 Bernd von Arnim and Z18 Hans Lüdemann in the heavy fog before 08:00 a.m. The destroyers were part of a German naval detachment, led by the heavy cruiser Admiral Hipper, on its way to land troops at Trondheim as part of the German invasion of Norway (Operation Weserübung). Glowworm opened fire and the German destroyers attempted to disengage, signalling for help. The request was soon answered by Admiral Hipper which spotted Glowworm at 09:50 After a short engagement of approximately 30 minutes in close quarters, Glowworm and Admiral Hipper collided. Glowworm's bow was cut off and she sank with a loss of 109 of her crew. Admiral Hipper rescued 40 of Glowworm's crew. Glowworm's commanding officer, LCdr Roope, was posthumously awarded the VC for valiant courage in engaging a much superior ship in close battle.
Historical note: HMS Hood was sunk by KMS Bismarck and KMS Prinz Eugen on 21 May 1941 during the Battle of the Denmark Straits.
---