Gilbert Smith John - John volunteered for the RCNVR on 11 Jan 1943 at HMCS Montreal, Montreal, QC. He commenced active service on 08 Mar 1943 and was sent to HMCS St Hyacinthe in Quebec, the RCN's Communications Training School and became a Coder. Gilbert was part of the commissioning crew for HMCS Frontenac and served in her from 26 Oct 1943 until the end of the war. He was demobilized at HMCS Donnacona on 28 Aug 1945. After the war he got his journalists degree and became a successful sports journalist and author. He was a pleasant soul who could real story's for hours on end. He had a good life.
Ships served in:
HMCS MONTREAL - Enlisted 11 Jan 1943. Commenced active service 08 Mar 1943
HMCS MELVILLE - Served in Melville -03 Sep 1943 - 05 Sep 1943 as a O/Coder, RCNVR
HMCS FRONTENAC - Commissioning crew. Served in Frontenac 26 Oct 1943 - 05 Jun 1943 as an O/Coder and Coder, RCNVR. Rated Coder 08 Oct 1944.
HMCS DONNACONA - Drafted to Donnacona 28 Aug 1945. Demobilized 14 Sep 1945
---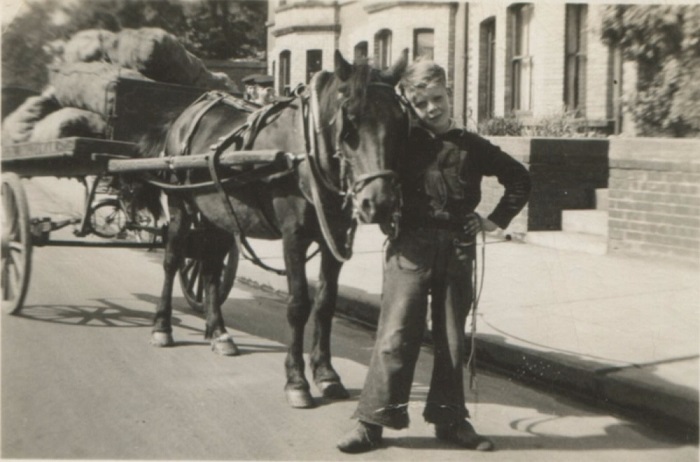 Gilbert Smith - date unknown
---
(1) Portrait of Gilbert Smith (2-5) Certificate of Service (6) O/Coder and Coder trade badges (7) Gilbert (left) and friend (8) Dependents allowance request - denial letter
(9-11) Articles on Gratuities and Service Bonuses (12) Poem - These are the kids (13) Postcard Gilbert sent to his mother. She received it 05 Sep 1944 (14) Letter re war service badge (15-16) Letter re the re-issue of Gilberts war service badge certificate and new certificate
(17) Statement of Service (18-20) Gilbert's summary of his time in the Navy (21-22) Naval Service Counselling Programme application (23-24) Instructions to Discharged Personnel
(25) Its Your Money pamphlet
---
Gilbert's confirmation of UI registration, his UI registration certificate and UI booklet
---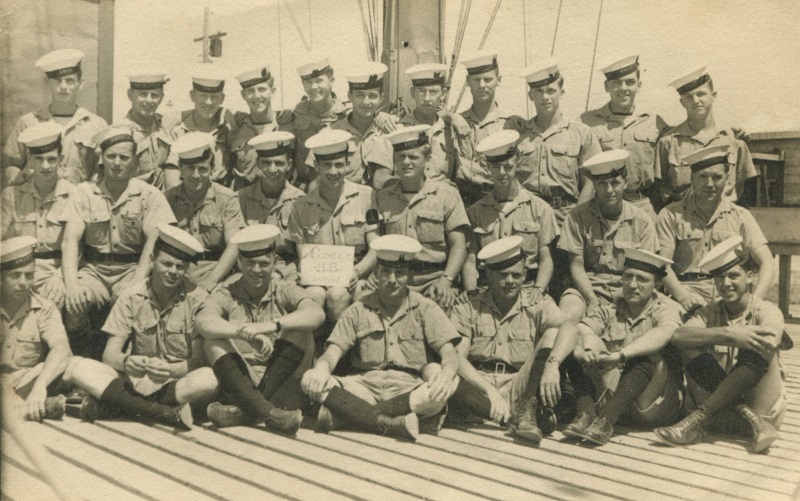 Coder "BB" Course, HMCS ST HYACINTHE - 22 Jul 1943
Gilbert's coder course. Gilbert is 2nd row, 3rd from the right.
This photo is also posted on the page for HMCS ST HYACINTHE
---
The photos below are from Gilbert's time serving in HMCS FRONTENAC K335. Most have no information identifying who is in the photos or location. These photos have also been posted on the page for HMCS FRONTENAC K335
(GS01) Allied Submarine P252 (GS02) Unknown allied sub (GS03) Unidentified officer on the bridge of HMCS Frontenac K335 (GS04) Unidentified Frontenac sailor ashore - location unknown (GS05) HMCS Halifax K237 (GS06) Unidentified sailors on HMCS Frontenac K335 (GS07) Unknown ship - possibly a troop ship
(GS08) Unidentified sailor leaning on the rocket launcher on HMCS Frontenac K335 (GS09) Ships in convoy (GS10) Gilbert Smith (right) on HMCS Frontenac K335 (GS11) Gilbert Smith (2nd from right) and shipmates by the ship's sea boat on HMCS Frontenac K335 (GS12) Gilbert Smith by the ship's sea boat on HMCS Frontenac K335 (GS13) After signal lamp / searchlight tower and after gun tub on HMCS Frontenac K335 (GS14) Gilbert Smith (2nd from left) and shipmates on HMCS Frontenac K335
(GS15) Gilbert Smith on the 21-inch signal lamp on HMCS Frontenac K335 (GS16) Gilbert Smith (2nd from right) and shipmates on HMCS Frontenac K335 (GS17) Unidentified sailor on the after signal lamp / searchlight tower on HMCS Frontenac K335 (GS18) Unidentified sailor holding a machine gun on HMCS Frontenac K335 (GS19) US Landing Craft 621 (GS20) Coder Gilbert Smith with mascot "Count Frontenac" on HMCS Frontenac K335 (GS21) Coder Gilbert Smith (left) and shipmate with mascot "Count Frontenac" on HMCS Frontenac K335
(GS22) Unidentified sailors relaxing by the forward gun on HMCS Frontenac K335 - note convoy ships in background (GS23) Gilbert Smith (centre) and shipmates by depth charge thrower on HMCS Frontenac K335 (GS24-GS25) Sailors on duty boat either leaving from or returning to HMCS Frontenac K335 (GS26) Unidentified Frontenac sailor ashore (GS27) Unidentified Frontenac sailor ashore (GS28) Unidentified Frontenac sailor ashore
(GS29) Unidentified Frontenac sailors ashore .... one has garnered the attention of a local monkey (GS30) Unidentified Frontenac sailors ashore (GS31) Unknown torpedoed merchant ship - convoy escort to right of ship searching for / picking up survivors (GS32) Gilbert Smith (left) and shipmate ashore (GS33) Unidentified Frontenac sailors ashore (GS34) Unidentified Frontenac sailors ashore
(GS35) Unidentified Frontenac sailors ashore (GS36) Gilbert Smith ashore - location unknown (GS37) Frontenac sailors ashore - Gilbert Smith centre
Photos from the collection of Coder Gilbert John Smith, RCNVR
Photos and information on Coder Gilbert Smith are courtesy of Sharon Wing
---