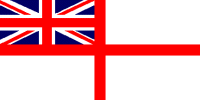 For Posterity's Sake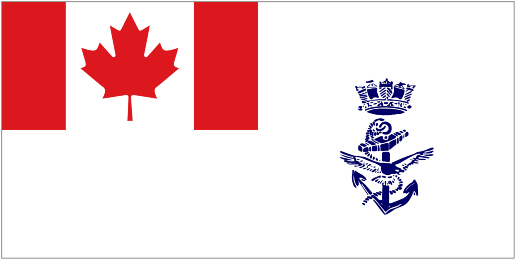 A Royal Canadian Navy Historical Project
In memory of those who have Crossed the Bar
John enlisted in the RCNVR on 16 Jun 1941 and was demobilized on 23 Nov 1945. He joined as a Prob. Victualling Assistant and was rated VA on 15 Sep 1941. On 16 Oct 1941 he became a Stores Assistant (SA).
Ships served in:
MONTREAL DIVISION RCNVR - Commenced active service 16 Jun 1941
HMCS GIVENCHY (for duty with S.OR.Y.) 16 Oct 1941 - 14 Dec 1941
HMCS RESTIGOUCHE - Served in Restigouche as a SA 23 Sep 1942 - 21 Jul 1943
HMCS GRIFFIN - Served in Griffin 15 Oct 1943 - 01 Mar 1944
HMCS YORK - Served in York 02 Mar 1944 - 1 Apr 1944
HMCS MONTCALM - Served in Montcalm 02 Apr 1944 - 05 Sep 1945
HMCS MONTCALM - - Served in Montcalm 10 Oct 1945 - 23 Nov 1945. Demobilized 23 Nov 1945
(JB01) SA Burchell on HMCS RESTIGOUCHE. Note the USN sailors cap he is wearing (JB02) Stores Assistant John Burchell, "LCdr" Bianco and "OS" Desmond Piers, HMCS RESTIGOUCHE H00, Christmas 1942 ** (JB03) "OS" Desmond Piers and "LCdr" Anthony Bianco on HMCS RESTIGOUCHE - Christmas 1942 (JB04) "OS" Piers, "LCdr" Bianco and CPO Bissky (Chief Bissky is wearing an OS or AB ratings uniform) (JB05) Sailors fallen in on HMCS RESTIGOUCHE - SA John Burchell, front, centre, with beard. This photo is likely the Stores, Stewards, SBA and Writers. (JB06) Sailors on HMCS RESTIGOUCHE - L-R: Abraham, unknown, PO Walsh, CPO Rigby, PO Howard, Anderson, PO Rigg, PO Wilson. Note - it is possible the two in the seaman's rig are Petty Officers (Square Rig POs).
** A longstanding naval tradition is that on Christmas Day the CO of the ship trades places with the youngest sailor on the ship. In this photo, OS Anthony Bianco trades places with LCdr Desmond Piers, CO of HMCS RESTIGOUCHE H00 - and became LCdr Bianco for the day and LCdr Piers became Ordinary Seaman Piers for the day - Christmas 1942.
(JB07-JB10) Memorial Service for Ordnance Artificer Svend Solberg (Sammy) Sorensen, MPK - 28 Nov 1942
Ordnance Artificer Sorensen was lost at sea presumed drowned. He had been on Cypher watch in the ship's office which is located aft. He was bringing the log up to the bridge and got as far as the starboard torpedo davit when the ship rolled. Before being engulfed in sea water Ordnance Artificer Sorensen was seen clutching the davit with both arms. However he was washed away carried aft, dashed against the forward D/C thrower, and then washed overboard. His body was never recovered.
(JB11) Readying a smoke float on HMCS RESTIGOUCHE - Jules Lafpointe, Peter Rigg T.I., Allan Morton (JB12) Ship's Medical Officer on HMCS RESTIGOUCHE (JB13) SA John Burchell and Cook Joseph (Pop) Brousseau on HMCS RESTIGOUCHE (JB14) Doug Henderson, Jimmie Finn, Gus Lafontaine, Roger Laiselle (of Montreal) and Chillcot on HMCS RESTIGOUCHE. Jimmie Finn is the first on the left facing the camera (JB15) 11 Mess on HMCS RESTIGOUCHE - 1942. MacMath, Sterns, Gus Lafontaine, Morton, Pate, Jimmie Finn, John Burchell. Finn and Burchell wearing white sweaters (JB16) John Burchell (left) and Jimmie Finn, 11 mess, HMCS RESTIGOUCHE (JB16)
(JB17) Jimmie Finn on HMCS RESTIGOUCHE (JB18) Jimmie Finn (left) and two unidentified shipmates on HMCS RESTIGOUCHE (JB19) L-R: Unknown, Jimmie Finn and John Burchell on HMCS RESTIGOUCHE by the ship's bell (JB20) STs - 11 Mess, HMCS RESTIGOUCHE (JB21) SA John Burchell (left) and Chief Rainsford on HMCS RESTIGOUCHE (JB22) SA Chillcot by depth charge thrower on HMCS RESTIGOUCHE
(JB23) Jimmie Finn ashore in Algiers (JB24) RESTIGOUCHE sailors ashore in Algiers (JB25) Algiers (JB26) SA John Burchell ashore in Algiers
Note: HMCS RESTIGOUCHE was in Algiers 09 -10 Mar 1943 for a port visit between escorting convoys KMF 010B and MKF 010B
(JB27-JB29) HMCS RESTIGOUCHE rescues survivors of the SS BLITAR on 10 Apr 1943 (JB30-JB32) HMCS RESTIGOUCHE conducts stern fueling from oiler in convoy.
Historical note: SS BLITAR was part of Convoy HX.231 when she was sunk on 06 Apr 1943 by U-632. On 10 Apr 1943, after 4 days life boats 23 survivors were picked up by HMCS RESTIGOUCHE and 14 by HMCS TRENTONIAN. A 3rd life boat with 16 survivors were rescued by HMS ECLIPSE. HMCS RESTIGOUCHE and HMCS TRENTONIAN were part of the escort for Convoy ON.177. HMS ECLIPSE was part of the escort for HX.231.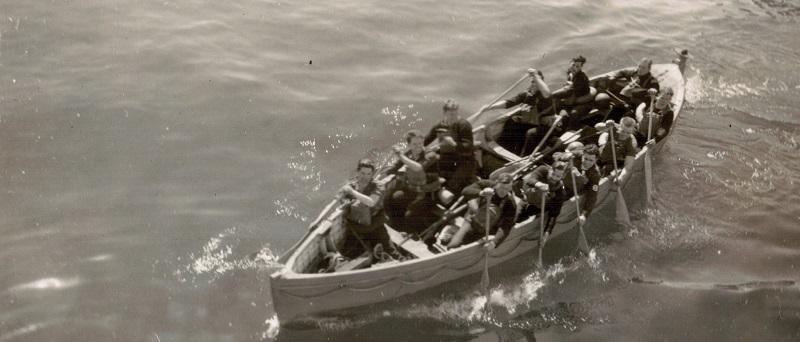 (JB33) Training in rowing the sea boat from HMCS RESTIGOUCHE
Names on the back of the photo: L. Sea Hatlen; ERA; Sto White; WT; "Tiny" Moorehouse - PA; SLt Waters; Banner; Arnold (of Montreal); Neundorf (of Toronto); Gurney; S.T.
Click here to view the names written on the back of the photo
---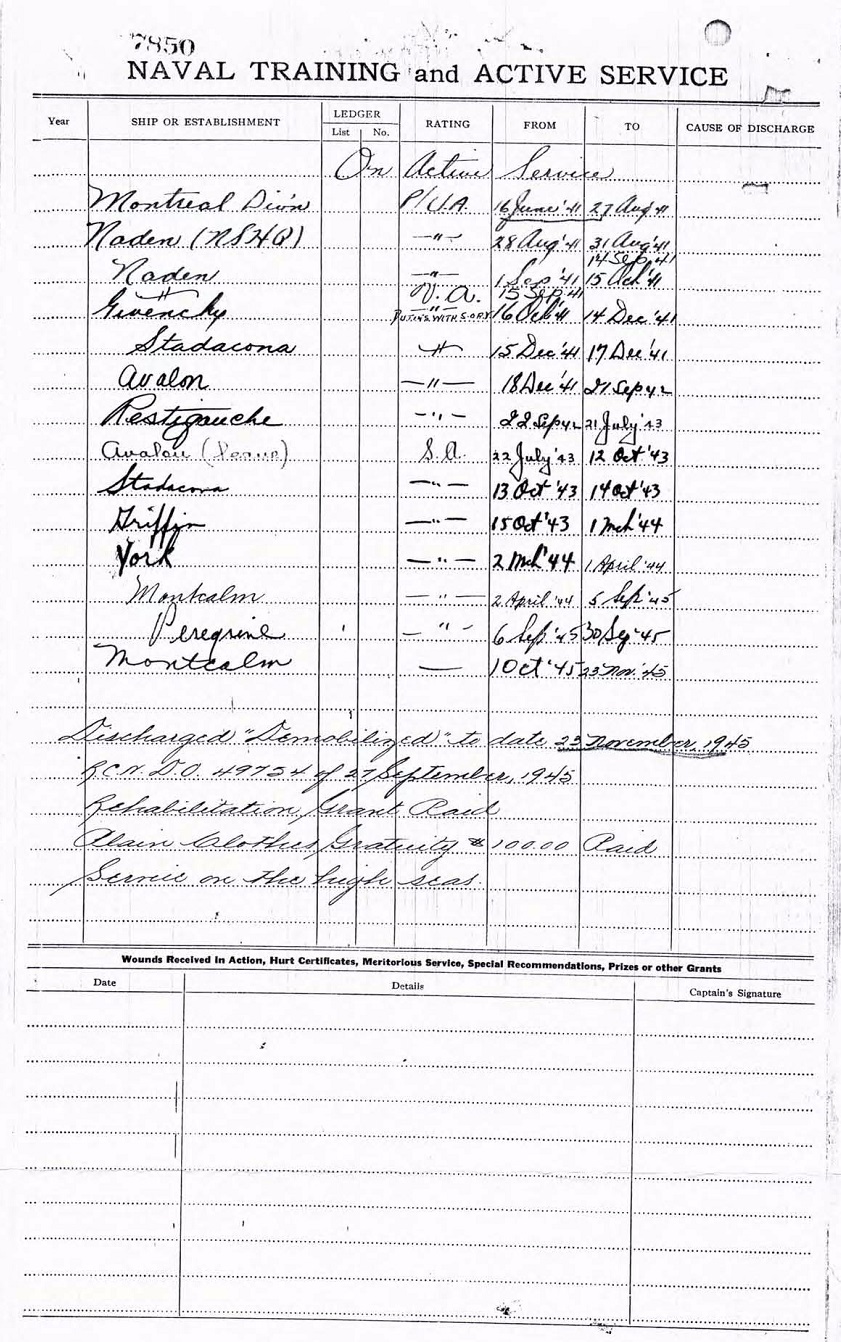 Naval Training and Active Service
Page 2 of the Certificate of Service for John Burchell
---