In memory of those who have Crossed the Bar
Edward Smith

Private, 16885, Royal Marine Light Infantry

60427, Royal Marine Light Infantry

Born: 06 Jul 1893, Cromwell, Nottinghamshire, England

Died: 27 Apr 1917, Esquimalt, British Columbia

Book of Remembrance
SMITH, Edward, Private, Royal Marine Light Infantry, died - 27 Apr 1917, HMCS RAINBOW - Son of Edward and Elizabeth Smith, Nottingham, England.
Edward Smith had an interesting military career. In 1911 he joined the Royal Marine Light Infantry. On 10 Jul 1914 he was loaned to the fledgling RCN for service in HMCS RAINBOW in Esquimalt, BC. He was assigned an RCN service number but was still a member of the RMLI. On 01 Oct 1915, for reasons known only to Edward, he "ran" from HMCS RAINBOW and signed up for the Canadian Expeditionary Force. He was assigned to the 72 Battalion C.E.F. On his attestation he stated that he was not part of an active militia. Two weeks later, on 16 Oct 1915, Edward was found out and escorted back to HMCS RAINBOW, having been summarily discharged from the C.E.F. Edward continued his service in the RMLI and served the next year and a half aboard HMCS RAINBOW. On 27 Apr 1917, Edward died of pneumonia, believed to be complications resulting from the Spanish Flu.
Pte Edward Smith is buried in the Veterans' Cemetery, Esquimalt, BC.
Ships served in:
(ES01-ES02) Pte Edward Smith, Royal Marine Light Infantry (ES03) Edward's medals (ES04) Edward's Royal Marine Light Infantry service File (ES05) Edward's C.E.F. Service File
(ES06) HMCS RAINBOW - postcard (ES07) Pte Edward Smith (back, standing, on right) on HMCS RAINBOW (ES08) Pte Edward Smith (back, 2nd from right) with sailors of HMCS RAINBOW and HMS NEWCASTLE. Note: HMS NEWCASTLE made several ports visits to Esquimalt during the 1914 to 1916 time frame.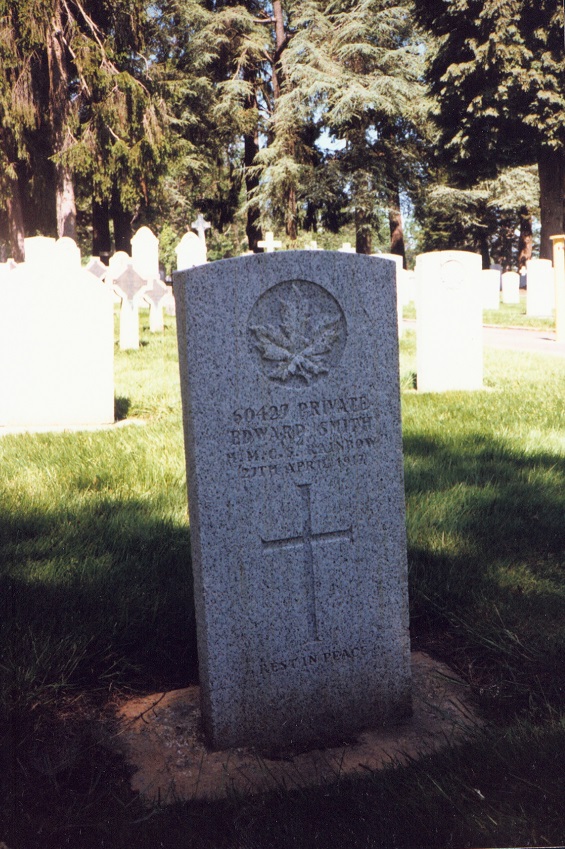 (ES09) Headstone for Private Edward Smith, 60427
Veterans' Cemetery Esquimalt
---