In memory of those who have Crossed the Bar
Eric Long served in the Navy during the Second World War. After the war, on 11 Sep 1945, he enlisted in the RCN and commenced service on 12 Oct 1945 and served until 20 May 1947.
Ships served in:
HMCS PEREGRINE - Drafted to Peregrine 12 Oct 1945 as an A/AB, RCN.
HMCS UGANDA - Served in Uganda 05 Jan 1946 - 17 Dec 1946 as an A/AB, RCN
HMCS STADACONA - Served in Stadacona 18 Dec 1946 - 20 May 1947. Medically discharged 20 May 1947.
---
(EL01) Unknown ship - possibly a corvette - conducing a stern fueling with an Escort Carrier
---
(EL02-EL09) photos taken during UGANDA'S South American cruise in 1946
---
(EL10) Funeral procession of Captain Hans Langsdorff, who committed suicide on 20 December, after scuttling his ship, ADMIRAL GRAF SPEE, on 17 December, 1939
Webmaster's note: This photo was in the collection of Eric Long. It is likely that he acquired it when HMCS UGANDA made a port visit in Montevideo in 1946 during her South American cruise when she rounded the Horn (West to East), then return to Esquimalt via the Panama Canal.
---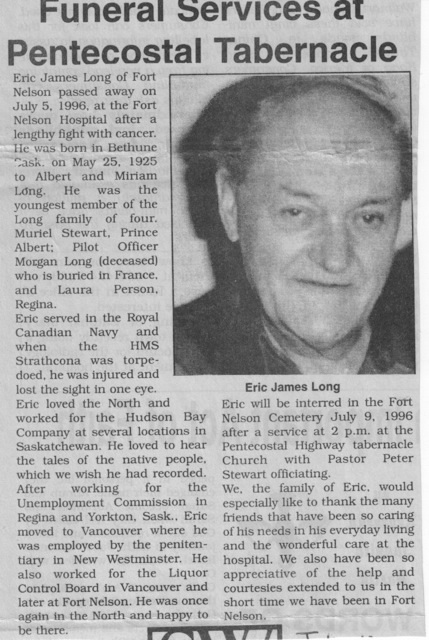 ---