In memory of those who have Crossed the Bar
Thomas James Rourke

Petty Officer, Motor Mechanic, V11392, RCNVR

Born: 25 Aug 1916, Dublin, Ireland

Died: 14 Apr 1943, Saint John Harbour, Saint John, New Brunswick

Book of Remembrance
ROURKE, Thomas James, PO.MM, V11392, RCNVR, died - 14 Apr 1943, HPDC D15 (HMCS CAPTOR) - Son of Gertrude Shortt, of Saskatoon, Saskatchewan; husband of Wilma E. Rourke, of Levis.
Petty Officer Rourke is buried in the Mount Hermon Cemetery, Quebec City, Quebec
Petty Officer Thomas Rourke, who had been a resident of Saint John for the last four months, was born in Ireland, and made his home in Canada in Saskatoon, Sask. He joined the navy in March 16, 1940 and was stationed in Halifax for two years previous to his coming to Saint John. His wife is the former Miss Wilma Weyman of Levis, Que., and came to Saint John with him on his transfer here. Their home in this city was at 83 Hazen Street. Besides his wife, to whom he was married in March of 1941 at Levis, he is survived by his mother, Mrs. J.F. Shortt, Saskatoon; his grandmother, by whom he was brought up, Mrs. S. Ward, Saskatoon and one uncle, Chief Petty Officer D. Ward, stationed at Prince Rupert, B.C.
Ships served in:
SASKATOON DIVISION RCNVR - Enlisted 16 Mar 1940
HMCS CARIBOU - Served in Caribou 019 Jun 1940 - 02 Dec 1941 as a MM, RCNVR
HDPC D15 - Drafted to D15 02 Jan 1943 as a MM, RCNVR
---
(below) Article on the sinking of HDPC 15
Click on the article to view a larger image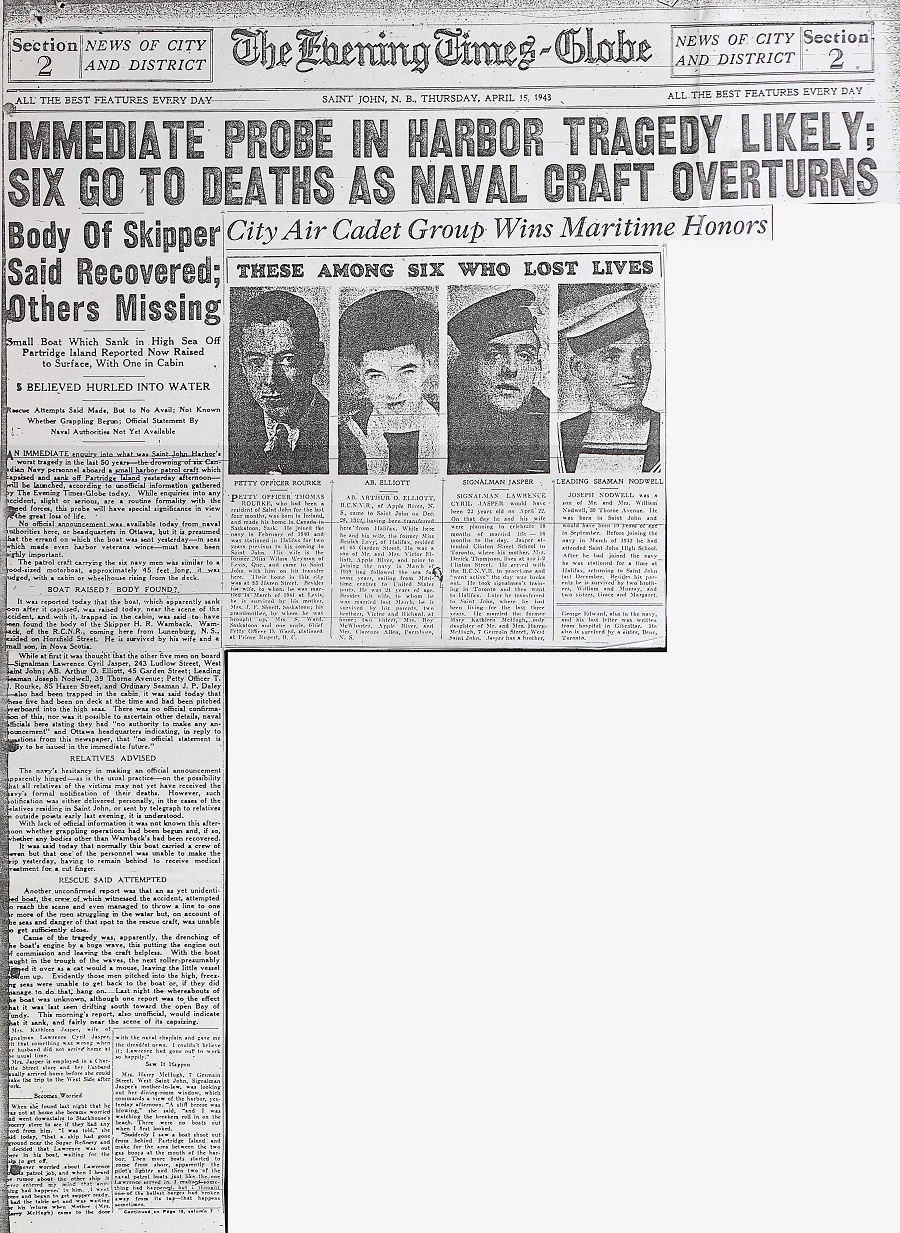 ---