In memory of those who have Crossed the Bar
George Walter Critch

Royal Naval Reserve (Newfoundland)

Born: Nov, 1892, Cavendish (formerly Shoal Harbour), Newfoundland

Died: 17 May 1982, Hillview, Newfoundland
CRITCH, George Walter - was the son of Garret Bryant and Jessie Critch born at Cavendish (formerly Shoal Harbour). Born in November 1892, he enlisted with the Newfoundland Royal Naval Reserve on October 21, 1914.
Seaman George Critch's naval career began overseas with the Royal Naval in 1914 but in 1917 he would be drafted to HMCS NIOBE, a depot ship in Halifax, NS.
It was during this service he survived the biggest disaster of his entire naval career: the Halifax Explosion that occurred on December 6, 1917. At the time of the explosion, George was one of the crew from HMS NIOBE preparing divers to work on repairs to a concrete structure supporting a crane on the dock. George and five other sailors were manning the pumps to supply air to two naval divers who had just gone into the water. Supervisor was Chief Master-at-Arms John Gammon. The explosion killed five of the six sailors, leaving the lives of the two divers in the hands of Able Seaman George Critch who, with great difficulty, managed to get the pump going so that air was going to the divers. Gammon was able to help the divers climb a ladder to safety. George Critch was awarded the Meritorious Service Medal (Naval) for his gallantry that day. John Gammon was made a Member of the Order of the British Empire for this action.
He returned to Hillview and married Alice Smith of Gooseberry Cove. They settled at Hillview where he passed away on May 17, 1982 and was buried at St. Michael's and All Saints Anglican Cemetery, Hillview.
Ships served in:
* Loaned to the RCN 23 Nov 1917
HMCS NIOBE (Depot Ship Halifax) - Served in Niobe 23 Nov 1917 - 03 Sep 1918
HMCS SEAGULL (Patrols Depot) - Served in Seagull 04 Sep 1918 - 19 Sep 1918. HMCS SEAGULL was a stone frigate at 145 Esplande, Sydney, NS
P.V. V - Served in P.V. V 20 Sep 1918 - 21 Dec 1918
* returned to the RN 26 Dec 1918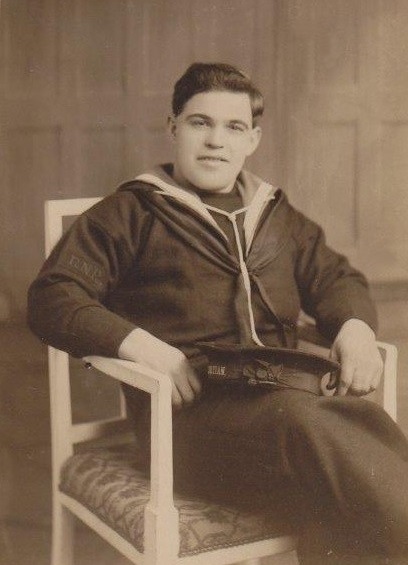 ---
Research Credit: Lester Green, Southwest Arm Historical Society
---