In memory of those who have Crossed the Bar
Eli Drodge

Royal Naval Reserve (Newfoundland)

Leading Seaman Seaman, RCN

Born: 24 Apr 1891, Little Heart's Ease, Newfoundland

Died: 22 Sep 1976, Little Heart's Ease, Newfoundland
DRODGE, Eli - was born on April 24, 1891, the son of Eleazer and Cassandra Drodge in the small outport town of Little Heart's Ease, NL.
His brother, Albert, was the first to join the Newfoundland Royal Naval Reserve followed by Eli a month later on October 8, 1914. Both were sent overseas.
Seaman Eli Drodge spent the next three years assigned to HMS Excellent and HMS President. He spent time at sea onboard the HMS Motagua, an armed merchant battle cruiser that was part of the 10th Cruiser Squadron. His next ship was the SS Cedric, a troopship, where he was assigned as a gunner. The ship transported troops to La Harve, France.
He returned to Newfoundland on furlough and upon his return to the HMS Briton he was assigned to HMCS Stadacona, Royal Canadian Navy, Halifax. He served onboard the Coastal Drifter CD-18.
After the war, Eli returned home to Little Heart's Ease where he married the school teacher, Ethel Snow, on September 19, 1919 and raised their family. He passed away on September 22, 1976 and is buried at Bethel United Church Cemetery, Little Heart's Ease.
Ships served in:
* Loaned to RCN 23 Nov 1917
CD-18 - Served in CD-18 23 Nov 1917 - 21 Dec 1918 as an AB and LS, RCN.
HMCS NIOBE (Depot Ship Halifax) - Served in Niobe 22 Dec 1918 - 25 Dec 1918
* returned to RN 26 Dec 1918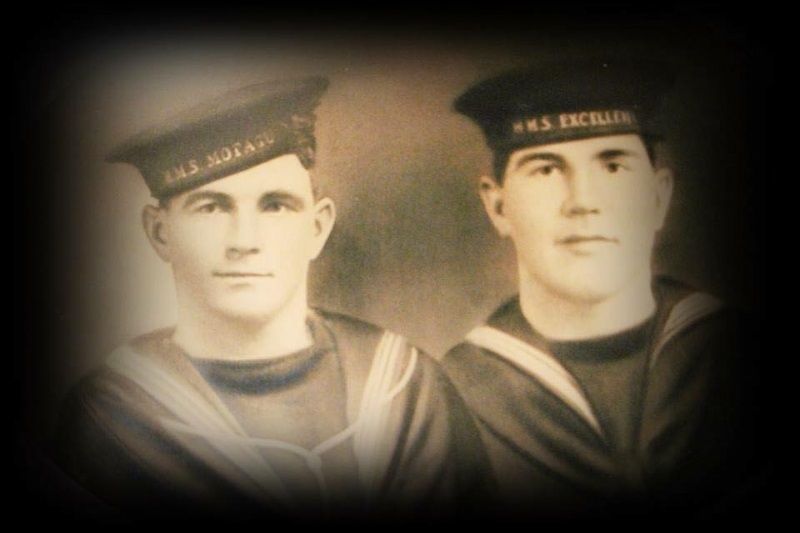 Eli Drodge (left) and his brother Albert Drodge
---
Research Credit: Lester Green, Southwest Arm Historical Society
---