In memory of those who have Crossed the Bar
Timothy Smith

Royal Naval Reserve (newfoundland)

Born: 15 Oct 1892, Fox Habour, Newfoundland

Died: 15 Dec 1934 at sea
SMITH, Timothy - was the son of Isaac and Lucinda (Stoyles) Smith of Southport, formerly known as Fox Harbour. He was one of two sons to enlist with the Newfoundland Royal Naval Reserve. His brother, Levi, enlisted on February 5, 1913 and 1month later, Timothy and his friend, Eucleus Lambert, signed their papers.
Timothy arrived in St. John's after he received word by Royal Proclamation that he was to report to St. John's on August 4, 1914. Unlike other seaman from the Newfoundland Royal Naval Reserve, he was assigned to the Royal Canadian Navy and joined the HMCS NIOBE. He patrolled the water off the eastern seaboard for the next several months until the failing boilers of the HMCS NIOBE forced its retirement to Halifax where it served as a shore-based structure until the end of the war.
He was transferred overseas in December 1915 and served at several shore-based structures including HMS VICTORY, HMS EXCELLENT, and HMS VIVID III. The names of the trawlers that he served on while at sea were not listed in his records.
He was demobilized in May 1919 and returned home to Southport. Several months later he married Edna, daughter of William James and Sarah (Puddister) Vey of Long Beach. Timothy survived the war but lost his life at the age of 42 years when he was tragically washed overboard while attempting to complete a schooner voyage from Carbonear to St. John's. His body was never recovered.
Ships served in:
* Loaned to the RCN 16 Oct 1914
HMCS NIOBE - Served in Niobe 16 Oct 1914 - 31 Aug 1915
* Returned to RN - 01 Sep 1915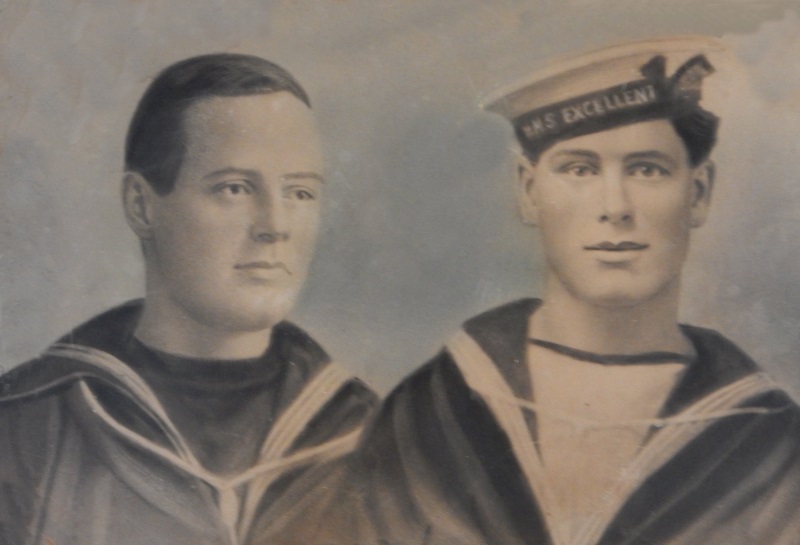 Timothy Smith (right) with unknown sailor
---
Research Credit: Lester Green, Southwest Arm Historical Society
---