They made the Ultimate Sacrifice
LAWRENCE, Frank William PO, V7576, RCNVR, MPK - 04 Jan 1944, HMCS WENTWORTH - Son of Frank and Margaret Lawrence, of Toronto, ON; husband of Dorothy Stella Lawrence, of Victoria, BC.
Petty Officer F. W. Lawrence was lost overboard when serving on HMCS WENTWORTH during heavy weather in the North Atlantic. Petty Officer F. W. Lawrence together with two other ratings were washed overboard, Ordinary Seaman Phillips, R.C.N.V.R. and Able Seaman W. R. Mennell, R.C.N.
Frank's half-brother, James Arthur Wandell, was serving in HMCS ALGONQUIN at the time of Frank's death.
Ships served in:
TORONTO DIVISION RCNVR - Enlisted 17 May 1930
HMCS FUNDY - Served in FUNDY 01 Sep 1939 - 13 Sep 1939 as an OS, RCNVR
TORONTO DIVISION RCNVR - Served in TORONTO DIVISION RCNVR 21 Sep 1939 - 16 Apr 1940
HMCS SAGUENAY - Served in SAGUENAY 23 Apr 1940 - 24 Jun 1940 as an OS, RCNVR
HMCS AMBLER - Served in AMBLER 17 Oct 1940 - 14 Nov 1940 as an OS, RCNVR
PORT WAR SIGNAL STATION QUEBEC - Served in PWSS QUEBEC 15 Nov 1940 - 27 Dec 1940 as an OS, RCNVR
HMCS PRINCE DAVID - Served in PRINCE DAVID 28 Dec 1940 - 09 Nov 1942 as an OS, AB and A/LS, RCNVR. Rated AB 09 Jun 1941. Rated A/LS 15 Jun 1942
HMCS GIVENCHY - Served in GIVENCHY 30 Nov 1943 - 11 Dec 1943 as an A/PO, RCNVR
HMCS WENTWORTH - Drafted to WENTWORTH 12 Dec 1943 as an A/PO, RCNVR
(FL01-FL04) Certificate of Service - Pages 1 thru 4
(FL05-FL06) Second (continued) Certificate of Service - pages 1 and 2 (FL07-FL08) True copy of Certificate of Service - pages 1 and 2
(FL09-FL10) Record of Service (FL11) Report of Death (FL12) Letter to PO Frank Lawrence's widow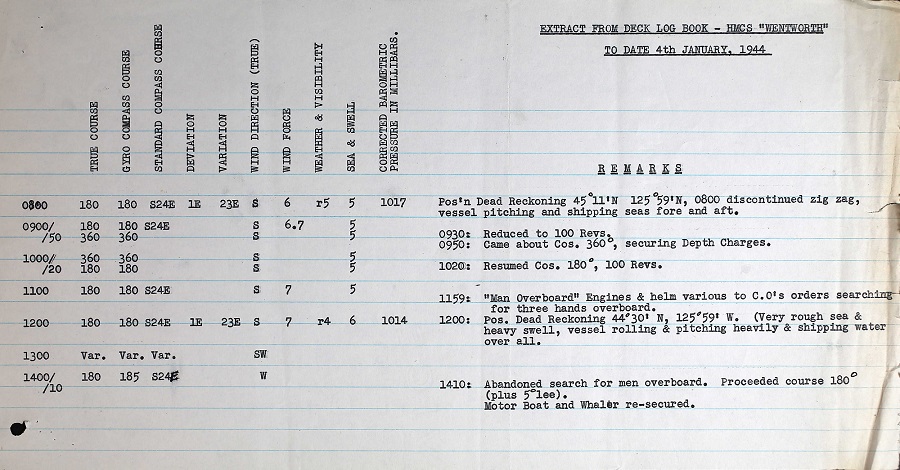 Extracts from the deck log of HMCS WENTWORTH during the man overboard on 04 Jan 1944
---
Second World War Casualty Index