In memory of those who have Crossed the Bar
John David Neil

Lieutenant (Engineer), RCNVR

Born: 23 Sep 1915, New Haven, Connecticut, USA

Died: 24 Dec 1944 at sea

Book of Remembrance
NEIL, John David, Lt (E), RCNVR, MPK - 24 Dec 1944, HMCS CLAYOQUOT - Son of James Stephen and Ruth Neil, of Toronto, ON; husband of Muriel Ruth Neil, of St. Catharines, ON.
Lt John Neil and 3 other officers that were off watch were killed instantly as they slept in their bunks when HMCS CLAYOQUOT was hit by a gnat torpedoed frire from U-806. They were Lieut. Hall Finlay, Montréal, navigating officers: Sub-Lt. A. W. Colbeck of Hamiota, Manitoba. Sub-Lt. William Munro, Huntingdon, Québec, and Sub. Lt. John D. Neil, St. Catharines, Ont., the chief engineer.
John's brother, James Philip G. Neil also served in the RCNVR during the Second World War.
Ships served in:
HMCS YORK - Enlisted 18 Jan 1944. Commenced Active Service 14 Feb 1944
HMCS CHALEUR - Appointed to CHALEUR 19 Apr 1944 as a Prob SLt (E), RCNVR
HMCS CHARLOTTETOWN - Appointed to CHARLOTTETOWN 19 Apr 1944 as a Prob. SLt (E), RCNVR add'l for E.R. training. Appointed SLt (E) 14 May 1944
HMCS CLAYOQUOT - Appointed to CLAYOQUOT 30 Apr 1944 as a SLt (E), RCNVR. Appointed Lt (E), RCNVR 05 Nov 1944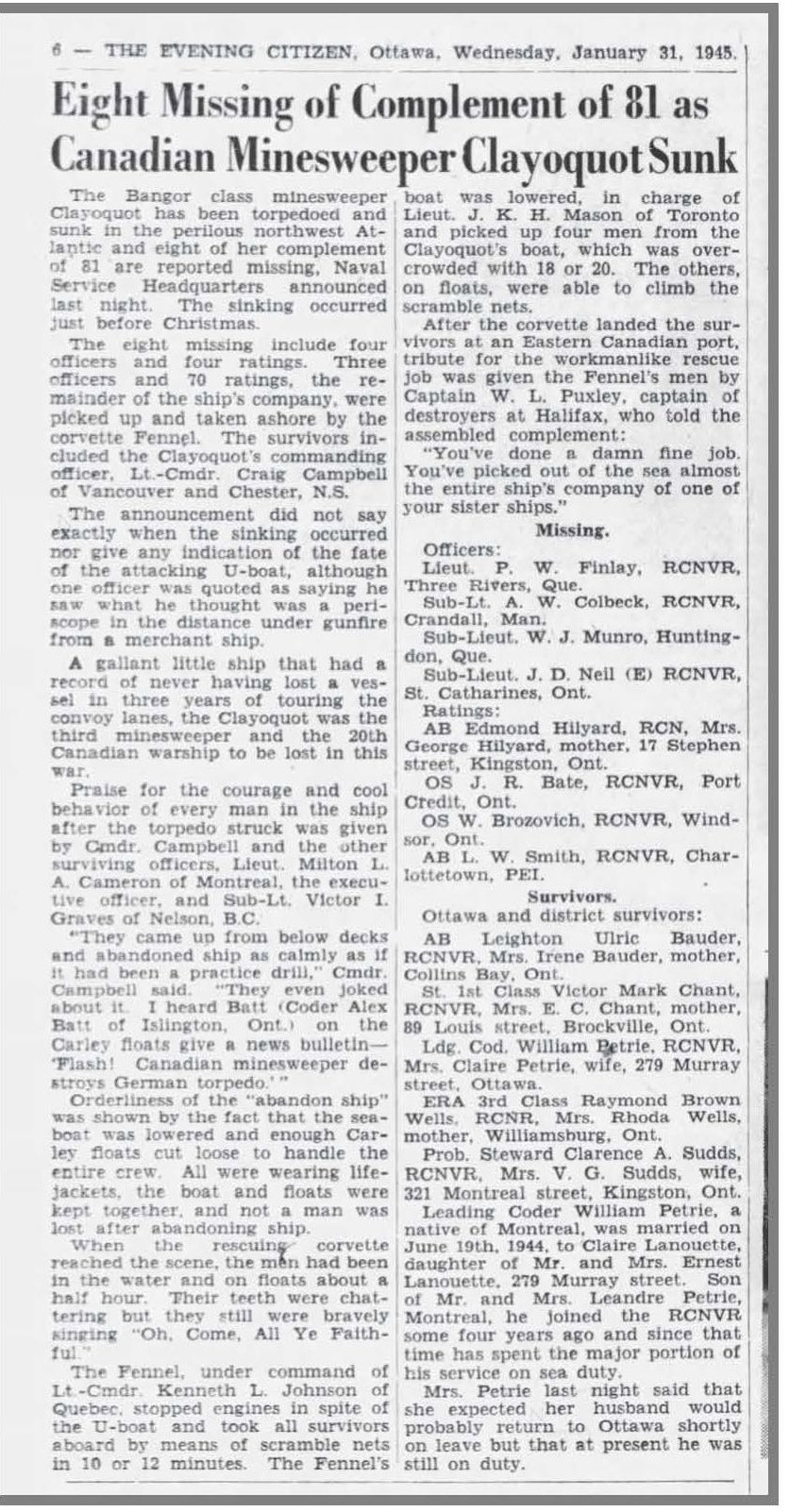 ---