In memory of those who have Crossed the Bar
Guy Maurice Clement Joseph Theriault

Stoker 1st Class, V38688, RCNVR

Died: 06 Nov 2017, Tucson, Arizona, USA

Note: in the official RCN documents, his given names were listed in reverse
THERIAULT, Guy Maurice Clement Joseph - died on November 6, 2017, at his home in Tucson, Arizona. Born in Montréal, Quebec, Canada, Guy was a veteran of the Royal Canadian Navy and survived the sinking of the HMCS ATHABASKAN in 1944. He married his first love, Lucille, in 1946, and together they had five children. They moved to Michigan in 1953, and they became naturalized citizens of the USA in 1966 before moving to Tucson in late 1969. After starting out as a machinist, Guy launched his own machine shop, Industrial Tool, Die & Engineering, Inc. (ITDE), in 1972. His extraordinary work ethic inspired his loved ones to succeed, and his success afforded him opportunities to pursue his lifelong interests in boating and aviation. Guy is preceded in death by Lucille; his second wife, Diane; his two eldest children, Guy Paul and Lisette; and all but one of his 14 siblings. He is survived by his partner, Barbara; his sister, Marie-Paule; three of his children, Michelle, Donald (Jo), and Jacqueline (Jim); his ten grandchildren, Karianne (Matthew), Leslie (JR), Danielle (Cat), Margaux, Jason (Vanhang), Noah (Danielle), Cody (Nicole), Elizabeth (Matthew), Cory (Stephanie) and Kirsten; his ten great-grandchildren, Reese, Gage, Krew, Beckham, Sophi, Norah, Palmer, Porter, Hazel, and Kate; Barbara's family, Dominic (Corinne) and two daughters, Tanya (Eric), John (Courtenay) and two sons; and his beloved dog, Wanda. Until the very end, he delighted us with his wonderful sense of humor, and he never stopped inspiring us with his indomitable spirit. Guy's family would like to thank the many employees of ITDE who, since 1972, have worked as hard as he did to provide for their families and sustain the company's growth. A Visitation will be held Thursday, December 14, 2017, 4:00 p.m. - 7:00 p.m., at Bring's Broadway Chapel, 6910 E. Broadway Blvd., Tucson, AZ 85710 and a Funeral Mass Friday, December 15, 2017, 11:00 a.m., at St. Pius X Catholic Church, 1800 N. Camino Pio Decimo, Tucson, AZ 85715. In lieu of flowers, donations may be made in his name to: Community Food Bank of Southern Arizona, 3003 S. Country Club Rd., Tucson, AZ 85713; Assistance League of Tucson, 1307 N. Alvernon Way, Tucson, AZ 85712; The Salvation Army, PO Box 43790, Tucson, AZ 85733; or the charity of your choice. (Arizona Daily Star 26 Nov 2017)
Ships served in:
HMCS ATHABASKAN - Served in ATHABASKAN as a Sto 1c. Survived the sinking of HMCS ATHABASKAN G07. Rescued by HAIDA.
---
A tribute to Guy M. C. J. Theriault by Barbara Zarlengo
Guy was born in Montreal, Quebec in June 1922. In his later teen years he studied and began work as an apprentice for a career as a machinist. In 1941, as World War II was raging, he enlisted in the Canadian Navy, training in Halifax, NS and Toronto, ON. He was ultimately assigned to HMCS ATHABASKAN G07as a stoker (1) and sailed with her until the ship's demise on 29 April 1944. The sinking of HMCS ATHABASKAN G07 in the English Channel is a well-known story. Although many shipmates were lost that morning, Guy survived and was picked up in the cold and oily waters of the English Channel near Plouescat, Brittany, France by HMCS HAIDA before the Germans returned to the scene. He was badly burned on his arms and face, especially his eyes, and he spent a month partially recovering in a hospital north of Plymouth, England. In June of 1944, he returned to Montreal, a couple of weeks before his 22nd birthday, where he continued his recovery. Guy remained in the Navy during his convalescence but was no longer fit for duty in the war overseas. He was assigned to Hull House, a home converted into a recovery center in Montreal, where he drove the ambulance for the medical facility until his honorable discharge in December 1945.
On 27 August 1943, less than a year before the battle in which HMCS ATHABASKAN G07 was lost, the ship was involved in a major battle southwest of the Bay of Biscay off the coast of Spain. A German aircraft glider bomb (a newly invented bomb) hit the ship, bursting through the Chief Petty Officers' mess. Guy was just coming off his shift in the boiler room and he was thrown across the deck through the kitchen. He badly injured his knee and his hearing was greatly impaired. The ship itself was seriously damaged and had to return to Plymouth, England, sailing very slowly and listing hard on one side because some lower rooms were flooded. Amazingly, the ship made it to England despite its being a "sitting duck" all the way back. The ship was in dry dock for about two months, which gave Guy and other injured shipmates time to recover from their injuries. He was able to return to duty on HMCS ATHABASKAN G07, and at that time Lieutenant-Commander John H. Stubbs (age 31), took command of the ship, replacing Commander G.R. Miles.
There are many hardships being in a war, and an additional struggle for Guy at the beginning of his enlistment was the fact that he was from Montreal and spoke only French. It was not easy learning the language of the English speaking crew. Gratefully, there were a few other Frenchmen on board, but Guy was one to mingle, and so he worked hard to learn English and fit into the English Canadian ways. As a result, he became known as "Fenchy" and that stuck throughout the war. He was a jovial sailor and made many good friends among the crew. He could be the life of the party and, since he knew how to play the piano "by ear," he would often go to bars with his fellow shipmates and play tunes while everyone enjoyed their all too brief recreation times on shore. He said the best part of those times was the free beer the proprietors would lavish on him for keeping the party going.
Guy cherished his Canadian roots and was proud of, but humbled by, his service to his country. He passed away in 2017 at the age of 95. He totally embraced the HMCS ATHABASKAN motto: "We Fight As One!"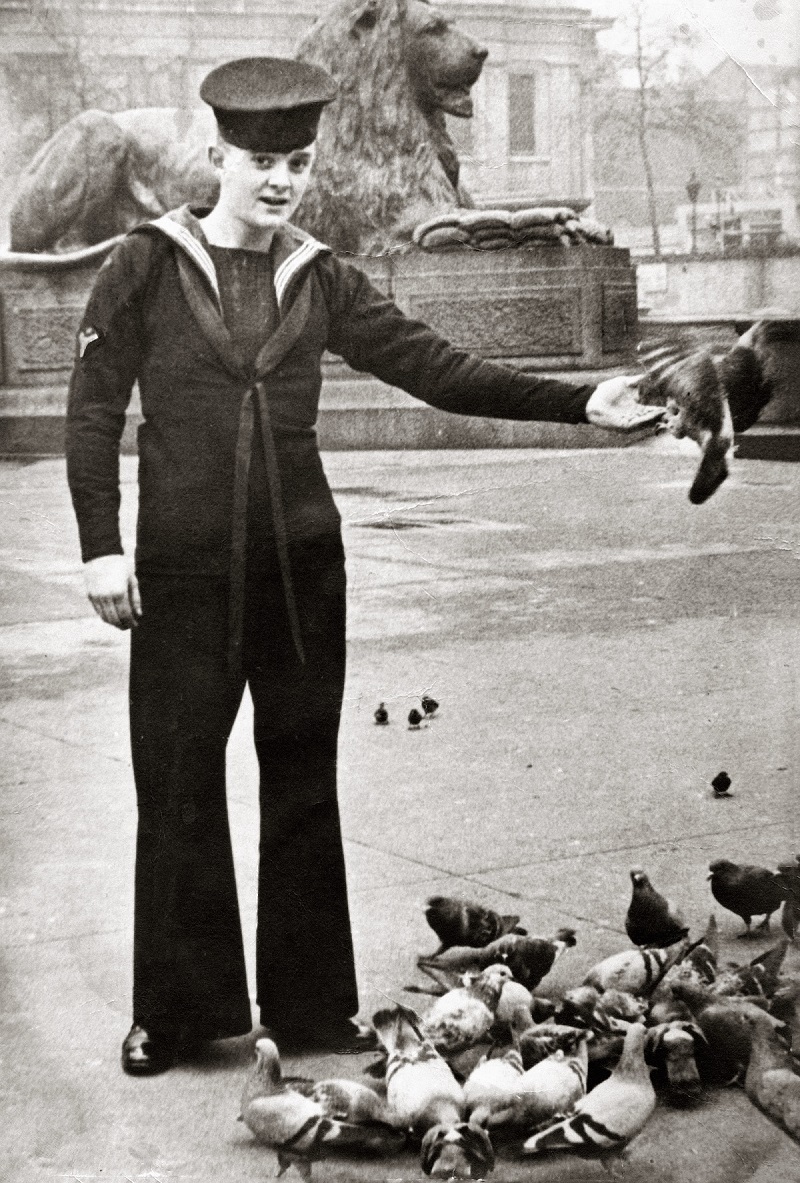 Guy Theriault, Sto 1c, RCNVR
Courtesy of Barbara Zarlengo
Click on the above photo to view a larger image
---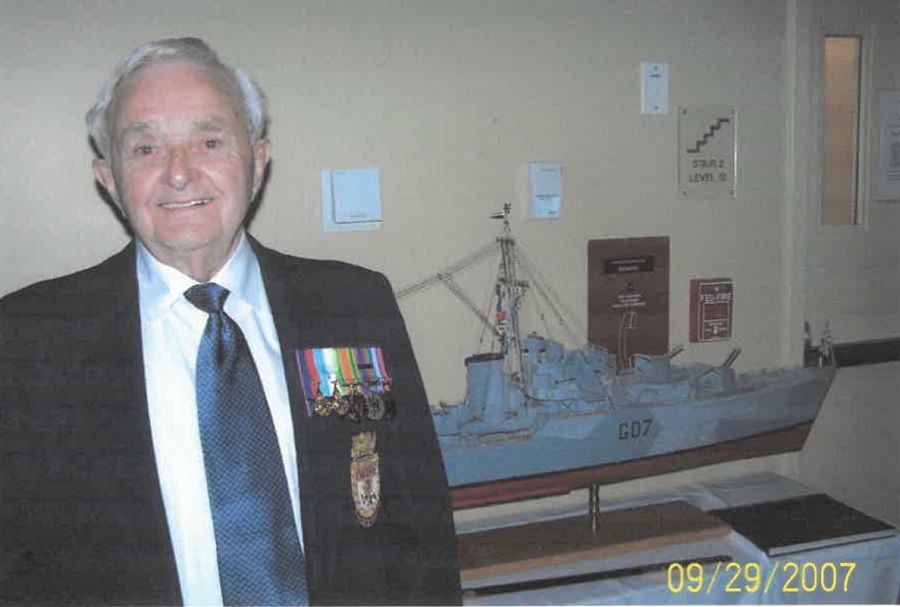 Guy Theriault by a model of HMCS ATHABASKAN G07
---