In memory of those who have Crossed the Bar
COYLE, Thomas Owen (Tom) - aged 58 years, of Longhouse Village, Lakeshore Drive, passed away in hospital on Wednesday, February 9, 1983 after a lengthy illness. Born in Montreal, he had lived at LaSalle, Quebec, for most of his life prior to coming to Thunder Bay in 1981. He served with the Royal Canadian Navy and HMCS ORANGEVILLE as a stoker during the Second World War. He is survived by: his wife Peggy, at home; two daughters, Jo-Anne and Elaine, both of Calgary; one step-daughter, Mrs. Christine Taillon of Longhouse Village, Thunder Bay; and three grandchildren. Funeral services will be held on Monday, February 14, 1983, at 10:00 a.m. in the Everest Funeral Chapel with Father D. Killorin of St. Mark's Roman Catholic Church officiating. Interment will be in the Military Plot, St. Andrew's Cemetery.
Ships served in:
HMCS MONTREAL - Enlisted as a Sto 1c 25 May 1943. Commenced Active Service 26 May 1943
HMCS MONTREAL - Served in MONTREAL 10 Jul 1943 - 21 Sep 1943
HMCS ORANGEVILLE - Commissioning crew. Served in ORANGEVILLE 25 Apr 1944 - 11 Sep 1945
HMCS DONNACONA - Served in DONNACONA 17 Sep 1945 - 20 Oct 1945. Demobilized 20 Oct 1945
(TC01) Stoker Thomas Coyle (TC02) Thomas Coyle on HMCS ORANGEVILLE
(TC03) "Last picture together in uniform" - Tom Coyle on right (TC04) Ken Tuckey (left), unknown and Tom Coyle (right) (TC05) Tom Coyle (left) - and 2 unknown friends (TC06) Ken Tuckey (TC07) "Jeep" Smith
(TC08) Tom Coyle (left) and Al Cambridge on HMCS ORANGEVILLE K491 (TC09) Tom Coyle on HMCS ORANGEVILLE K491 (TC10) Ken Tuckey and unknown shipmate on HMCS ORANGEVILLE K491 (TC11) Tom Coyle (left) and Ken Tuckey on HMCS ORANGEVILLE K491 (TC12) Ken Tuckey (left) and Tom Coyle on HMCS ORANGEVILLE K491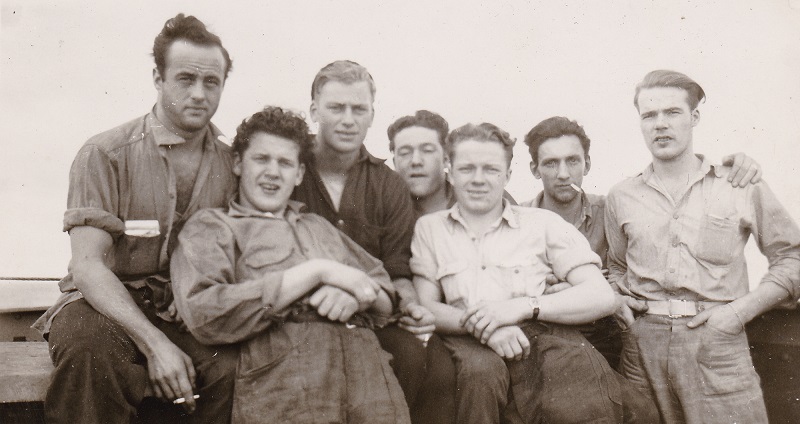 (TC13)
(TC13) "Off Watch Black Gang"
(TC14) "3 Peggies" - L-R: unknown, Tom Coyle and Ken Tuckey (TC15) "Spud Party" - Tom Coyle peeling potatoes on HMCS ORANGEVILLE K491 (TC16) Ken Tuckey (right) and unknown shipmate on HMCS ORANGEVILLE K491 (TC17) Unknown CPO on the helm of HMCS ORANGEVILLE K491 (TC18) "Al and Bates - a couple of good heads" (note: Bates is Lt George Bate, HMCS ORANGEVILLE'S doctor)
(TC19) Crew looking at bi-plane as it flies past HMCS ORANGEVILLE K491 (TC20) Bridge, gun deck and fo'c's'le of HMCS ORANGEVILLE K491. HMCS AMHERST K148 and HMCS PORT HOPE J280 tied up forward of her (TC21) After gun tubs and quarterdeck of HMCS ORANGEVILLE K491. Unknown Flower Class corvette outboard (TC22) HMCS ORANGEVILLE K491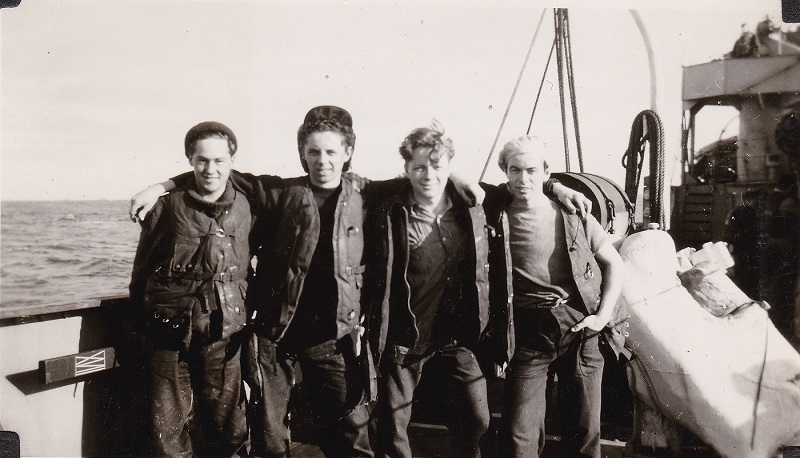 TC23
(TC23) "Four of Little Navy"
L-R: unknown, unknown, Ken Tuckey and Tom Coyle
(TC24) HMCS CHAMBLY K116 (TC25) HMCS CHEBOGUE K317 with her stern block off after being hit by an acoustic torpedo (TC26) HMCS NEW GLASGOW K320 (TC27) HMCS FRONTENAC K335 (TC28) HMCS ARNPRIOR K494
(TC29) HMCS HESPELER K489 arriving at St. John's, NFLD (TC30) Ships in Derry. HMS BRAITHWAITE K468 and HMS LOCH DUNVEGAN K425 tied up astern of HMCS ORANGEVILLE K491 (TC31) Canadian ships in Derry (TC32) HMS/m P252 - HMS SUPREME (TC33) "Russian sub-chasers in Newfi" - Soviet sub-chasers SC1491 and SC1478
Historical note: (1) HMS Supreme was built by Cammell Laird and launched on 24 February 1944. So far she has been the only ship of the Royal Navy to bear the name Supreme. She survived the Second World War, spending most of it in the Pacific Far East, where she sank thirteen Japanese sailing vessels, six Japanese coasters, a Japanese tug and a barge, and a small unidentified Japanese vessel. Supreme also attacked what is thought to be a Japanese auxiliary patrol vessel.[4] Supreme was eventually paid off and broken up at Troon in July 1950.
Historical Note: (2) SC-1478 and SC-1491 were USN sub-chasers. They were transferred to the USSR 02 Sep 1944 and 30 Aug 1944 respectively
(TC34) HMCS ORANGEVILLE K491 conducting "Forward Sweep in Convoy" (TC35) MS GRIPSHOLM
Historical note: (3) MS Gripsholm was an ocean liner, built in 1924 by Armstrong Whitworth in Newcastle-upon-Tyne, England, for the Swedish American Line for use in the Gothenburg-New York City run. She was of great historical importance as the first ship built for transatlantic express service as a diesel-powered motor vessel, rather than as a steamship. From 1942 to 1946, the United States Department of State chartered Gripsholm as an exchange and repatriation ship, carrying Japanese and German nationals to exchange points where she then picked up US and Canadian citizens (and British married to Americans or Canadians) to bring home to the USA and Canada. In this service she sailed under the auspices of the International Red Cross, with a Swedish captain and crew. The ship made 12 round trips, carrying a total of 27,712 repatriates. Exchanges took place at neutral ports; at Lourenšo Marques (now Maputo) in Mozambique or Mormugoa (now Goa) in Portuguese India with the Japanese, and Stockholm or Lisbon with the Germans. After the war, Gripsholm was used to deport inmates of US prisons to Italy and Greece.
---