In memory of those who have Crossed the Bar
Frederick John (Fred) Turnbull

Able Seaman, Combined Operations, RCNVR

Born: 20 Feb 1925, Montreal, Quebec

Died: 29 Mar 2021, Halifax, Nova Scotia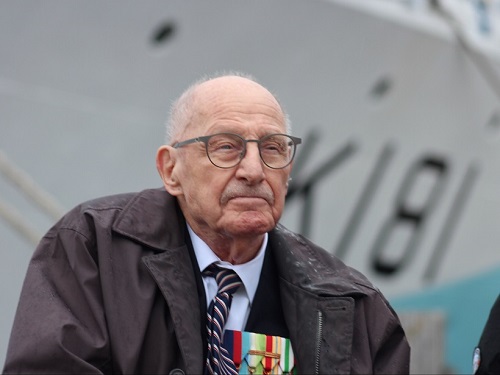 ---
Invasion Diaries - by Fred Turnbull - a personal and historic account of the invasion of Sicily, Normandy, Southern France and the Liberation of Greece. Turnbull was a bowman on a Landing Craft
---
TUIRNBULL, Frederick John (Fred)- age 96, of Bedford, Nova Scotia, passed away peacefully on March 29, 2021 at the Camp Hill Veterans Memorial Home in Halifax, in the loving presence of his children, Robert and Beth, and his partner Zondra Hubley.
Born in Montreal, Quebec, on February 20, 1925, the son of George and Myrtle Turnbull, Fred excelled at an early age in sports (hockey, football, basketball) and in academics at Montreal High. Before entering McGill University, he heard the call of duty and adventure, joining the Royal Canadian Navy at the age of 17 to serve along with so many of his compatriots in the war. Volunteering for the newly-formed Combined Operations, Fred fought as a gunner and bowman on landing craft in numerous invasions – including D-day, where his craft was the only one in the flotilla not to be destroyed before landing. Fred received numerous medals for his bravery, including the French Legion of Honour for his role in the liberation of France.
Returning to Montreal after the war, Fred completed his studies at McGill and met his future bride, Grace, at a YMCA dance. They eventually married and he settled into a career with Montreal Trust, moving up through postings in cities across Canada as trust officer, branch and regional manager and eventually Vice-President. Wherever he settled with his family, Fred spread his humour, dedication and devotion to the community: coaching minor hockey and raising money through volunteer organizations like Lions Club and Kiwanas.
After retiring in 1990, Fred and Grace moved to Ottawa, where he relished the political and historical atmosphere. He publishing a book –"Invasion Diaries" - in 2007 through Veterans Publications, based on a diary that he surreptitiously kept during the war. Available in libraries and bookstores, Invasion Diaries is regarded as a unique first hand account by a young sailor of some of the crucial amphibious invasions in history.
After moving to Halifax in 2011 and losing his wife of 64 years, Grace, to cancer in 2013, Fred was lucky enough to meet and become friends with his loving partner until the end: Zondra Hubley.
Fred is survived by his partner: Zondra Hubley, Bedford; daughter: Beth Follett (George), Halifax; son: Robert Turnbull (Suzanne), Ottawa; grandchildren: Heather, David, Michael, Geoffrey, Michelle; and great-Grandchildren: Eva; Alex; Riley; Connor; Cole; Raina.
He was predeceased by his wife, Grace.
Due to Covid-19 restrictions, a private memorial service will be held by invitation only at JA Snow Funeral Home on Tuesday, April 6 at 3:00 p.m. In lieu of flowers donations may be made to the Canadian Diabetes Association or to the Victorian order of Nurses (VON).
SPECIAL THANKS TO THE STAFF AT CAMP HILL FOR ALL THEIR LOVING CARE
Ships served in:
HMCS DONNACONA - Enlisted 01 Jul 1942
---