In memory of those who have Crossed the Bar
Frederick Murray

VR-5884, RNCVR

Born: 07 May 1896

Died: date of passing unknown
Frederick Murray enlisted in the RNCVR on 29 Dec 1917 in Halifax and his served in HMCS NIOBE until 31 Mar 1919. He was struck of the Strength (Demobilized) of the Atlantic Sub-Division RCNVR at Esquimalt on 17 Aug 1919. Where, it is recorded he was a member of the HMCS RAINBOW.
Ships served in: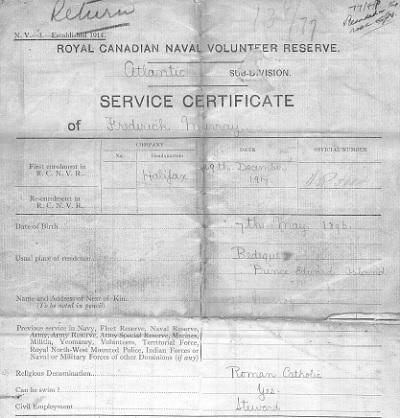 Service documents for Frederick Murray, VR-5884, RNCVR
Webmaster's note: This service certificate appears to be a duplicate created after the RCNVR was disbanded and the RCNVR stood up as Frederick Murray served during the First World War and the RCNVR was not stood up until 1923.
---