In memory of those who have Crossed the Bar
MOORE, Douglas Charles (Doug) - Peacefully on Monday, August 27, 2007 at the Wellington Long Term Care, in his 83rd year. Beloved husband of Betty for 61 years, loving father of Peter (Helene), Paul (Debbie), Patrick (Shelley), Michael (Kate) and Chris (Sharon). Proud grandpa of Kristine, Brian, Martin, Jeffery, Graham, Kimberley, Andrea, Gregory, Amy, Derek, Riann, Andy, Stephen, Amy, Jason, Nichole. Great-grandpa of Ethan, Isaac, Tristan, Carson and Jacob. Dear brother or Lorraine Newton, Madelon Burley, Ruth Cowl and Ron Moore. Cherished brother-in-law of Charlotte and Beverley. He will be dearly missed by daughter-in-law Brenda. Doug was a Naval Veteran of World War II. He was employed with Westinghouse Canada and a member of Masonic Lodge #594, Scottish Rite, Legion #163, SCOBA and the YMCA. Family will receive friends at Crestmount Funeral Home, 322 Fennell Avenue East on Thursday, August 30 from 2-4 and 7-9 p.m. Funeral service will be held on Friday, August 31, at 11 a.m. at Paramount Alliance Church, 1035 Paramount Drive. Cremation will follow. In lieu of flowers, donations to the Diabetes Society or the M.U.M.C. Children's Hospital would be greatly appreciated.
Ships served in:
---
(DM00a) Doug Moore's medals (DM00b) Memoriam for Doug Moore
---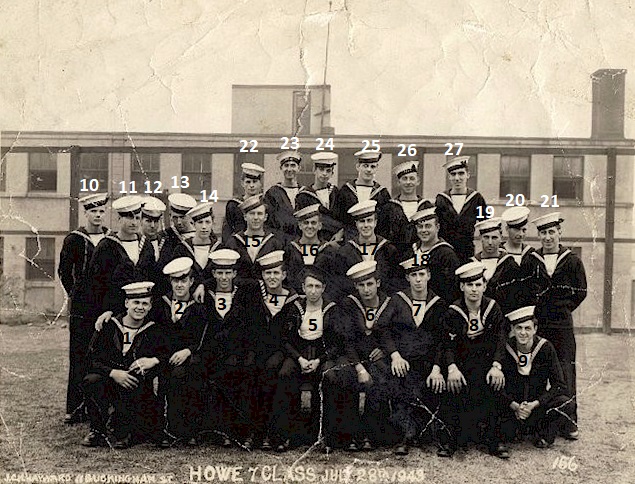 (DM01) Stokers Course Howe 7 Class - 28 Jul 1943
HMCS CORNWALLIS
(1) Thorsteinson, Skull? (2) Tippings, Harold (3) Moore, Doug (4) Crew, Bob (5) Young, Bill (6) Dye, Dean (7_) Hunt, Bert (8) Madge, Dick (9) Atkinson, Ray
(10) Pesant, Bill (11) Gilliland (12) Hoy, Jack (13) Perour, Mike (14) Hawes, Ed (15) McKeage, Jay (16) Williams, Ross (17) Cracknell, Bob (18) Venne, Nelson (19) Unknown (20) MacDonald, Allen (21) Lalone
(22) Noyes, Chuck (23) Taylor, Robert (24) Housea, Gord (25) Cronk, Joe (26) Moore, Bill (27) Reynolds, Jack
---
Tug - HMCS GLENELLA
(DM02) Officers on the jetty with tug in background. Officer 2nd from right appears to be the CO of HMCS GLENELLA (DM02-DM03) CO of GLENELLA with unknown man and woman (DM05) Officers forward of the bridge of HMCS GLENELLA. CO 2nd from left (DM06) HMCS GLENELLA underway
Webmaster's note: DM02-DM05 may be the commissioning of HMCS GLENELLA
(DM07-DM09) HMCS GLENELLA - location unknown (DM10) Doug Moore and shipmate taking a break on top of the bridge of HMCS GLENELLA (DM11) Sailors on HMCS GLENELLA - Doug Moore on top of bridge with shipmate
(DM12-DM13) Unknown sailors aboard HMCS GLENELLA (DM14) Doug Moore with shipmates on HMCS GLENELLA (DM15) Unknown sailors setting up what appears to be a phonograph aboard HMCS GLENELLA (DM16) HMCS GLENELLA towing a salvage barge
(DM17) HMCS GLENELLA alongside with HMS SARAWAK K591 astern (DM18) Looking forward on starboard side of HMCS GLENELLA (DM19) HMCS GLENELLA alongside Halifax (DM20) Tug Glenella - location believed to be Kingston, ON
---
HMCS WALLACEBURG
(DM21) Tot time aboard HMCS WALLACEBURG J336
---
Photos of / from various unknown ships
(DM21) Looking forward on unknown ship (DM22) Unknown aircraft carrier alongside in Halifax (DM23) Unknown tug moving barge with bi-planes (DM24-DM25) Crew mustered on quarterdeck of unknown frigate
(DM26-DM27) Officers on bridge of unknown ship in ice field (DM28-SN29) Unknown ship transiting ice field
(DM30) Unknown vessel aground on it's side on shore. It appears there are sailors in the water in the lower right side of the photo - with sailor in the foreground on an unknown ship (DM31) Bedford Basin seen from unknown ship (DM32) Another view of Bedford Basin (DM33) Same photo as DM32 - with 3 aircraft circled that were in the photo
---
HMCS U-190
HMCS U-190 (former German U-boat U-190) visits Pictou, NS.
---