In memory of those who have Crossed the Bar
William Kitchener (Bill) Frees

Stoker Petty Officer A2712, RCNR

Chief Petty Officer Engine Room Artificer, 22215-E, RCN

Born: 09 Jun 1916 Died: 07 Apr 1989
FREES, William Kitchener (Bill) - Pre-deceased by his wife, Lillian, in 1978. He is survived by his beloved family; sons, Kerry; daughters, Joan Norton and Rosiline Smith; sons-in-law, Phil and John; grandchildren and great-grandchildren. Bill will be sadly missed by his best friend Shirley Sutherland. Also survived by his brothers n New Brunswick; Albert, Clarence, Robert and Doug and their families. Bill retired after 25 years of service with the RCN and was a member of the Chiefs and POs Association and the G07 Association. Memorial service Thursday, April 13 at 2:00 p.m. in the Protestant Chapel at CFB Naden (Admirals Road) Padre Harry Silvester officiating. Cremation. Committal at sea at a later date. In lieu of Flowers, Donations may be made to the Canadian Cancer Society.
Remembering Bill Frees - by Len Burton: I met Bill in the 1980s while working in Shop 02 (the diesel shop) in CFB Esquimalt Ship repair. We were working on the Port Forward Generator on the HMCS Saskatchewan. Within about an hour Bill started telling me stories of the Murmansk run and where he was when the ATHABASKAN was torpedoed off the coast of Normandy. Bill had just come out of the engine room and stepped onto deck when the torpedo struck blowing him overboard. What he remembered of the explosion was he was on deck one moment then in the water the next, the skin lining the inside of his mouth hanging loosely, he had inhaled at the time of the explosion severely burning the inside of his mouth. The next thing he remembered was being in the water watching the ATHABASKAN drifting away from him, then she was gone. The next thing he remembered was watching the sun come up then being picked up by the Germans, treated for burns, being interrogated then being sent to the POW Camp where he spent the rest of the war until the POW Camp was liberated. He said the only time he ever feared for his life wasn't when he was in the water but when the Allies were doing bombing raids. Bill went to Korea on the newly commissioned ATHABASKAN. He was career Navy.
Ships served in:
HMCS ATHABASKAN G07 - Bill survived the sinking of HMCS ATHABASKAN G07. He was captured by German naval forces and became a POW for the remainder of the war.
HMCS ATHABASKAN - Served in ATHABASKAN during the Korean War
---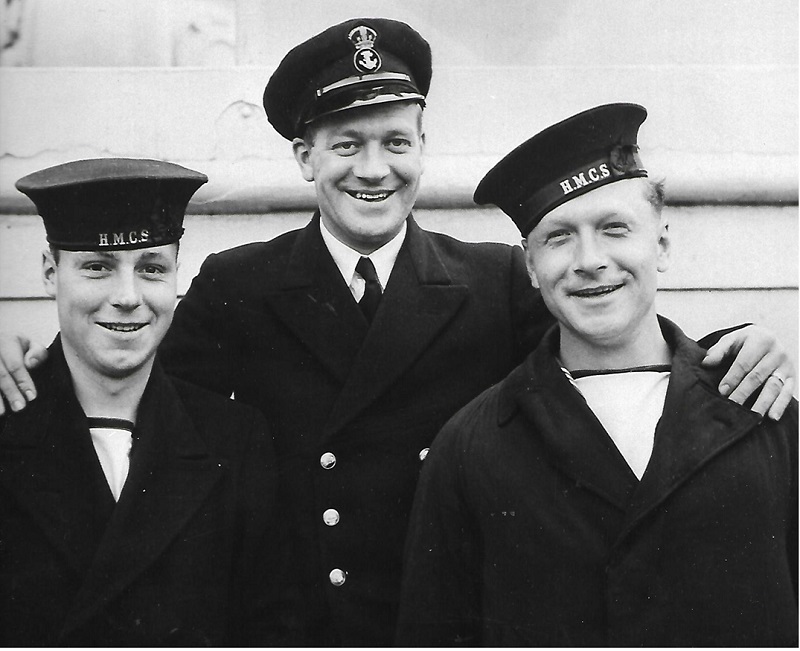 HMCS ATHABASKAN G07 POWs return
Left to right - AB Don Newman, PO.SM Frees, OS Clarence Statz
photo taken on SS AQUITANIA - in New York – May 1945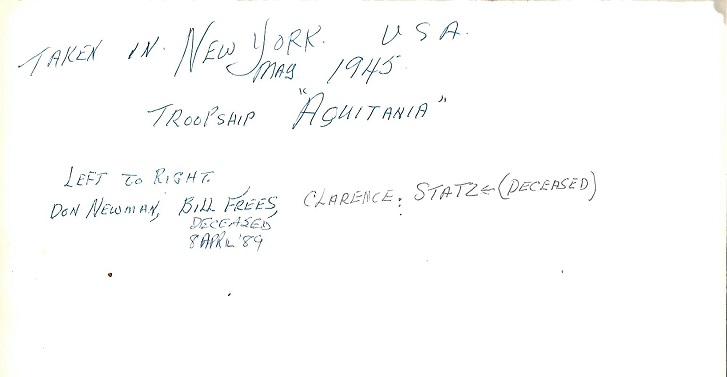 ---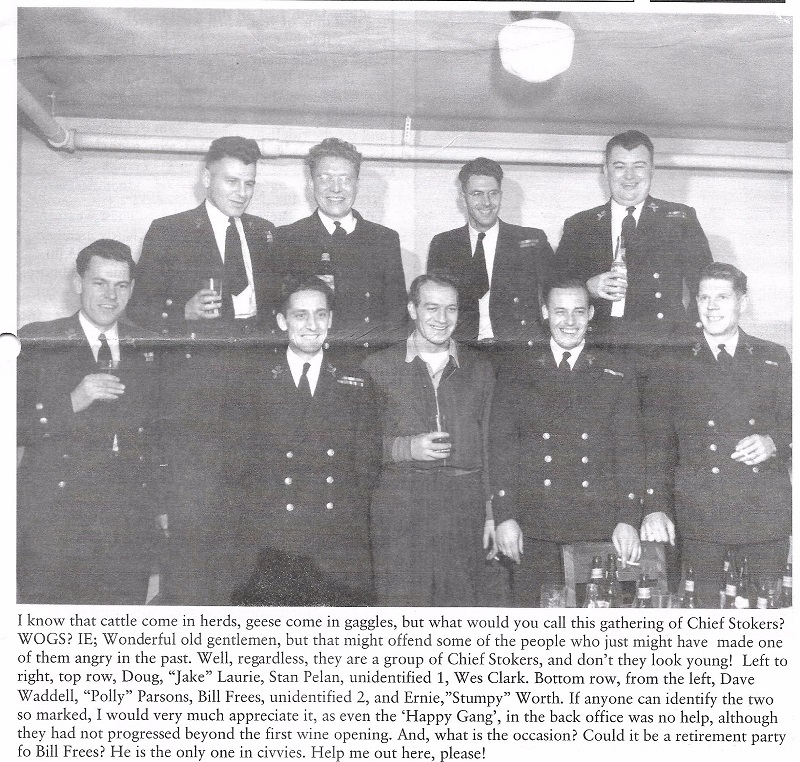 A gathering of Stokers
Chief and Petty Officers Association, Esquimalt, Newsletter
Vol. 55 No. 80, Nov 2006
---