In memory of those who have Crossed the Bar
STERNE, George Beatty - was the son of William H.S. and Ethel Sterne. He was born in Ontario but grew up in Edmonton, AB. Prior to the Second World War, George served 3 years in the Edmonton Police Department. After his time in the Navy, George he moved to Burnaby, BC where he took up sports car driving. The ashes for George and his wife Lydia were scattered at sea off Deep Bay, BC.
George's brother, Flight Lieutenant John Rutherford Sterne, DFC, was shot down and killed over France during the Second World War.
George Beatty Sterne: The Life, Racing Career, and Dedication to the Morgan Sports Car by Marv Coulthard, Salt Spring Island, BC.
Memories of George Beatty Sterne - by Bob Sterne
Ships served in:
Q080 - George Sterne was serving in Q080 when she ran aground on PEI in Jan 1943
(GS00a-GS00b) George Stern's letter writing folder with a photo of Lydia that he carried with him throughout the war
---
(GS01) ML Q080 (GS02) ML Q080 iced up - showing winter conditions in the Gulf of St. Lawrence (GS02) Funnel art on ML Q080 - Popeye kicking a U-boat (GS03) (GS04) Crew of ML Q080. CPO Sterne, front row, 3rd from right
Photo GS04 is also posted on the ship's company photo page for Q080
(GS05) Colours on ML Q080. CPO Stern port side rank, 1st on left (GS06) Officers on ML Q080 (GS07) Officers on ML Q080 (GS08) ML Q064 and Q080 alongside and unknown location
---
ML Q122
(GS09) CPO George Sterne on ML Q122 (GS10-GS11) Hands fallen in on ML Q122 (GS12) ML Q122 Christmas card
(GS13) Crew of ML Q122 c1944 - George Sterne just to the right of the mast wearing a t-shirt and his cap askew (GS14) Crew of ML Q122 - CPO George Sterne front row, centre
Photo GS13 and GS14 are also posted on the ship's company photo page for Q122
---
Other Fairmile Motor Lauches
(GS15-GS17) The launching of ML Q115 at Sarnia, ON.
GS16 is the developer's stamp - Kilbreath Studio, Sarnia, ON
(GS18) MLQ051 at Sarnia, ON (GS19) 058, Q073, Q051 and Q063 with unknown minesweeper astern - location unknown (GS20) 058, Q073, Q051 and Q063 with unknown minesweeper astern and unknown ML forward - location unknown
(GS21) ML Q079 (GS22) ML Q079 - photo blown up and cropped from # GS21
---
Unknown Fairmile photos
(GS23) After 20-mm Oerlikon mount (GS24-GS25) Depth charge exploding astern of unknown Fairmile (GS26) Hotchkiss 3-pdr (GS27) 0.5"/90 Mk.II machine gun
(GS28) Mail call on unknown ML with Hotchkiss 3-pdr on fo'c's'le (GS29) unknown Fairmile iced-up (GS30) Air intakes, ship's boat amidships by funnel (GS31) Article on MLs arriving on the east coast after departing the great lakes before the winter freeze-up
---
(GS32) HMS P553 - Royal Navy sub used for anti-submarine training by the RCN (GS33) HMS P553 following astern of an unknown Fairmile
Historical note: on On 14 September 1942, USN submarine S21 was decommissioned and was transferred to the United Kingdom. As HMS P553, she served in the Royal Navy until returned to the United States Navy, at Philadelphia, on 11 July 1944. Subsequently, used as a target, she was sunk in 150 feet (46 m) of water in the Atlantic Ocean off Cape Elizabeth, Maine, on 23 March 1945.
---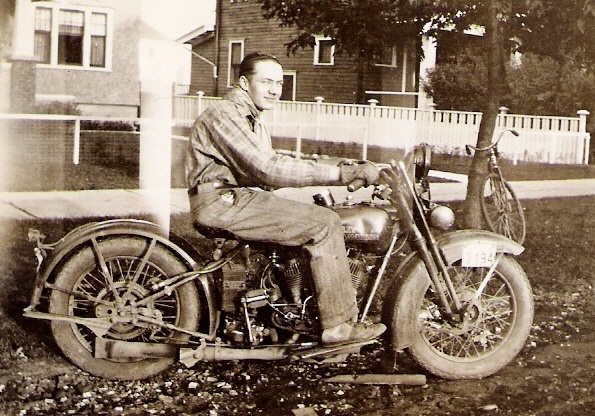 G.B. Sterne on his motorcycle pre-Second World War.
In 1931 George won the Alberta Hillclimb Championship on a Harley.
---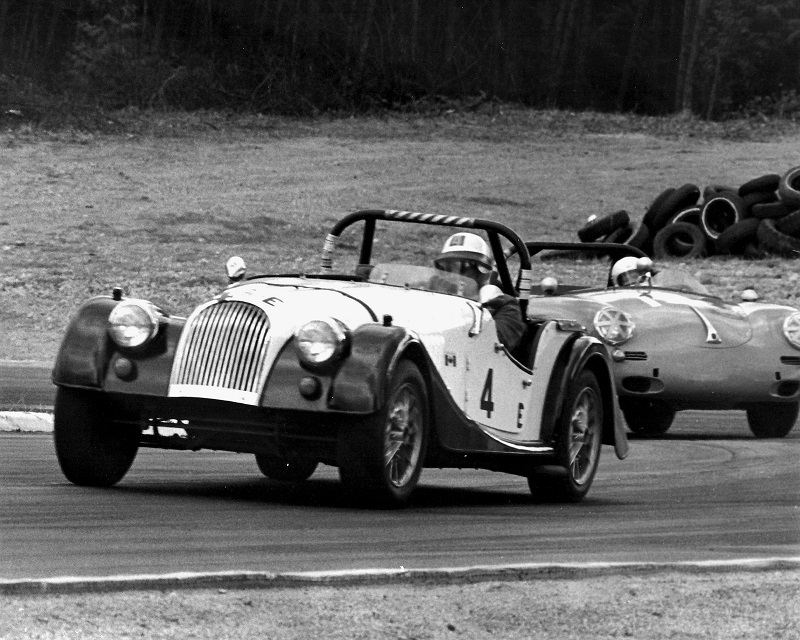 George Sterne leading the Porsche in the hairpin at Westwood
---