In memory of those who have Crossed the Bar
Miles Carleton Burnes

Signalman, RCNVR

Lieutenant, O-10560, RCNVR

Lieutenant, O-10560, RCN(R)

Died: 09 Dec 1977, Churchill Falls, Labrador
BURNES, Miles Carleton - At Churchill Falls, Labrador, on Friday, December 9, 1977, M. Carleton Burnes, beloved husband of Faye Burnes, in his 59th year. Dear father of Mrs. Robert McIsaac (Juilie) Niagara Falls, and Michael of Montreal. Dear son of Mr. and Mrs. Stanley Burnes, Dundas, and brother of Mrs. Clifford Smith (Edna) Waterdown. Cremation. A memorial service will be held in Zion United Church, Hamilton, on Friday at 2 p.m. If desired, memorial gifts may be made to the Big Brothers Association, in lieu of flowers. (Arrangements by Dodsworth & Brown).
Carleton commenced active service in the RCNVR 01 Oct 1941 as a Signalman. He was Commissioned from the Ranks and was appointed as a Prob. SLT, RCNVR in Jan 1943. He was demobilized 11 Sep 1945 as a Lt, RCNVR. He then transferred to the RCN(R) and was placed on the Retired List.
Ships served in: (as an officer)
* Listed as a Prob. SLt, RCNVR (Navy List Mar 1943)
HMCS SWIFT CURRENT - Appointed to SWIFT CURRENT - 15 May 1943 as a SLt, RCNVR (seniority 04 Jan 1943) (Navy List Aug 9143). Appointed Lt, RCNVR (seniority 04 Jan 1944) (Navy List Feb 1944).
HMCS LEVIS - Appointed to LEVIS - 26 Apr 1945 as a Lt, RCNVR
* Retired List as a Lt, RCN(R) (seniority 04 Jan 1944) (Navy List Apr 1946)
* HMCS STAR (Retired List) - as Lt, RCN(R) (Navy List Jul 1952)
* Last noted on the Retired List at HMCS STAR as a Lt, RCN(R) (Navy List Jan 1960)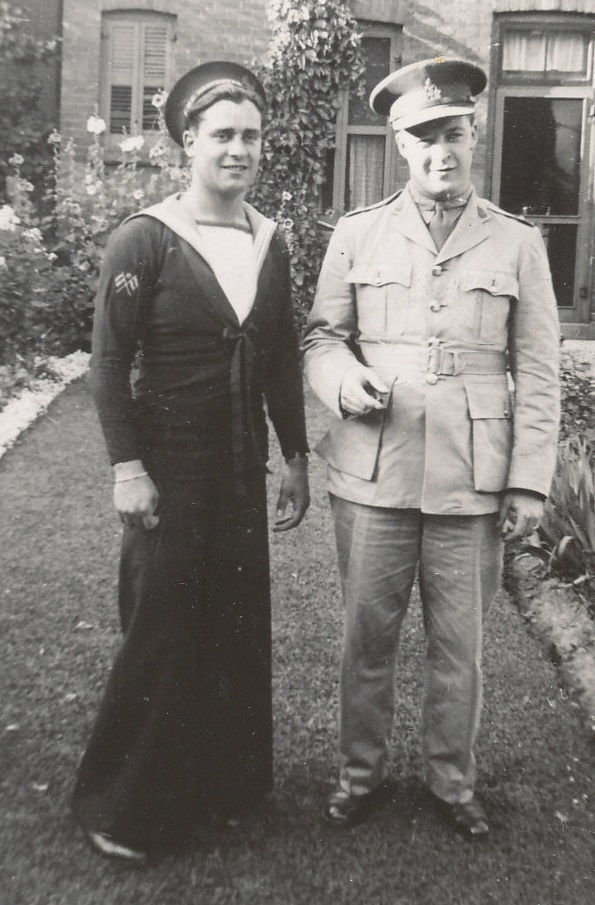 Carleton Burnes (left) and his brother Robert Arrell Burnes c1941
Click on the above photo to view the full image
Click here to view a colourized version of this photo
---