In memory of those who have Crossed the Bar
Ada Hazen (Stit) Inches (née Mackay)

Wren Telegraphist, W186, WRCNS

Lieutenant, O-44440, WRCNS

Born: 28 Jul 1920, Rothesay, New Brunswick

Died: 29 Aug 2021, Quispamsis, New Brunswick
INCHES, Ada Hazen (née Mackay) - After a long and fulfilling life, our mother, Ada Hazen "Stit" Inches, passed away peacefully on August 29, 2021. Born at home in Rothesay 101 years ago, she was one of four children born to Hugh "Buff" Mackay and Katie Hazen Mackay.
Hazen graduated from Netherwood School and went on to earn a Bachelor of Library Science from McGill in 1942. Later that year, she joined the Women's Royal Canadian Naval Service (Wrens) and served overseas in Newfoundland and Great Britain. She was discharged with the rank of Lieutenant in 1946. Her service numbers were W186 and O-44440.
Mum was an athlete having been an avid tennis player and sailor in her youth. She had a passion for the outdoors that became an important part of all of our lives. She was always concerned for the less fortunate. Among the most meaningful to her was the work and the close relationships she developed over the many years volunteering with the Girl Guides of Canada as well as the more than 30 years with the Saint John Community Food Basket. She deeply cherished her time on the Long Reach and the neighbours, friends and family that surrounded her while there.
Hazen was predeceased by her husband, J. Donald Inches; her brother, Hugh "Yip" Mackay and her sister, Susan Reay Leggat. (Susan was a Wren Transport driver during the war.) Hazen is survived by her sister, Hope Hazen Mackay Hunter. She is also survived by her sons, David Inches of London, England, Peter Inches (Jeannie) of Qualicum Beach, BC, Hugh Scarth (Maria Boudreau) of Rothesay, Hank Scarth (Carolyn) of Rothesay and Hazen Scarth (Marilyn) of St. John's; her daughters, Margot Inches of Victoria and Katherine Inches Grant of Rothesay; her eleven grandchildren, Elizabeth Scarth (Kenny) of Halifax, Alex Scarth of Ucluelet, BC, Michael Scarth (Canice) of Toronto, Jim Scarth (Katie) of Dartmouth, Kate Scarth (Christopher) of Charlottetown/Halifax, Bill Scarth (Allison) of St. John's, Susan Scarth of St. John's, Peter L. M. Inches of Victoria, Margot Grant of Rothesay, Gillian Grant (Gavin) of Victoria and Caroline Grant of Rothesay; as well as her four great-grandchildren, Abigail, Paige, June and Josephine.
The family wishes to thank the entire staff at Embassy Hall, Shannex in Quispamsis for their dedication and compassion. We deeply appreciate the attention and care that was provided to our mother and our family throughout her stay. The family also thanks Linden Guillermo for her years of dedication to, and care, of our mother.
In lieu of flowers, donations may be made to the Saint John Community Food Basket or the charity of your choice.
(The Telegraph Journal 29 Aug 2021)
---
Ada Hazen Inches (nee Mackay) after earning a Bachelor of Arts from McGill, entered the Women's Royal Canadian Naval Service on October 9, 1942. The hiring board's observations of her in 1942 included the comments:
* "Above the average in every respect."
* "A sound young woman of unusual ability; excellent character and pleasing personality."
* "Open air type of girl."
She trained in radio communications at H.M.C. Signals School in St. Hyacinthe, Quebec, where she received a "Specialist Qualification" (September 1943 to January 1944).
She was posted 'overseas' to St. John's, Newfoundland from April to September 1945. It is the family's understanding that her job was to intercept German U boat communications to determine location of the subs through triangulation.
She was discharged as a Lieutenant on June 6, 1946.
After the war, with her husband, J.D. Inches, an RCAF veteran, she went on to raise seven children and to participate in numerous volunteer activities, including at the South End Food Bank in Saint John, New Brunswick up until her 90s. She continued to be an "Open air type of girl," particularly cherishing her time with family on the Long Reach, Saint John River.
---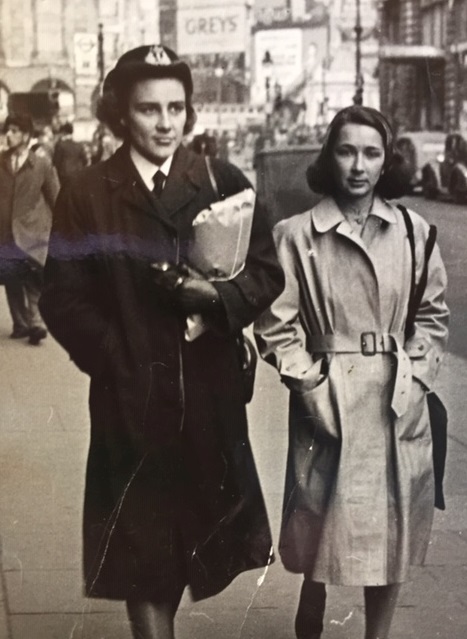 Hazen in uniform, with a friend in London, England, where she was stationed in the late and immediate post war period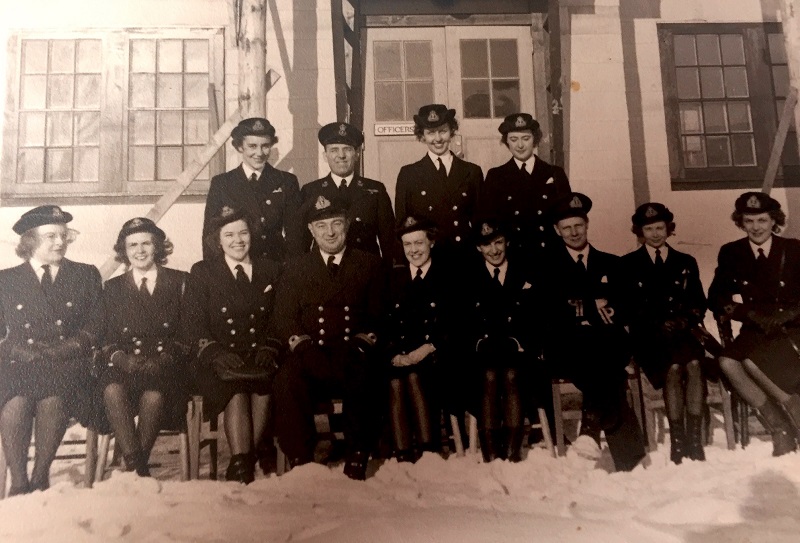 Wren Telegraphist Course
HMCS ST HYACINTHE
Wren Hazen Mackay - back row, 1st on left
---