In memory of those who have Crossed the Bar
H. Allan Fleming

Acting / Leading Stoker, RCNVR

Died: 15 Oct 2005, Wainwright, Alberta
FLEMING, H. Allan - of Wainwright, Alberta, passed away at Wainwright on October 15, 2005 at the age of 82 years.
Allan leaves to mourn his wife Fern, son Tom (Donna) Fleming of Sherwood Park, their children Angie (Tyler), Troy, Trent; three daughters, Bev Fleming of Sherwood Park, Heather (Dennis) Baird of Stettler, their children Nick, Travis, Adam; Carrie (Brent) Taylor of New Westminster, B. C., and their children, Evan, Aksel, Grayson; one brother Ron (Ruth) Fleming of Camrose; one brother-in-law Ted Larson of Provost; one sister Lorna Young of Washington. Allan was predeceased by one sister Jean Larson; one brother-in-law Daniel Young.
Allan served in the Royal Canadian Navy and was a veteran of World War II. When he returned from active duty he tried his hand at meat cutting and farming. In 1955 he went to the United States to be trained as an auctioneer. Through the connections he made buying and selling livestock, Allan made a natural transition to selling real estate. His company, Allan Fleming Realty Ltd. was a great source of pride and enabled him to pursue many of his passions. Allan was a pilot, hunter, fisherman, golfer and traveler. Allan's family will remember him as a hardworking and determined man who possessed a keen wit. He dearly loved his family and was looking forward to the birth of his first great grandchild in November.
Funeral Services will be held Thursday, October 20, 2005 at 11:00 a.m. at Grace United Church, 1038 4th Ave., Wainwright, AB. with the Interment to follow at 3:00 p.m. at Provost Cemetery, Provost, AB., Pastor Lois Greenlay Burwash officiating. If friends so desire, memorial tributes may be made to the Wainwright Health Care Centre - Acute Care, 530-6th Avenue, Wainwright, Alberta, T9W 1R6.Special thanks to the outstanding caregivers at the Wainwright Health Center, and in particular Dr. Werner DeVos. Gregory's Funeral Homes Ltd. Provost, Alberta 1-780-753-2332 (Edmonton Journal 18 Oct 2005)
Ships served in:
HMCS NONSUCH - Enlisted 26 Mar 1942. Commenced Active Service 05 Apr 1942
HMCS SWANSEA - Served in SWANSEA for all 4 of her U-boat kills
HMCS ALGONQUIN - Served in ALGONQUIN 24 May 1945 - 03 Au 1945 as an A/L/Sto, RCNVR
HMCS NONSUCH - Demobilized - Nov 1945
---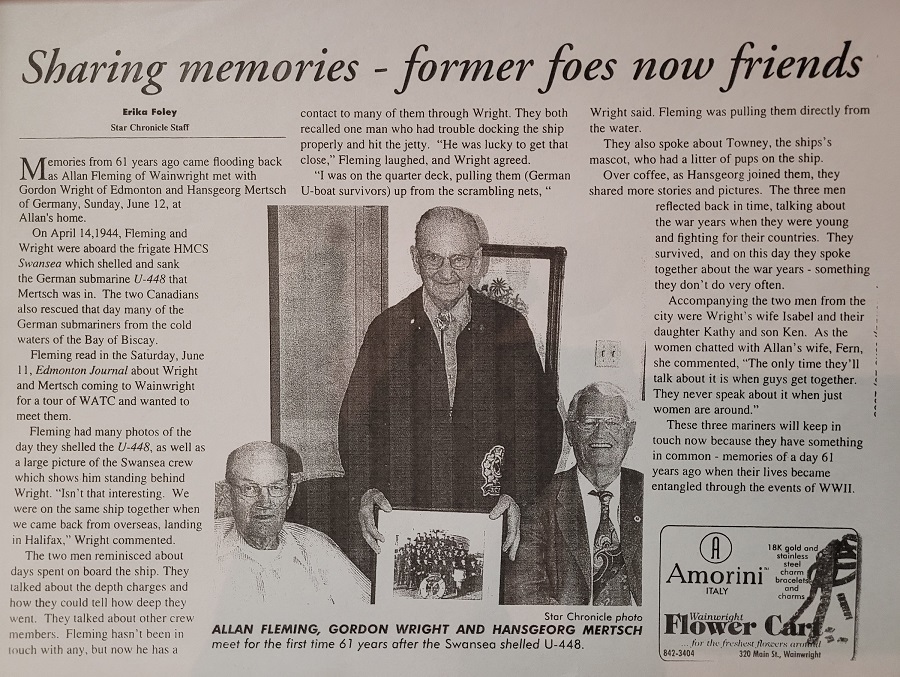 Allan Fleming and Gordon Wright, former crew members of HMCS SWANSEA during the Second World War, meet with Hansgeorg Mertsch, a crewmember of U-448 that was rescued by SWANSEA after she sunk U-448.
Click on the above article to view a larger image
Courtesy of Heather Baird
---