In memory of those who have Crossed the Bar
Evelyn Joyce Ardele Harrington

WRCNS

Born: 08 Jun 2025 Died: 05 Nov 2021
HARRINGTON, Evelyn Joyce Ardele - Peacefully in her sleep at the Great War Memorial Hospital, Perth after a bad fall and spinal injury.
Predeceased by mother Muriel Grace and father Reginald, by sister Muriel (Pip), brothers Leonard and Ronald and husband Robert Cecil Stevens. Survived by brother Gordon (Joan), son Robert Craig Stevens (Corinne) and daughter Shelagh Lynne Stevens and many nephews nieces, grand-nephews and grand-nieces.
She was a remarkable woman who grew up in the small town of Walkerton, Ontario and answered the call of King and Country to enter the Navy as a teenager. She did her training in Clinton, Ontario and was then sent by rail to Sydney, NS where she was posted for the duration of the war. After demobilization in Montreal, she went to England for a year where she worked as a 'Girl Friday' and then out west to Lethbridge. She then returned to Ontario and attended MacDonald Institute (a precursor to Family and Consumer Studies at the University of Guelph) where she met Dad who was in the Bachelor of Science in Agriculture at the same university. After many moves around Ontario, she returned to Guelph where she became a mainstay at the Extension Education Department at the University of Guelph. After retirement, she then returned to Walkerton where she worked for the Department of Education and helped out her community with many volunteer opportunities, or being the soundingboard for the mayor or attending social events with her constant companion, Kevin. Wherever she went, Mom made friends easily and kept them for a long time. After some medical complications, she moved into a retirement home to be closer to her children and spent her final years in the lovely historical town of Perth. Mom didn't want a service so we must honour her wishes but we will have a gathering later to swap stories of our favourite Mom memories. Mom loved animals and especially kitties, so in lieu of flowers, please donate to the Lanark Animal Welfare Society. Thanks to Royal Canadian Legion Perth-Upon-Tay Honour Our Veterans Banner Committee, ambulance attendants, Carolina Suites, Lanark Lifestyles, and staff at the Great War Memorial Hospital in Perth for taking such good care of Mom. Whether St James Guelph, St James, Walkerton or St James, Perth church especially the Anglican church played a central role in Mom's life and beliefs. Rest in peace, Mom, in the loving arms of your Lord and Saviour, Jesus Christ.
Yea, though I walk through the valley of the shadow of death, I will fear no evil: for thou art with me; thy rod and thy staff they comfort me. Psalm 23:4 (KJV) (Ottawa Valley News 09 Nov 2021)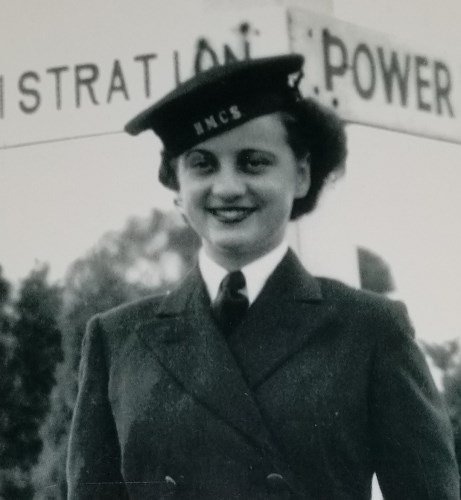 ---