In memory of those who have Crossed the Bar
Lewis George Stacey

Submarine Detector, RCNVR

Born: 18 Sep 1924

Died: 14 Jan 2021, London, Ontario
STACEY, Lewis George - in his 97th year, passed away peacefully on Jan. 14, 2021 at Parkwood Institute Veterans Wing, holding the hands of his son and daughter.
Lew Stacey was 19 in the fall of 1943 when he set off to join the army. On his way to the recruitment centre, he instead was fortuitously stopped by a naval recruiter from HMCS Prevost London. A short time later, after training at HMCS Cornwallis N.S., he was part of the crew of the "Napanee", a flower-class corvette of the Royal Canadian Navy, escorting ship convoys to Britain, known as the North Atlantic run.
That he had never clapped eyes on the open sea didn't matter. He grew up along the shores of Lake Huron, which could be mistaken for the ocean on a calm day if not for the lack of brine. As a boy, Lew built a sailboat, steaming the boards to ply them into shape. He used old flour and sugar sacks his mother saved as sails.
Being on boats all his life, in all kinds of weather, prepared him for his role as an ASDIC/SONAR operator, where he spent hours in a small, windowless, dark and cramped room below the bridge listening for enemy submarines. The underwater radar's constant 'pinging' is believed to have caused his partial hearing loss.
Lew was a gentleman, polite, with a gentle sense of humor, someone with whom others felt comfortable. The only trouble he got into in the navy was playing his mandolin after curfew during boot camp. That cost him a number of laps around the barrack's perimeter, in full gear, rifle held above his head.
It was music that brought him together with the love of his life, Doreen. Throughout their marriage, they entertained their many friends and family, with her playing piano and singing; he accompanying on mandolin and mouth harp.
They lived a simple middle-class life, with Lew driving bus 37 years for the London Transit Commission without ever having an accident. When not playing music, Lew and Doreen were either sailing on lake waters, RVing across Canada in their motorhome or on the ice curling.
They were more than spouses of 64 years; they were best friends. It was his greatest loss when Doreen passed away in 2014 -- one from which his heart never really recovered.
Some lives are measured in money or possessions; Lew's can be measured in the depth of love he gave and received. He will be always missed by daughter Cheryl (Sherry) McLain and Darryl Stacey, and their spouses, Dan McLain and Helen Connell. He was treasured by his grandchildren Colin McLain and Stacey Carnochan, their partners, Nicole Ryan and Justin Ryan, as well as his great grandchildren, Blake, Nevaeh, Calex and Jakob.
While family and friends will miss him, we know he's back where his heart is, creating duets with Doreen or taking her for another waltz around the dance floor.
The family wishes to thank the Parkwood Veteran's staff under Dr. Borrie, especially those on 2 Perth for their caring and compassion. Due to COVID-19, a private family service will be held at Forest Lawn Funeral Home, 1997 Dundas St. London. At that time, a live streaming will be available on Monday Jan. 18/21 at 1 p.m. In lieu of flowers, and if desired, family and friends are encouraged to donate to Parkwood Institute Western Counties Veterans Wing 2 Perth; E2-183 , 550 Wellington Rd. London ON N6C 0A7 or the Royal Canadian Legion Victory Branch # 317 at 311 Oakland Ave. London ON N5W4J5.
Ships served in:
HMCS PREVOST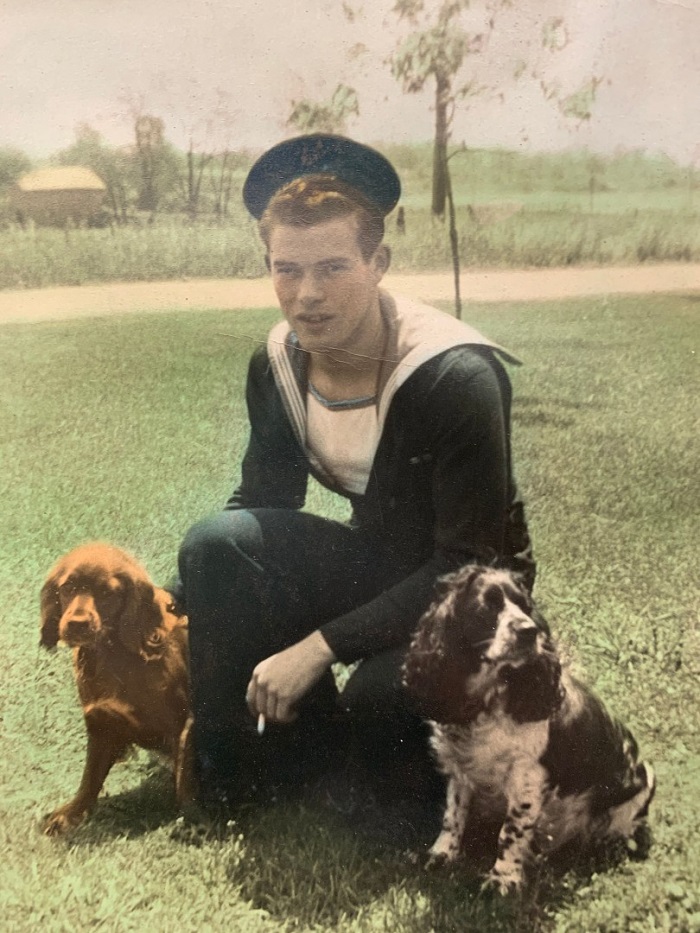 ---