In memory of those who have Crossed the Bar
Thomas Alfred Thomas, O.M.M., C.D.

Chief Petty Officer 1st Class, Naval Electronics Technician (Comms)

C.A.F. (Navy)

Born: 1948, Princeton, British Columbia

Died: 2021, Victoria, British Columbia
THOMAS, Thomas Alfred - Tom passed away peacefully, in his sleep at home in Victoria. Born in Princeton B.C. and raised in Hedley B.C., Tom was a loyal and dedicated 40-year veteran of the Royal Canadian Navy and served in many capacities including Cox'n on HMCS CALGARY in 2001 (his last ship). We were all extremely proud when he received the Order of Military Merit in 2006 for his excellent service. In his retirement, Tom enjoyed painting, wood carving, his back yard birds, the challenge of playing year-round golf three days a week, learning and teaching others, the Blue Jays, admiring new vehicles, teasing everyone and enjoying a good joke with family and friends.
Tom will be forever loved and missed by his wife of 50 years, Marilyn, sons Scott (Shawna) and Sean (ZoŽ), cherished grandchildren Jacob, Imogen and Sebastian, sister Evelyn, brothers-in-law Mike (Marg) and Murray (Wilma) Smith and many nieces and nephews.
The family would like to thank the staff, Seniors members and his golf buddies at Metchosin Golf Course for sharing their friendship and life experiences with him. You enriched his life for many years.
No service by request.
(The Victoria Times Colonist 27 Nov 2021)
Ships served in:
HMCS CALGARY - Served in Calgary in 2001 as Cox'n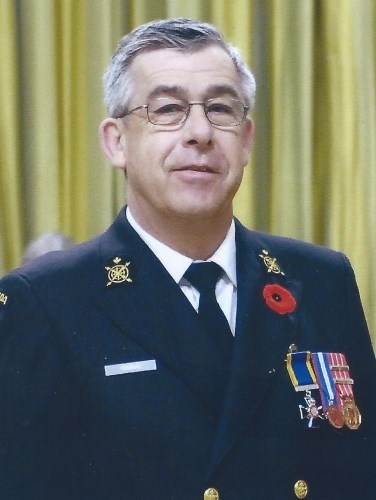 ---