They made the Ultimate Sacrifice
Gordon David Cartwright

Able Seaman, V24087, RCNVR

Born: 31 Jan 1922, Winnipeg, Manitoba

Died: 14 Oct 1942 at sea

Book of Remembrance
CARTWRIGHT, Gordon David, AB, V24087, RCNVR, MPK -14 Oct 1942, HMCS SACKVILLE - Son of Mr. and Mrs. Charles Henry and Elizabeth Cartwright, 139 Maryland St, Winnipeg.
Able Seaman G.D. Cartwright was washed overboard from HMCS SACKVILLE in very heavy weather and was never found. He is presumed drowned. Born in Winnipeg, he attended the Elmwood and Lord Selkirk Schools and was employed by the Fraser Bruce Construction Company, Transcona, until he enlisted in Dec, 1940. He went on active service in Apr 1941, on convoy duty, and was home on his last leave in January of this year. He was a member of the Elmwood Presbyterian Church Sunday School. He also took part in Sandy Hook Community club activities. Able Seaman Gordon Cartwright has one brother, Lorne, a Telegraphist in the RCNVR stationed on the east coast and a sister, Florence, at home.
From the memoirs of Kenneth Medford - AB Cartwright was lost when HMCS SACKVILLE was damaged by a quartering sea. At the time of his death, AB Gordon Cartwright was not scheduled to be on watch, but had taken a watch to replace a sailor that was sick.
Gordon's brother Lorne Cartwright was serving in HMCS SAGUENAY as an O/Tel when Gordon died.
Ships served in:
RCNVR DIVISION WINNIPEG - Enlisted 04 Oct 1940. Commenced Active Service 16 Dec 1940
HMCS BADDECK - Served in BADDECK 14 Jun 1941 - 05 Apr 1942 as an OS and AB, RCNVR. Rated AB 07 Dec 1941
HMCS SACKVILLE - Drafted to SACKVILLE 06 Apr 1942 as an AB, RCNVR
(GC01-GC02) Certificate of Service - pages 1 and 2 (GC03) Report of Death (GC04) Commanding Officer's report on the death of AB Cartwright (GC05) Article from the Winnipeg Evening Tribune on the death of AB Gordon Cartwright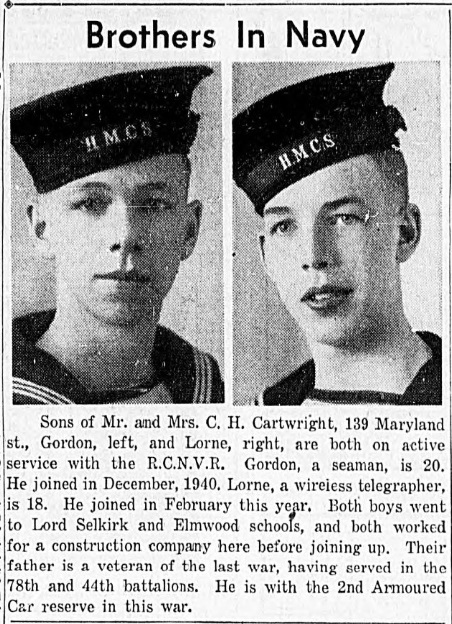 (GC06) Article from the Winnipeg Evening Tribune on Gordon Cartwright and his brother Lorne both serving in the RCNVR
---
Second World War Casualty Index