In memory of those who have Crossed the Bar
Raymond McLeod Sutherland

Lieutenant-Commander, RCN

Born: 1934, Antigonish, Nova Scotia

Died: 2021
SUTHERLAND, Raymond Mcleod - It is with great sadness that we announce the passing of Raymond M. Sutherland, born in Antigonish in 1934, first child of Warrena and Howard Sutherland. Ray wanted to see the world, so he enlisted in the Canadian Navy, and got his education at Mount Allison University in New Brunswick, graduating in 1955. During his time in the military, he was privileged to travel the world, achieving the rank of Lieutenant Commander. During the last 10 years of his military career, the family lived in Newmarket, Ont. He retired at CFB Bordon, joining the Public Service of Canada as a senior management consultant. In 1980, a vacancy in the civil service opened up in Victoria, B.C. It was there that Ray settled his family, and he called it home for over 40 years. Ray was always interested in sports and in church groups. He served as president of the Royal Oak Probus Club and was a follower of Standardbred Harness Racing. He lived a full and varied life, and is survived by his loving wife, Carol; sons, Mark (May) and Ryan (Ylan); and daughters, Heather and Wendy. A wonderful friend to many, uncle, brother, husband and father, he will be sorely missed. May he rest in peace.
---
SUTHERLAND, Raymond M. - Ray was born in Antigonish, NS, and always told the story of being brought home from the hospital in a horse-drawn sleigh. He was valedictorian of the first graduating class of the Rural High School in Brookfield, NS. He graduated from Mount Allison University in Sackville, NB, the first of his family to do so, with a Bachelor of Commerce. He joined the Royal Canadian Navy in 1952 and was commissioned as a Sub-Lieutenant in 1955.
During his 27-year naval career, his specialty was in the field of logistics and supply, the business side of the Forces. He served on many ships including HMCS CRESCENT, ONTARIO, ANTIGONISH, NONSUCH, SCOTIAN CORNWALLIS, HOCHELAGA and STADACONA. A career highlight was a posting to the US Naval Supply Center in San Diego, California, where he was recommended for the US Navy Commendation Medal for his duty as Director of the Freight Terminal. He was a graduate of the Canadian Forces Staff College, and spent many years teaching at CFB Borden. After retiring from the military, he joined the Public Service of Canada as senior management consultant at CFB Esquimalt, finally retiring in 1991.
Ray met his future wife, Carol, at Mount Allison one day while she was picking up leaves and counting backwards from 100 in French. They were married in Montreal in 1957. Their family grew to include four children: sons Mark (May) and Ryan (Ylan); and daughters Heather and Wendy.
Always interested in sports, Ray was active in golf, tennis, baseball, lawn bowing, and swimming. He served several years as chair and/or board member of several United Churches, and enjoyed activities including participation in various small groups, walking, study, and discussion. He served as President of the Royal Oak Probus Club. True to his rural background he was an enthusiastic follower of standard bred harness racing as both spectator and owner.
Many of our Dad's fondest memories came from our property in the Muskokas, which was on 100 acres of land and had a lake which was formed above a series of beaver dams. Over the course of several summers, he and Mark built a cottage on the shore of the lake, and we spent many happy days in that idyllic setting, far from the cares of work and school. He loved that place, and we like to think that his last thoughts were memories of our family together there.
"Stand at the water's edge, Dad, in the evening stillness, faithful Sparky by your side. Slap the water gently with your paddle, and listen closely for the beaver's reply: calling you home." (The Victoria Times Colonist 12 Mar 2022)
Ships served in: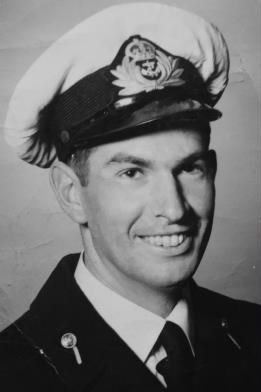 ---