They made the Ultimate Sacrifice
Charles Roy Mason

Leading Seaman, 3884, RCN

Born: 07 Aug 1923, Kamloops, British Columbia

Died: 23 May 1944 at sea

Book of Remembrance
MASON, Charles Roy, LS, 3884, RCN, killed - 23 May 1944, MTB-726 - Son of William and Irene M. Mason, of Vancouver, BC.
Leading Seaman C. R. Mason was mortally wounded, in a daring attack in a motor torpedo boat 726 against a superior German force on the night of May 22-23, 1944. He passed away as the result of serious injuries sustained that night. He is buried in the St. Mary Churchyard, Brixham, Devon, UK.
Leading Seaman Charles Roy Mason, age 20, son of Capt. and Mrs. William Mason, of 2811 Maple, has been posthumously mentioned in dispatches for good service against enemy coastal forces off the coast of France. Leading Seaman Mason who was to have received his Petty Officer rank in June, died of serious injuries received on active service with a motor torpedo boat May 23, 1944. He was buried with full naval and military honours at Brixham, England. Born in Kamloops and educated there and at Lord Tweedsmier High at Cloverdale, he enlisted in the navy four years ago going over seas in December 1943. A brother Sgt. J. R. Mason, is serving with an armor unit in Italy.
M.I.D. citation: MASON, Charles R., Leading Seaman, 3884, Posthumous, Mention in Despatches, RCN - Awarded as per Canada Gazette of 20 January 1945 and London Gazette of 3 October 1944. "For undaunted courage, resolution and skill during a series of actions against enemy forces while serving in Light Coastal Craft."
Ships served in:
HMCS PRINCE DAVID - Served in PRINCE DAVID 21 May 1941 - 09 Nov 1942 as an OS and AB, RCN. Rated AB 04 Apr 1942
HMCS CALGARY - Served in CALGARY 21 May 1942 - 24 May 1943
HMCS QUESNEL - Served in QUESNEL 06 Aug 1943 - 21 Nov 1942
HMS ST CHRISTOPHER - Served in ST CHRISTOPHER 08 Jan 1944 - 03 Feb 1944. HMS St Christopher was a Coastal Forces Training Base of the Royal Navy during the Second World War and was located in and around Fort William, Scotland.
HMS CICALA - Served in CICALA 04 Feb 1944 - 28 Feb 1944. HMS CICALA was the MTB and MGB base in Dartmouth, Devon, UK
MTB 726 - drafted to MTB 726 29 Feb 1944 as an A/LS, RCN
(CM01-CM02) Certificate of Service - pages 1 and 2 (CM03) Report of Death (CM04) Letter to LS Mason's father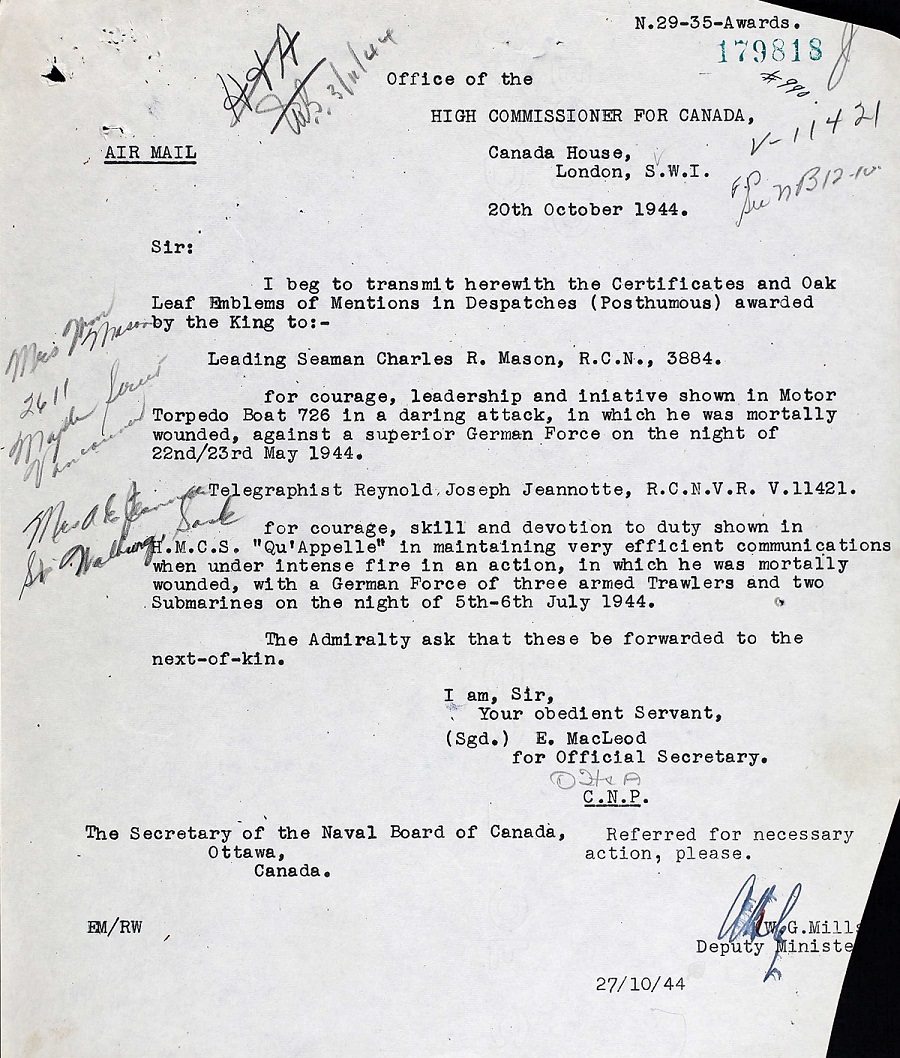 Notification of the award of MID to LS Charles Mason and Tel Reynold Jeannotte.
---
Second World War Casualty Index