They made the Ultimate Sacrifice
Francis Owen Corrigan

Supply Petty Officer, 40595, RCN

Born: 11 Dec 1917, Coal Creek, British Columbia

Died: 26 Sep 1942 at sea

Book of Remembrance
CORRIGAN, Francis Owen, Supply Petty Officer, 40595, RCN, MPK - 26 Sep 1942, HMS VETERAN / HMCS NIOBE - Son of Mr. and Mrs. James Corrigan, Fernie, BC.
Supply Petty Officer F. O. Corrigan was killed in action. He was taking passage on HMS VETERAN to HMCS NIOBE, Greenock, Scotland. HMS Veteran was torpedoed and sunk by U-404 on September 26, 1942.
Awards and Decorations: The 1939-45 Star, The Atlantic Star, the CVSM with Clasp and the 1939-45 War Medal
Ships served in:
HMCS NADEN - Drafted to NADEN 31 Jul 1949 as a VA, RCN
HMCS OTTAWA - Drafted to OTTAWA 29 Dec 1939 as a VA
* Rated LVA (advanced) 15 Oct 1940
* Rated LVA (confirmed) 01 Dec 1940
HMCS STADACONA - Drafted to STADACONA 16 Nov 1941 as a LVA, RCN
* Rated Supply PO 30 Nov 1941
HMCS PRESERVER - Drafted to PRESERVER 21 Jun 1942 as a Supply Petty Officer, RCN
HMCS STADACONA - Drafted to STADACONA 25 Aug 1944 as a Supply PO, RCN
HMCS NIOBE - Drafted to NIOBE 16 Sep 1942 as a Supply Petty Officer, RCN. Died 26 Sep 1942 while taking passage to the UK aboard HMS VETERAN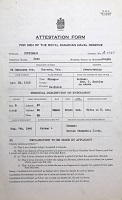 Documents from the Service File of Francis Corrigan
---
Francis Owen Corrigan - Researched by Anne Gafiuk
Francis (Frank) Owen Corrigan was the son of James Corrigan, originally from Ireland. His mother, from England, name unknown, passed away in 1927. Mr. Corrigan remarried and Frank's stepmother was the former Mrs. Mary Illidge. They resided at 47 Mason Avenue in Fernie.
Frank was born on December 11, 1917 in Coal Creek, British Columbia. He had three brothers, two of whom were in service. Egbert, 26, lived in Trail, BC. James, 23, was a corporal with the 25 Fd. Coy, Royal Canadian Engineers (RCE) and was stationed in Port Alberni, BC. His brother, Michael, 19, was an Able Seaman with the Royal Canadian Navy, based out of Hamilton, Ontario. He had one stepbrother, Thomas Illidge of Cherryvale, BC, and one stepsister, Marion Illidge of Fernie. The family was Roman Catholic.
The children attended Holy Family School in Fernie. Frank and his brother, James, graduated from Fernie High School in 1937 and this was announced in the Vancouver Sun newspaper in July 26 of that year. The principal of the school, Mr. McPhee, wrote a glowing letter of recommendation for Frank.
Frank was a student prior to enlistment, completing Grade 12. He wrote letters to the Royal Canadian Navy (RCN) outlining why he wanted to be a part of this branch of the service. He indicated he could swim and was a First Aid man at the Government Placer Mining Training Camp for six weeks.
In early May of 1938, Frank requested an application form for the Canadian Navy.
On May 19, 1938, he made application for entry into the RCN for seven years' continuous service agreement as a 'sick berth attendant.' He received a letter from the RCN stating that as of June 1938, there were no openings.
One year later, at the end of June 1939, the Royal Canadian Navy accepted Frank into the service as a Supply Petty Officer as there were no vacancies in the Sick Berth Attendant Branch at the time Frank applied. The RCN wrote to Frank to tell him that this particular branch has an average entry of approximately one every four years.
He had brown hair and blue eyes. He was single, stood 5'4" tall, and weighed 145 pounds, with overall good health. There had been some concern about tuberculosis, but he was cleared. He was considered to be "promising" material.
Frank traversed the country, first serving on the Naden, noted July 31, 1939, out of Esquimalt, BC, then the Ottawa in November of that year. On this ship, as Leading Victualling Assistant (Temporary), he was noted, "Has looked after Central Stores for the past year in a capable manner. Latterly has grown a little cocky -- sometimes thinks he knows it all." His character was rated as 'very good', his efficiency: 'satisfactory.'
He also had the jobs of steward and Stoker, 2nd Class, when required.
In May 1940, he had the case of acute tonsillitis. He was admitted on the 8th and discharged on the 17th while he was on the Ottawa, Halifax, Nova Scotia Station.
He then traveled to Halifax, Nova Scotia and was based at HMCS Stadacona by November 1941, then the Preserver by June 1942, returning to Stadacona two months later. He was transferred to the Niobe by September 16, 1942.
At some point, he was sent overseas.
In a letter dated December 18, 1945, Mr. Corrigan received a letter from the Department of National Defence.
On the cessation of hostilities when security regulations were being relaxed, it was thought inadvisable to cause additional suffering by sending further details to the next of kin respecting casualties in the early stages of the war, unless a special request was received for such information.
The ship in which your son was proceeding to the United Kingdom was a Royal Navy vessel and particulars regarding casualties in the ship during the action in which your son was lost have not yet been received in this Department from the Admiralty. This information is expected shortly and will be communicated to you as soon as it is received.
On January 10, 1946, a memo from the Department of National Defence, Naval Service noted:
Corrigan is presumed to have lost his life on 26th September 1942 while on passage in HMS VETERAN. This vessel was lost in the North Atlantic about 26th September 1942 and was presumably sunk by enemy action while engaged in escorting a flotilla of small US Steamers for war duty in Great Britain. An exhaustive search by air and surface craft failed to reveal any trace of the VETERAN or her crew and having regard to the circumstances, it is considered that all the missing officers and men went down with the ship. It is regretted, therefore, that there are no personal details concerning the death of F.O. Corrigan.
Mr. Corrigan received a letter from the Department of National Defence dated February 2, 1946, stating the same.
Francis Owen Corrigan's death was reported on October 24, 1942 in The Province, on October 26, 1942 in The Edmonton Journal and The Ottawa Citizen, plus on October 27, 1942 in The Calgary Herald.
On 19 May 1938, Francis Corrigan applied for service in the RCN as a Sick Berth Assistant (SBA). His place of residence at the time was 47 Mason Ave., Fernie, BC.
On 31 Jul 1939, Francis Corrigan signed up for 7 years service with the RCN as a Victualling Assistant (VA) - signing up at Esquimalt, BC, service Number 40595.
(a note for info - while he initially applied to be an SBA, he was never enlisted as one)
He trained as a VA at HMCS NADEN, the training base at Esquimalt BC.
On 29 Oct 1939 he was lent to HMCS OTTAWA H60 from HMCS NADEN as a VA, and was drafted to HMCS Ottawa H60 2 days later on 01 Nov 1939 as a VA. On 15 Oct 1940, while serving in HMCS OTTAWA H60 he was rated Leading VA (Ty) (L/VA (Ty)) and on 01 Dec 1940 confirmed as a L/VA.
On 16 Nov 1941 he was drafted to HMCS STADACONA in Halifax, NS. On 01 Mar 1942, while at HMCS STADACONA he qualified as a Leading Supply Assistant (Ty) (L/SA (Ty)). While still at HMCS STADACONA he was rated Supply Petty Officer (Ty) (Sy P.O. (Ty)) with his seniority backdated to 01 Dec 1941
On 21 Jun 1942 he was drafted to HMCS PRESERVER. HMCS PRESERVER was a supply/depot ship for the Fairmile Motor Launches based out of Sydney, Nova Scotia; St John's, Newfoundland and Fort Ramsey on the Gaspe Peninsula, Quebec.
On 21 Aug 1942 he was drafted back to HMCS STADACONA and then on 16 Sep 1942 he was drafted to HMCS NIOBE (RCN base in Greenock, Scotland) to be a member of the commissioning crew for "tribal 2", one of the new Tribal Class destroyers being built in the UK for the RCN.
HMCS NIOBE was an RCN base in Scotland that served as a Hospital for RCN sailors and a manning pool for those waiting to be drafted to ships, or waiting for passage back to Canada.
For passage to the UK (and HMCS NIOBE), Sy P.O. Corrigan was assigned to the Royal Navy destroyer HMS VETERAN, an Admiralty modified W-Class Destroyer.
On 16 Sep 1942, HMS VETRAN, along with HMS VANOC, departed St John's, Newfoundland as escort for Special Convoy RB1 to Liverpool - a fast convoy of 7 merchant ships.
On 23 September 1942, Convoy RB1 was sighted by U-380 and U-boat Group Blitz was ordered to attack. On the 25th the SS Boston and SS New York were sunk and the convoy scattered. On 26 September the convoy was ordered to reform and HMS VETRAN came across the survivors of the SS New York. While she was picking up some of the survivors HMS VETERAN was hit by two torpedoes from U-404. HMS VETERAN sank quickly in position 54.51N 23.04W south of Iceland after an explosion. All hands, as well as a number of survivors from the SS New York were lost.
Sy PO Corrigan never arrived at his destination and was missing, presumed killed when HMS VETERAN was sunk.
---
Second World War Casualty Index