They made the Ultimate Sacrifice
Alfred Bruce Abbott

Petty Officer, A4173, RCNR

Born: 04 Feb 1913, Thornbury, Ontario

Died: 12 Dec 1942, St. John's, Newfoundland

Book of Remembrance
ABBOTT, Alfred B, Petty Officer, A4173, RCNR, died - 12 Dec 1942, HMCS AVALON / Tug GRENVILLE - Son of Joseph and Isobel Abbott, of Thornbury, On.
Alfred died on 12 Dec 1942 in the fire at the Knights of Columbus Service Hostel in St. John's, NFLD. He is buried in the Mount Pleasant Cemetery, St. John's, Newfoundland.
Ships served in:
HMCS STAR - Enlisted 23 Jan 1941 as an Able Seaman, RCNR. Commenced Active Service 23 Jan 1941. Rated Leading Seaman 24 Jan 1941. Rated Petty Officer 04 Aug 1942
Tug GRENVILLE - Drafted to GRENVILLE 28 Nov 1942 as a Petty Officer, RCNR
(AA01-AA02) Certificate of Service (AA03) Report of Death (AA04) Letter to PO Abbott's father
---
The newspaper article and write-up on the Knights of Columbia fire is from the website of the Author Janet McNaughton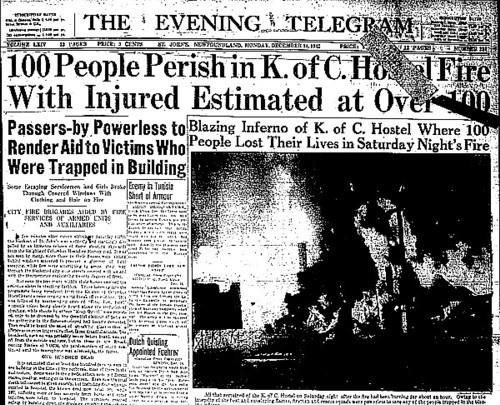 On Saturday, December 12, 1942, many people in St. John's were sitting at home behind their blackout curtains, listening to "Uncle Tim's Barn Dance" on the radio station VOCM. This weekly program was broadcast live from the Knights of Columbus Leave Centre on Harvey Road in St. John's. Just after 11:00 pm, people listening to the broadcast heard the singer on stage break off in the middle of a song, then someone shouted "Fire, fire." Sounds of people panicking could be heard, then smashing glass, then the broadcast went silent.
About 500 people were in the building when it caught fire. Most were watching the radio broadcast, but some were sleeping in the servicemen's hostel. The windows in the hall of the newly-built K of C Leave Centre had been boarded over to meet blackout regulations. Doors were either locked, or barred from the outside. The wooden building burned very quickly. Paper streamers that had decorated the ceiling of the hall ignited and fell onto the people below. A few windows and doors were smashed open, but many people could not escape. As the building rapidly burned to the ground, 99 people died, and another 107 were hurt. St. John's had seen many serious fires over the years, but never one with such loss of life. At the time, there were rumours of sabotage by a German agent, but the cause of the fire was never determined.
If you walk along Harvey Road today, not far from the Tim Horton's you will see a set of cement steps that seem to lead nowhere. This is the site of the Knights of Columbus Leave Centre. At the top of the steps is a granite memorial commemorating those who died in the fire.
---
Second World War Casualty Index