They made the Ultimate Sacrifice
Herbert Lorimer Draper

Petty Officer HIgher Submarine Detector, 3261, RCN

Born: 27 Nov 1918, Victoria, British Columbia

Died: 21 Jul 1943

Book of Remembrance
DRAPER, Herbert Lorimer, PO, 3261, RCN, killed - 21 Jul 1943, HMCS THE PAS - Son of Ernest and Alberta Laura Draper, Victoria, BC.
PO Draper was born in Victoria, BC, on 27 Nov 1918. He joined the Canadian Scottish Regiment in 1937. After about 6 months, he was discharged, and he joined the Navy. He served at HMCS NADEN and HMCS STADACONA and in HMCS FRASER, HMCS SAGUENAY and HMCS THE PAS, in Canada, England, and on the High Seas.
PO Draper was killed in action on 21 Jul 1943 when HMCS THE PAS, while escorting convoy ON.192, was hit by SS Medina. SS Media struck THE PAS in the vicinity of the Petty Officers' mess - killing 2 men and seriously injuring PO Draper; his injuries required surgery to his right leg and an amputation of his left leg. He died at sea during surgery. PO Draper was buried at sea.
He was awarded the 1939-45 Star, the Atlantic Star, the CVSM with Clasp and the War Medal.
Ships served in:
HMCS FRASER - Served in FRASER 05 May 1949 - 30 Apr 1940 as an OS and AB, RCN. Rated AB 02 Feb 1940
HMCS SAGUENAY - Served in SAGUENAY 03 Jun 1940 - 08 Aug 1941 as an AB and A/LS, RCN. Rated A/LS 01 Jun 1941
HMCS THE PAS - Drafted to THE PAS as an A/LS, RCN. Rated LS 01 Jun 1942. Rated A/PO 15 May 1942. Rated PO 15 May 1943
(HD01-HD03) Certificate of Service - pages 1 - 3
(HD04) Report of Death
(HD05) Surgeon's report on the death of PO Herbert Draper
(HD05-HD06) Letters to PO Herbert Draper's mother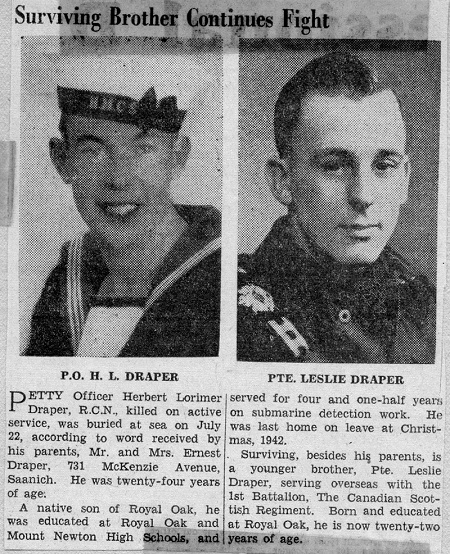 HD07
(HD07) Article date July 1943 on the death of PO Herbert Draper. His brother, Pte Leslie Draper was serving with the 1st Battalion, Canadian Scottish Regiment at the time of PO Draper's death
---
Second World War Casualty Index