They made the Ultimate Sacrifice
William Reginald Mennell

Able Seaman, 4469, RCN

Born: 08 Jun 1924, Winnipeg, Manitoba

Died: 04 Jan 1944 at sea

Book of Remembrance
MENNELL, William Reginald, AB, 4469, RCN, MPK - 04 Jan 1944, HMCS WENTWORTH - Son Edwin R. and Marjorie Mennell of Winnipeg, MB.
Able Seaman W. R. Mennell was lost overboard at sea from HMCS WENTWORTH during bad heavy weather in the North Atlantic. Able Seaman W. R. Mennell together with two other ratings were washed overboard, Petty Officer F. W. Lawrence, RCNVR, and Ordinary Seaman Phillips, RCNVR.
Able Seaman William Reginald Mennell is reported from naval headquarters, washed overboard from Canadian Ship. His parents reside at 466 Rosedale Ave. He was a member of the sea cadet band for three years. Able Seaman Mennell transferred to the Royal Canadian Navy in July, 1941 and trained at Esquimalt. He was on convoy duty on the east coast for six months and then spent 18 months submarine chasing. He was reported missing Jan 05, 1944. Born in Winnipeg, he attended Centennial and Earl Grey School.
Ships served in:
RCNVR DIVISION WINNIPEG - Enlisted 15 Jul 1941 as a Boy Seaman, RCN
HMCS HAMILTON - Served in HAMILTON 04 Feb 1942 - 05 May 1942 as an OS, RCN
ML Q069 - Served in Q069 10 Jun 1942 - 27 Sep 1943 as an OS and AB, RCN. Rated AB 07 Dec 1943
HMCS GIVENCHY - Served in GIVENCHY 23 Oct 1943 - 25 Oct 1943 as an AB, RCN
HMCS MIRAMICHI - Served in MIRAMICHI 26 Oct 1943 - 03 Nov 1943 as an AB, RCN
HMCS GIVENCHY - Served in GIVENCHY 04 Nov 1943 - 10 Dec 1943 as an AB, RCN
HMCS WENTWORTH - Served in WENTWORTH 11 Dec 1943 - 04 Jan 1944 as an AB, RCN
(WM01 - WM02) Certificate of Service - pages 1 and 2 (WM03) Letter to Miss Rita Donovan - mother of Reginald Mennell's child (WM04) Article on Reginald Mennell missing at sea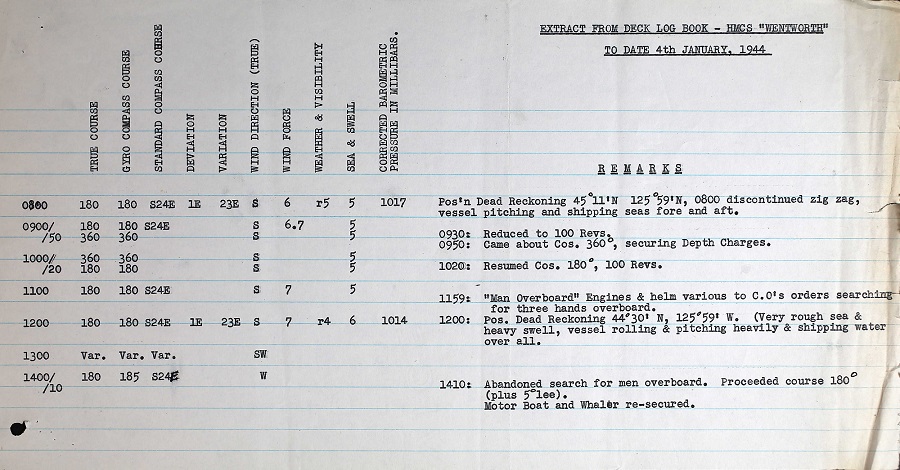 Extracts from the deck log of HMCS WENTWORTH during the man overboard on 04 Jan 1944
---
Second World War Casualty Index