They made the Ultimate Sacrifice
Horatio Harris Brannen

Born: 27 Dec 1872, Wood's Harbour, Nova Scotia

Died: 06 Dec 1917, Halifax, Nova Scotia
BRANNEN, Horatio Harris, killed - 06 Dec 1917 - Steam Tug STELLA MARIS - Born at Wood's Harbour, on Nova Scotia's south shore, the son of William and Virginia (Nickerson) Brannen. Before he was 20 he was sailing as a master of deep-sea fishing vessel out of Clark's Harbour on Cape Sable Island and obtained his Captain's and Master Mariners tickets. In the early 1900s, Horatio was hired by the Barrington Wrecking Company as captain of the salvage vessel SS Coastguard. He was a successful salvor and worked many wrecks, including the wreck of the SS Hungarian. In 1911, he re-floated HMCS Niobe when she went on the rocks of Cape Sable Island. The Barrington Wrecking Company was purchased by Southern Salvage, and his new employer gave him command of SS Deliverance, which he commanded until she sank.
When World War 1 broke out, Captain Brannen and the Deliverance were taken into service by the RCN. Although engaged as a naval auxiliary, the Deliverance was still involved in salvage operations as opportunity arose. After the sinking of the Deliverance, Captain Brannen was given command of the steam tug Stella Maris, which was under charter to the RCN. One of his first tasks as skipper of the Stella Maris was to steam to Newfoundland to rescue the Norwegian America Lines vessel SS Khristianafjor, a 10,670 tons vessel. This resulted in a huge salvage award for Southern Salvage and the Stella Maris' crew on 14 Jul 1917.
On 06 Dec 1917, Stella Maris, with Captain Horatio Harris Brannen and 23 others aboard, was towing two scows near mid-channel in the Narrows of Halifax Harbour leading into Bedford Basin. Shortly before the explosion, the tug narrowly avoided being hit by SS Imo, which then collided with Mont Blanc, a French munitions ship. The collision started a fire on Mont Blanc, forcing the crew to evacuate. The burning ship then began drifting towards Halifax's Pier 6 on the western shore. After a failed attempt to get close to the French ship, Stella Maris's crew were in the process of retrieving a ten-inch hawser from the hold to assist a party of volunteers from HMCS Niobe's steam pinnace in securing a line to Mont Blanc. They wanted to pull the French vessel away from the pier to prevent it from catching fire. Before this could be done, the explosion occurred. Stella Maris was severely damaged; 19 men were killed, including Captain Brannen.
Ships served in:
HMCS DELIVERANCE - Commanding Officer
Steam Tug STELLA MARIS - Commanding Officer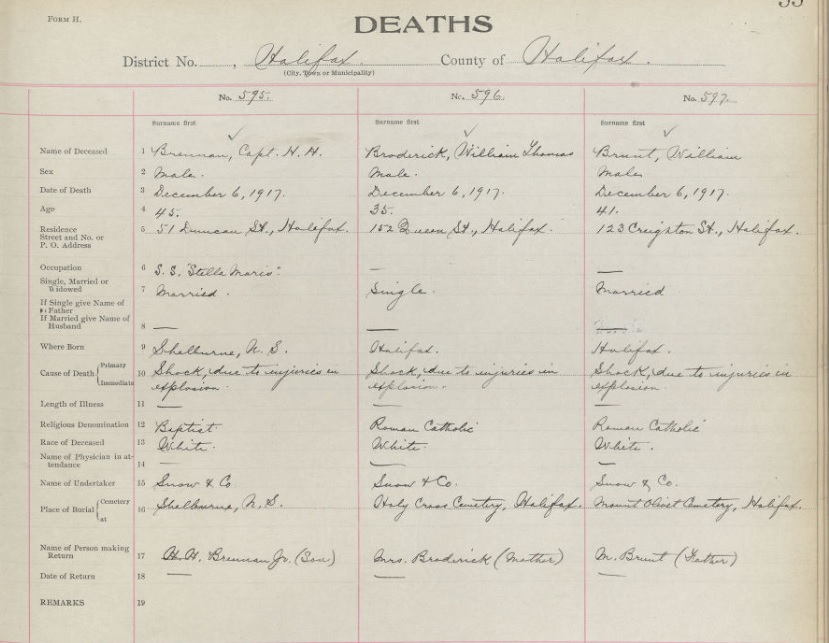 ---
First World War Casualty Index - RCN