In memory of those who have Crossed the Bar
Donald Lemuel Brown

Chief Petty Officer 2nd Class Boatswain, RCN / C.A.F. (Navy)

Born: 29 Jul 1935, Campbellton, New Brunswick

Died: 08 Aug 2023, Kelowna, British Columbia
BROWN, Donald Lemuel - Passed away on 08 August 2023 in Kelowna, B.C at the age of 88. He lived for many years in Grand Forks, B.C.
Donald was born in Campbellton, New Brunswick. Most of his youth was spent in Val d'or, Quebec&Red Lake, Ontario where his Dad worked for the gold mines doing start up.
Donald joined the Royal Canadian Navy at Port Arthur (later Thunder Bay, Ontario) at the age of 17.
He was cremated and a Celebration of Life was held on the 19th of August 2023. His ashes will be buried at sea at a later date in Victoria, BC.
Donald had a long career in the RCN & CAF. He served in HMCS Ontario during the Queen's Coronation and Naval Review at Spithead in June 1953.
He was in the 1st Block Draft of Submariners to the UK in 1954. After his Submarine Training in the UK he served in HMS Dolphin, HMS Maidstone, HMS/M Solent, HMS/M Untiring, HMS/M Scorcher, HMS/M Amphion. After returning to Canada he served in HMCS Stettler, HMCS Grilse and HMCS Rainbow.
Don completed his basic USN Submarine training in November & December 1960 and joined the USS Burrfish (SSR312) before she was Commissioned as HMCS Grilse. Canadian Submarine trained after completing the USN Quartermaster Course inJanuary 1961 prior to joining Burrfish. His submarine Qualifications were all under the USN at this time. He was Pre-Commissioning Crew onboard HMCS Grilse in 1960. He served in HMCS Grilse from 1960 to 1968. He then served in HMCS Rainbow. He was Divisional PO for the Navigation Section, Deck/Casing Petty Officer, Chief of the Watch at Sea and Dived, Qualified Officer of the Day Home Port. He served in HMCS Rainbow from December 1968 to December 1974. He served as Coxwain onboard HMCS Rainbow from March to October 1974.
After his career in Submarines he was Chief Bosn's Mate FMG(Q) from 01 November 1974 to 10 February 1975. Regulating CPO at CFFS Esquimalt from 10 February 1975 to 17 January 1977. Disciplinary CPO from 18 January to 23 February 1977 at CFB Esquimalt.
During Donald's Career he was a Layer Rate and retired as a Bosn. The attained the following ranks:

LS - 15 Nov 1955
PO2 - 01 Jul 1967
PO1 - 01 Nov 1969
CPO2 - 01 July 1972
During his career he was awarded The Canadian Centennial Medal in 1967 and The Canadian Forces Decoration with Clasp.
Ships served in:
HMCS GRIFFON - 1952
HMCS CORNWALLIS - 1952
HMCS NADEN - 1953
HMCS ONTARIO - 1953. Served in ONTARIO for the Coronation Cruise for QUEEN ELIZABETH II
HMCS NADEN - 1954
HMS DOLPHIN II - 1955
HMS DOLPHIN I - 1955
HMS MAIDSTONE - 1955
HMS/m SOLENT - 1955
HMS/m UNTIRING - 1955
EAST WEARE CAMP, Portland - 1956
HMS/m SCORCHER - 1956
HMS/m AMPHION - 1956
HMCS NADEN - 1957 - 1958
HMCS STETTLER - 1959 - 1960
USS BURRFISH - 1960
HMCS GRILSE - 1960 - 1968. Pre-Commissioning / Commissioning Crew
HMCS RAINBOW - 1968 - 1974. Commissioning Crew
HMCS NADEN - 1974 - 21 Jul 1977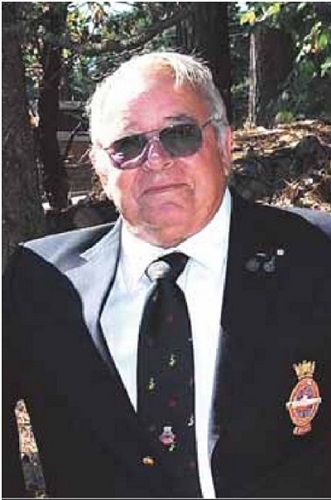 ---