They made the Ultimate Sacrifice
John Redvers Bate

Ordinary Seaman 75753, RCNVR

Born: 10 Aug 1925, Sault Ste. Marie, Ontario

Died: 24 Dec 1944 at sea

Book of Remembrance
BATE, John Redvers, OS, V75753, RCNVR, MPK - 24 Dec 1944, HMCS CLAYOQUOT - Son of Redvers Roberts Bate and Alice Rudolph Bate, of Port Credit, Ontario.
Ordinary Seaman J. R. Bate of Port Credit, Ontario was on lookout duty at the stern of the vessel and was killed instantly when his ship was torpedoed.
Ordinary Seaman J. R. Bate, 19, is now reported dead according to word reaching his parents, Mr. and Mrs. Redvers H. Bate, Stavebank Road, Port Credit, Ontario. He had been reported missing Jan. 31, 1944, when his boat, HMCS CLAYOQUOT, a Minesweeper of the Bangor Class, was sunk by enemy action in the North Atlantic. He was a former Sea Scout with the 1st Port Credit Troop, and before enlisting with the navy at Toronto, Served with the Lorne Scots Reserve Regiment for eight months. He was born in Sault Ste. Marie and had Attended Brown School and Port Credit high school.
Ships served in:
HMCS YORK - Enlisted 13 Dec 1943. Commenced Active Service 15 Dec 1943
HMCS MONTCALM - Served in MONTCALM 17 Dec 1943 - 25 Jan 1944 as an OS, RCNVR
HMCS CLAYOQUOT - Drafted to CLAYOQUOT - 15 July 1944 as an OS, RCNVR
(JB01-JB02) Certificate of Service - pages 1 and 2
(JB03) Report of Death
(JB04) Letter to OS Bate's mother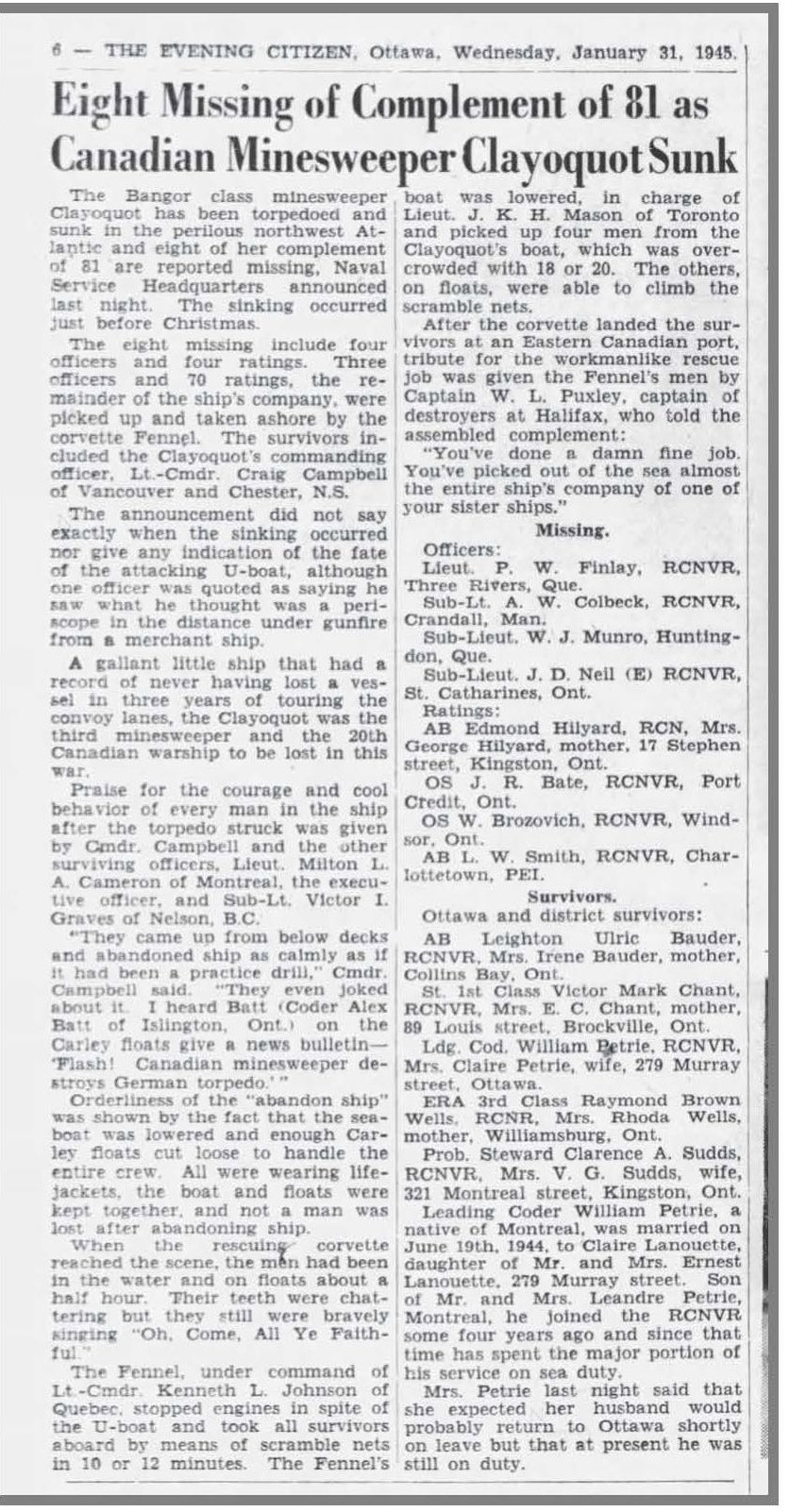 ---
Second World War Casualty Index