They made the Ultimate Sacrifice
COLBECK, Arthur Wayne, SLt, RCNVR, MPK - 24 Dec 1944, HMCS CLAYOQUOT - Son of John Walter and Jeannie Eileen Colbeck, of Crandall, Manitoba.
SLt Colbeck and 3 other officers that were off watch were killed instantly as they slept in their bunks when HMCS CLAYOQUOT was hit by a gnat torpedoed frire from U-806. They were Lieut. Hall Finlay, Montréal, navigating officers: Sub-Lt. A. W. Colbeck of Hamiota, Manitoba. Sub-Lt. William Munro, Huntingdon, Québec, and Sub. Lt. John D. Neil, St. Catharines, Ont., the chief engineer.
Ships served in:
WINNIPEG DIVISION RCNVR - Enlisted and commenced Active Service 01 Oct 1941
TORONTO DIVISION RCNVR - Served in TORONTO DIVISION RCNVR 03 Dec 1941 - 26 Mar 1942
HMCS ANNAPOLIS - Served in ANNAPOLIS 29 Jun 1942 - 22 Aug 1943 as an OS and AB, RCNVR. Rated AB 01 Dec 1942
* CFR. Promoted to Prob. SLt, RCNVR 23 Aug 1943
HMCS CLAYOQUOT - Appointed to CLAYOQUOT 08 Apr 1944 as a SLt, RCNVR
(AC01) Able Seaman Colbeck
(AC02-AC03) Certificate of Service as a rating
(AC04-AC05) Record of Service as an officer
(AC06) Portrait of SLt Colbeck
(AC07) Appointment to HMCS CLAYOQUOT
(AC08) Report of Death
(AC09) Article on SLt Colbeck presumed dead
(AC10-AC12) Telegram and letters to SLt Colbecks father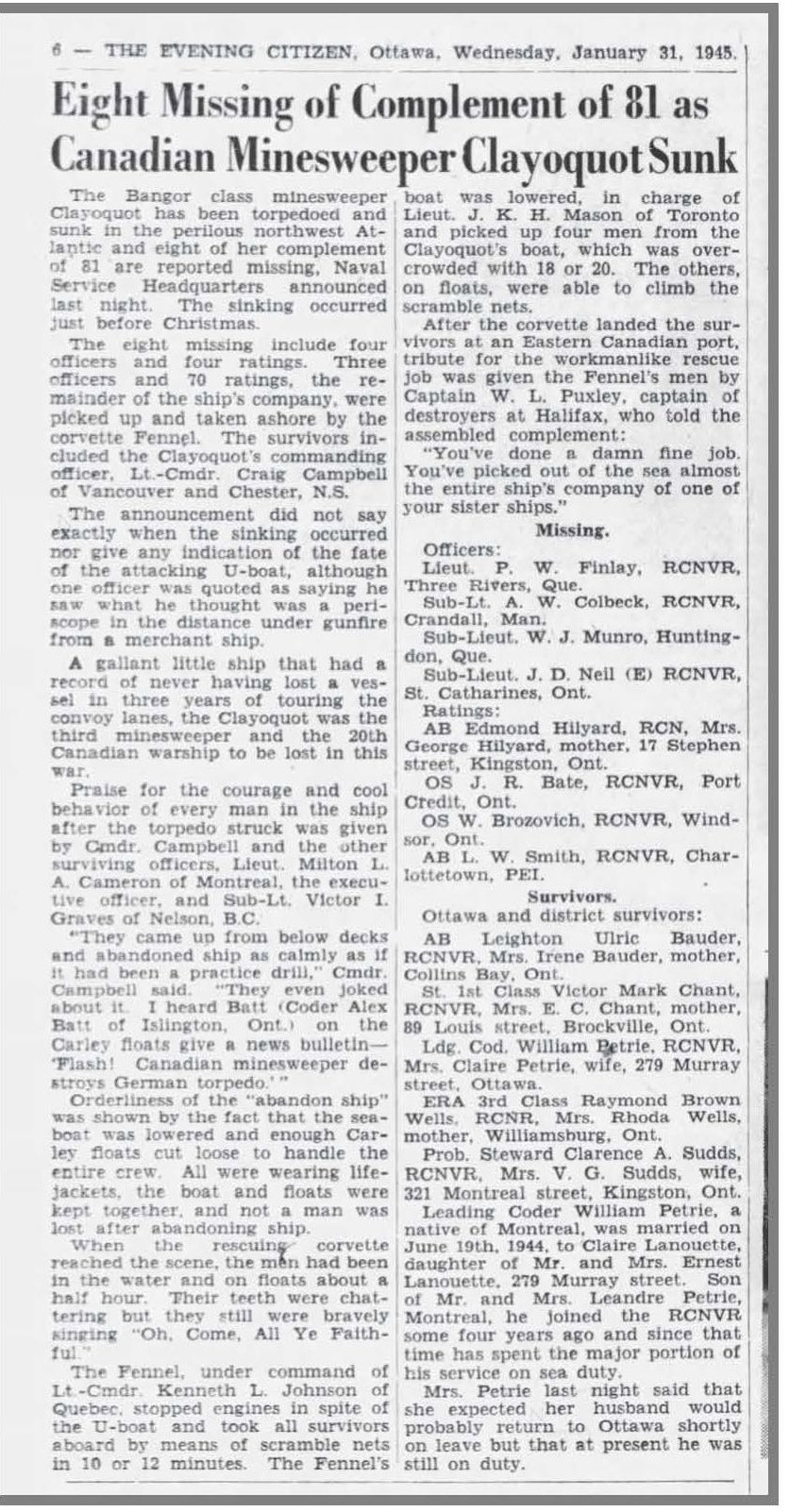 ---
Second World War Casualty Index