They made the Ultimate Sacrifice
MUNRO, William James, SLt, RCNVR, MPK - 24 Dec 1944, HMCS CLAYOQUOT - Son of Ruby M. Munro, of Huntingdon, Quebec.
SLt William James Munro was a retail hardware clerk before he enlisted into the RCNVR on October 27, 1942 as an Ordinary Seaman. He commissioned from the ranks and was promoted to Sub Lieut. on 07 Sep 1942.
SLt Munro and 3 other officers that were off watch were killed instantly as they slept in their bunks when HMCS CLAYOQUOT was hit by a gnat torpedoed frire from U-806. They were Lieut. Hall Finlay, Montréal, navigating officers: Sub-Lt. A. W. Colbeck of Hamiota, Manitoba. Sub-Lt. William Munro, Huntingdon, Québec, and Sub. Lt. John D. Neil, St. Catharines, Ont., the chief engineer.
Ships served in:
HMCS MONTREAL - Enlisted 27 Oct 1942. Commenced Active Service 13 Jan 1943 as an OS, RCNVR
HMCS AMBLER - Served in AMBLER 14 Aug 1943 - 03 Sep 1943 as an OS, RCNVR
* CFR 04 Sep 1943. Appointed Prob. SLt, RCNVR
HMCS CLAYOQUOT - Appointed to CLAYOQUOT on 07 Jul 1944 as SLt, RCNVR
(WM01-WM02) Certificate of Service as a Rating - pages 1 and 2
(WM03-WM04) Record of Service as an Officer
(WM05) Appointed certificate to HMCS CORNWALLIS and HMCS KINGS
(WM06) Appointment certificate of HMCS CLAYOQUOT
(WM07) Report of Death
(WM08) Article on Memorial Service for SLt William Murno
(WM09-WM11) Letters to SLt Munro's mother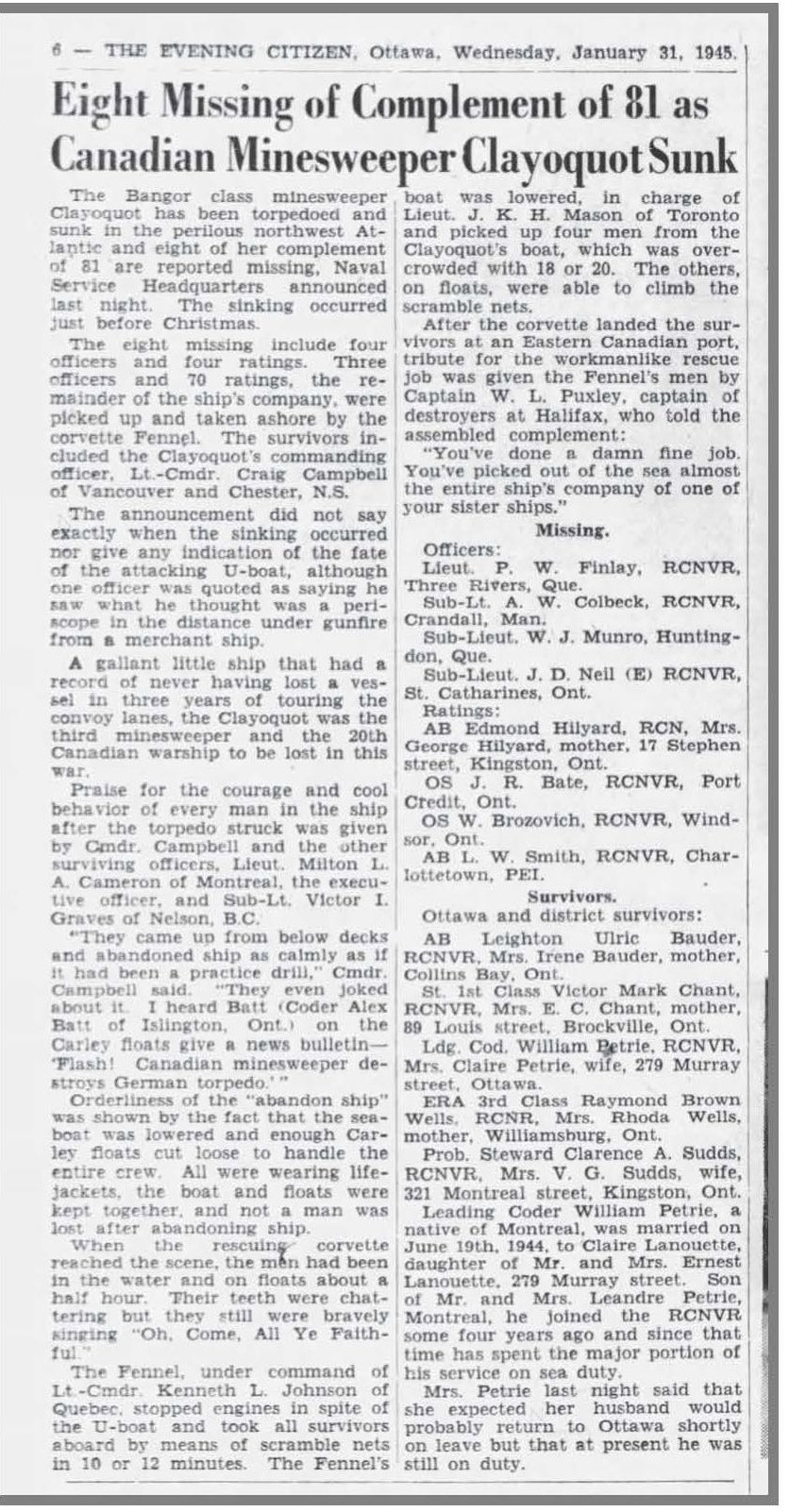 ---
Second World War Casualty Index