In memory of those who have Crossed the Bar
Edgar Osborne Olson

Leading Seaman Cook Trade Group 1, RCN

Born: 28 Nov 1932, St. Frances, Ontario

Died: 30 Jun 2021, Agassiz, British Columbia
OLSON, Edgar Osborne - 88 years old, born in Ft. Frances, Ontario passed away peacefully in his home surrounded by loved ones on June 30, 2021 in Agassiz, British Columbia.
Dadís work ethic was strong, he began as a young boy selling newspapers on the streets in Vancouver. At the age of 14, he was hired in a bakery working before and after school and bringing home extra loaves of bread for his parents and many siblings. Dadís appetite for all food and all deserts never faded.
He joined the military as soon as he became of age, serving with the Royal Canadian Navy and then the Airforce as a well respected cook. He said the military placed him in the cooks' role due to his early experience working in the bakery in Vancouver. While serving in the Navy on board the HMCS ATHABASKAN, during the Korean war, Dad had many stories of cooking for hundreds of the shipís men and then suddenly having to load the artillery while coming under fire. He was only 18 years old during his active service in the Korean War. Dad continued with the Navy after returning from the war and then transferred to the Airforce for a short time before becoming a civilian and earning his Journeyman Electrical certification.
He married our Mom and started growing a family. After two decades of marriage, the pain of divorce slowed him down a bit but not for long! With his second wife, Julie, Dad enjoyed spending winter seasons in Yuma, Arizona when they werenít travelling to many destinations throughout the world.
Dad had a long retirement after his electrical career with the B.C. Hydro. corporation. When Julie passed away and Dad moved to Agassiz, B.C. he enjoyed golf games and lunches out with friends and family. Over the last three years, he found companionship, and golf partner with a great lady, Patricia Haigh.
Our Dad has left this earth after a decades long brave battle with cancer. Always with his positive outlook on life, he beat each diagnosis with strength and determination. He will be greatly missed by us all.
He is survived by his son, Richard Olson (Kim), daughter Laurie Michaelsen (Alan), stepson, Lee Atwood (Laura) grandchildren, Shannon (Shayne), Christopher (Chloe), David (Kayla), Joel (Kassi), Erin, James (Joycelyn), many great grandchildren, nephews, nieces and many friends.
A small family gathering will be held in the Legion in Agassiz. As it is a small space and attendance is limited, we hope everyone understands.
Agassiz Legion #32, 1846 Agassiz-Rosedale Hwy, Agassiz, BC - July 20th, 2021, 12:00-3:00 pm
Ships served in:
HMCS ATHABASKAN - Served in ATHABASKAN during the Korean war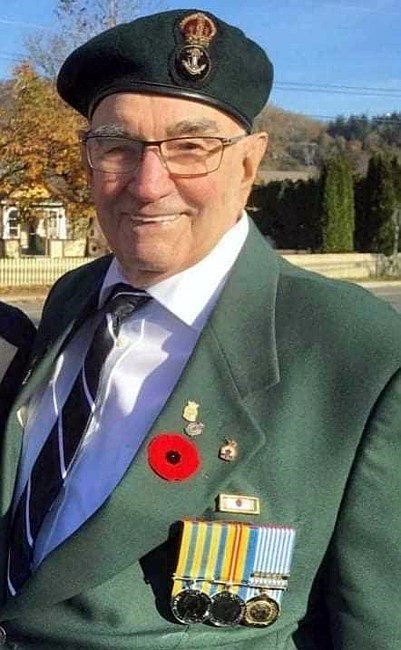 ---