They made the Ultimate Sacrifice
Victor Clarence Parker

Able Seaman, V32953, RCNVR

Born: 25 May 1922, Saskatoon, Saskatchewan

Died: 17 Dec 1944

Book of Remembrance
PARKER, Victor Clarence, AB, V32953, RCNVR, died - 17 Dec 1944, HMCS BLAIRMORE - Son of Frank and Annie Parker, of Saskatoon, Saskatchewan.
Able Seaman V.C. Parker died in his sleep on board HMCS BLAIRMORE from a heart failure due to persistent thymus gland. He is buried in the Weston Mill Cemetery, Plymouth, Devon, England.
Victor was employed by CNR as a railway man when he enlisted on March 26, 1942 at Saskatoon, Saskatchewan.
Ships served in:
HMCS UNICORN - Enlisted 26 Mar 1942. Commenced Active Service 15 Apr1942
HMCS BLAIRMORE - Drafted to BLAIRMORE 01 Jan 1943 as an OS, RCNVR. Rated AB 15 May 1943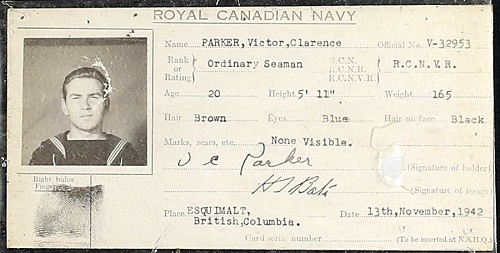 VP01
(VP01) OS Parker's RCN I.D. card
(VP02-VP03) Certificate of Service - pages 1 and 2
(VP03) Report of Death
(VP04-VP05) Letters to AB Parker's mother
(VP07) Article from the Saskatoon Star-Phoenix on the death of AB Victor Parker
---
Second World War Casualty Index