They made the Ultimate Sacrifice
Norman George Woods

Ordinary Seaman, V9607, RCNVR

Born: 23 Aug 1920, Gladstone, Manitoba

Died: 26 Mar 1941 at sea

Book of Remembrance
WOODS, Norman George, OS, V9607, RCNVR, killed - 26 Mar 1941, HMCS OTTER - Son of Rose Woods, of Winnipeg.
Ordinary Signalman Norman G. Woods, 20, youngest son of Mr. and Mrs. George Woods, 388 Beverly street, and Able Seaman Submarine Detector John Blyth, 18, elder son of Mr. and Mrs. John Blyth, 1851 Main street. Two of the keenest young men whom the Winnipeg division of the RCNVR ever sent to sea, they had already had some experience of naval warfare. Ordinary Signalman Woods had served at sea for 10 months, going to Britain on convoy duty and witnessing an air battle over the English Channel between Nazi raiders and Royal Air force fighters during the big German air assaults in September. He joined the reserve branch of the RCNVR before the outbreak of war, while he was attending General Wolfe school, and was called to active service just after he had started to attend Daniel McIntyre collegiate. He left for Halifax in May and served aboard warships escorting convoys to England, Ireland and Bermuda. He was one of the signalmen aboard HMCS OTTER. A good sprinter, he won both the 100-yards dash and the 400-yards at the field day for naval men held at Halifax last summer. He had played hockey for Greenway and General Wolfe schools. Born in Gladstone, Man., he came to Winnipeg with his parents at the age of eight. He is survived by his father and mother, two older brothers, James and Leslie, and a twin sister, Norma. His body has been recovered and will be shipped to Winnipeg. They will be given a funeral with full naval honors here next week, Commander E. T. C. Orde, officer commanding the Winnipeg division, RCNVR, announced.
OS Norman Woods is buried in the Brookside Cemetery, Winnipeg, MB.
Ships served in:
WINNIPEG DIVISION RCNVR - Enlisted - peacetime service - 03 May 1939 as an OS, RCNVR
WINNIPEG DIVISION RCNVR - Commenced Active Service 18 Dec 1939 as an OS, RCNVR. Rated O/Sig 03 May 1940
HMCS STADACONA - Drafted to STADACONA 18 May 1940 as an O/Sig, RCNVR
HMCS OTTER - Drafted to OTTER 04 Oct 1940 as an O/Sig, RCNVR
(NW01-NW04) Certificate of Service
(NW05) Report of Death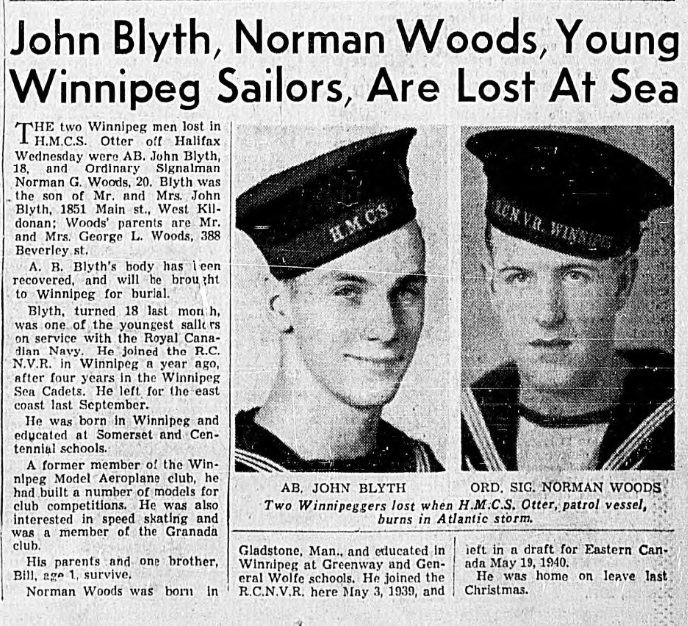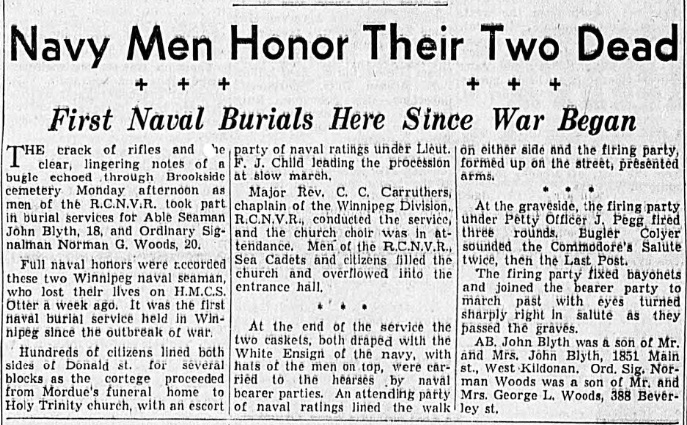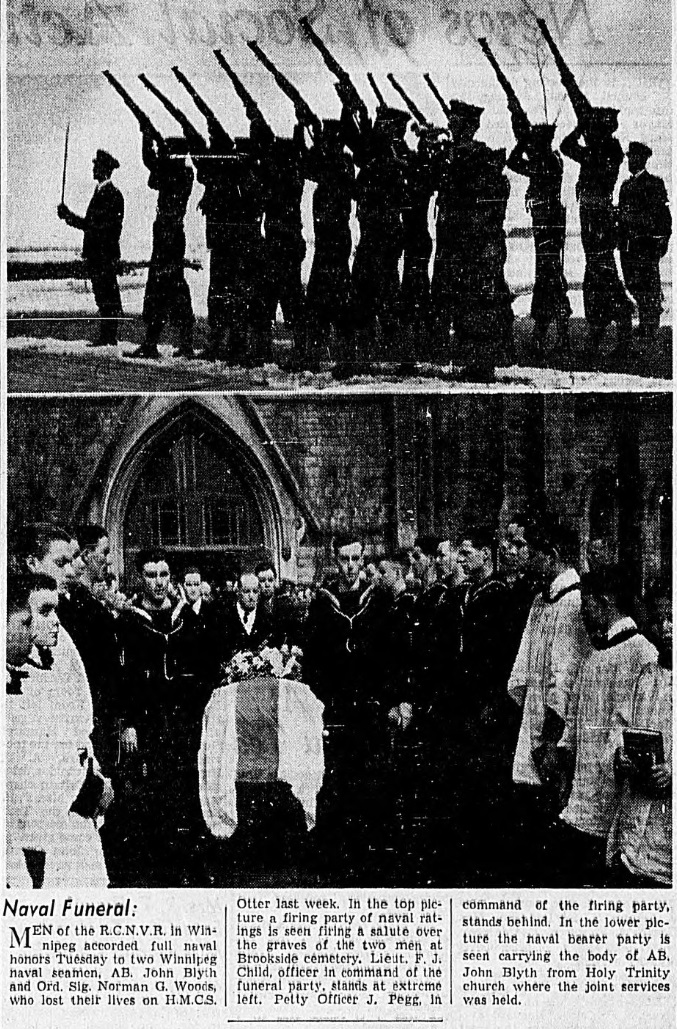 ---
Second World War Casualty Index