They made the Ultimate Sacrifice
Harry MacDonald Bennett

Able Seaman, 3519, RCN

Born: 28 Sep 1920, Saskatoon, Saskatchewan

Died: 01 Dec 1940 at sea

Book of Remembrance
BENNETT, Harry MacDonald, AB, 3519, RCN, killed - 01 Dec 1940, HMCS SAGUENAY - Son of Charles M. and Evelyn Bennett, of Saskatoon, Saskatchewan.
Harry Bennett was born at Saskatoon, Saskatchewan and was a student when he enlisted on August 05, 1939, Esquimalt, British Columbia a month before the war broke out. He was the middleweight boxing champion of the Royal Canadian Navy. AB Bennett was killed when HMCS SAGUENAY, while escorting convoy HG.47, was torpedoed by the Italian submarine Argo 300 miles west of Ireland. With her bows wrecked and 21 dead, SAGUENAY made Barrow-in-Furness largely under her own power, and was under repairs until 22 May 1941. His body was recovered and he was buried in Barrow, Lancashire, England on 14 Dec 1940.
Ships served in:
HMCS NADEN - Enlisted 05 Aug 1939 as an OS, RCN
HMS MALAYA - Served in MALAYA 12 Jan 1940 - 31 Mar 1940 as an OS, RCN
HMCS STADACONA - Drafted to STADACONA 01 Apr 1940 as an OS, RCN
HMCS ASSINIBOINE - Served in ASSINIBOINE 09 Apr 1940 - 30 Aug 1940 as an OS and AB, RCN
* Rated AB 05 Aug 1940
HMCS STADACONA - Drafted to STADACONA 31 Aug 1940 as an AB, RCN
HMCS SAGUENAY - Drafted to SAGUENAY 30 Sep 1941 as an AB, RCN
(HB01-HB02) Certificate of Service - pages 1 and 2
(HB03) Report of Death
(HB04-HB05) Letter's to AB Bennett's mother
(HB06-HB07) Letter from Mr. A.W. Shaw, Director of Marketing Services, Ottawa and friend of the parents of AB Bennett to the Deputy Chief of Naval Staff inquiring about more info on the death of AB Bennett on behalf of his parents - and the reply to Mr. Shaw.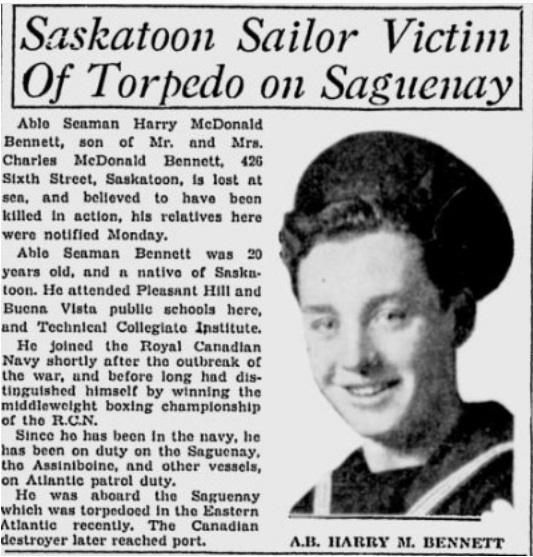 Article from the Saskatoon Star-Phoenix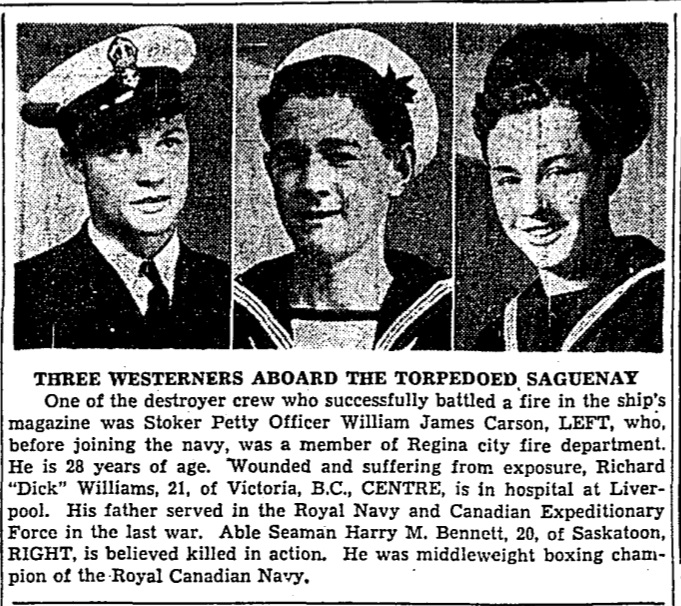 Article from the Toronto Star - Dec 1940
---
Second World War Casualty Index