They made the Ultimate Sacrifice
William Alexander Goring

Able Seaman, V5796, RCNVR

Born: 14 Oct 1910, Glasgow, Scotland *

Died: 01 Dec 1940 at sea

Book of Remembrance
GORING, William Alexander, AB, V5796, RCNVR, killed - 01 Dec 1940, HMCS SAGUENAY - Son of Edwin and Georgina Goring, of Montreal, Quebec.
Able Seaman William A. Goring age 30 was a native of Glasgow, Scotland. He lived here with his mother, Mrs. Georgina Goring, having come to Montréal at the age of 15. Prior to enlisting he was employed as Assistant Manager of the Employment Officer for T. Eaton Co. of Montreal for over 10 year. He joined the Royal Canadian Naval Volunteer Reserves in June1940, and left Canada for overseas in October 1940.
AB Gorning was killed when HMCS SAGUENAY, while escorting convoy HG.47, was torpedoed by the Italian submarine Argo 300 miles west of Ireland. With her bows wrecked and 21 dead, SAGUENAY made Barrow-in-Furness largely under her own power, and was under repairs until 22 May 1941. His body was recovered and he was buried in Barrow, Lancashire, England on 14 Dec 1940.
* AB Goring's Attestation Form for enlistment in 1927 gives his year of birth as 1908. Documents from his service file for the Second World War show 1910.
Ships served in:
MONTREAL "A" COMPANY, RCNVR - Enlisted 29 Nov 1927 and served until Feb 1930
MONTREAL DIVISION RCNVR - Enlisted 30 May 1940 as an AB, RCNVR
HMCS STADACONA - Drafted to STADACONA 06 Jun 1940 as an AB, RCNVR
HMCS SAGUENAY - Drafted to SAGUENAY 19 Jun 1940 as an AB, RCNVR
(WG01-WG02) Attestation form - 1927
(WG030-WG04) Certificate of Service - Second World War
(WG05-WG06) Letters to AB Goring's mother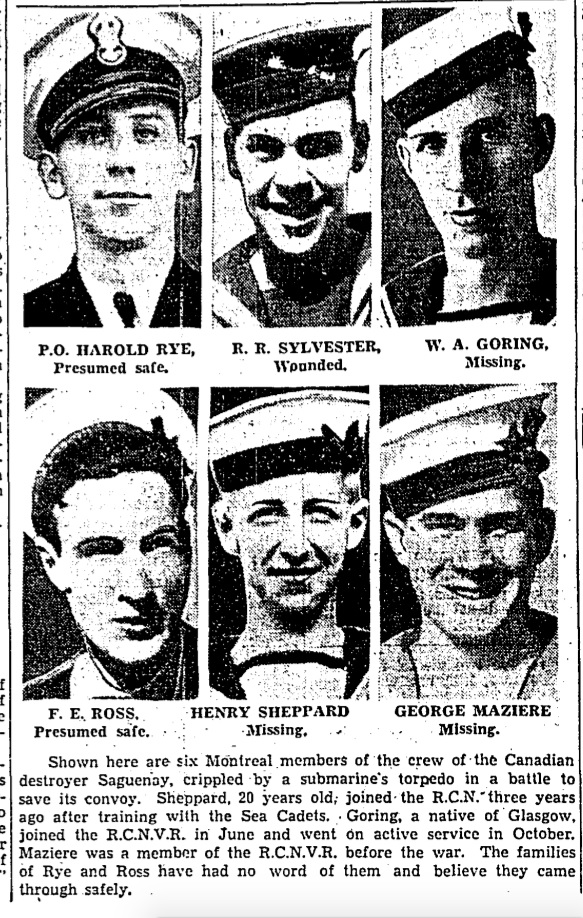 (WG07) Article on 6 Montrealers who were serving in SAGUENAY when she was torpedoed.
The Toronto Star - Dec 1940
---
Second World War Casualty Index