They made the Ultimate Sacrifice
John Charles Henry Rathbone

Supply Assistant, V34478, RCNVR

Born: 27 May 1917 Birmingham, England

Died: 09 Aug 1944, Padstow, Cornwall, England

Book of Remembrance
RATHBONE, John Charles Henry, SA, V34478, RCNVR, DOW - 09 Aug 1944, HMCS REGINA - Son of John Rathbone, and of Florence Rathbone, of Regina, Saskatchewan, Canada.
Assistant John Charles Henry Rathbone of Regina was the son of John and Florence Rathbone. The family came from Birmingham, West Midlands, England to Govan and then to Regina when John Jr. was a child. He was educated at Victoria and Connaught schools and Success business college, and was working as a hardware clerk at Simpson's when he enlisted on April 20, 1942 Regina, Saskatchewan. He was a well-known as a violinist and was a member of the Metropolotan church Carleton Club. A sister Florence, is at home.
SA Rathbone died from injuries received during the torpedoing and sinking of HMCS REGINA. HMCS REGINA was lost 08 Aug 1944, when she was torpedoed off Trevose Head, Cornwall, by U-667 while going to the assistance of a merchant vessel in difficulties. Thirty of her crew were lost. SA Rathbone is buried in the St. Merryn Churchyard, Cornwall, England.
Ships served in:
HMCS QUEEN - Enlisted 20 Apr 1942 as a Prob. SA, RCNVR. Commenced Active Service 31 Jul 1942.
HMCS CHIPPAWA - Drafted to CHIPPAWA 02 Aug 1942 as Prob. SA, RCNVR
HMCS NADEN - Drafted to NADEN 27 Sep 1942 as a Prob. SA, RCNVR for SA Technical Course
* Rated SA 30 Oct 1942
HMCS STADACONA - Drafted to STADACONA 07 Nov 1942 as a SA, RCNVR
HMCS RIMOUSKI - Drafted to RIMOUSKI 02 Dec 1942 as a SA, RCNVR
HMCS STADACONA - Drafted to STADACONA 27 Feb 1943 as a SA, RCNVR
HMCS BARRIE - Drafted to BARRIE 01 Apr 1943 as a SA, RCNVR
HMCS STADACONA - Drafted to STADACONA 04 Apr 1943 as a SA, RCNVR
HMCS REGINA - Drafted to REGINA 23 Feb 1944 as a SA, RCNVR
(JR01) Certificate of Service - pages 1 and 2
(JR02) Notification of death from of SA Rathbone
(JR03) Report of Death
(JR04-JR05) Telegram and letter to SA Rathbone's mother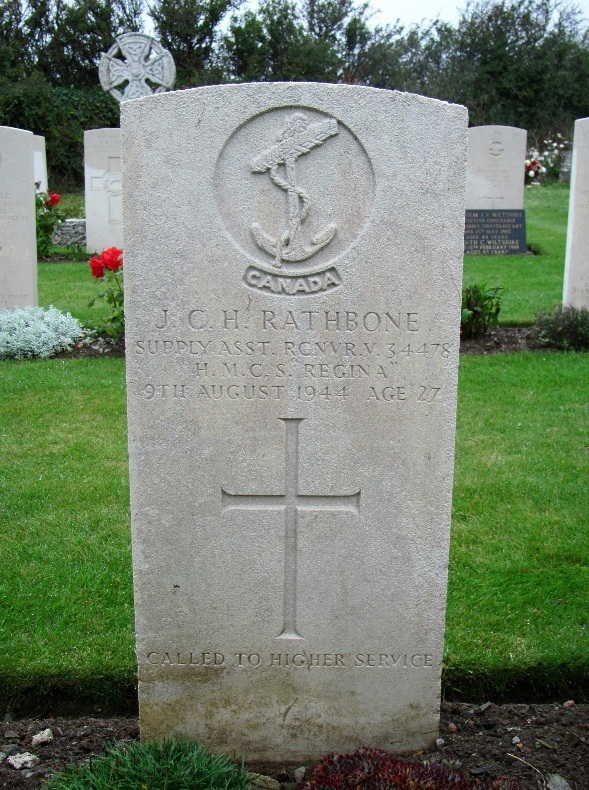 (JR06) Headstone for SA Rathbone in the St. Merryn Churchyard, Cornwall, England
---
Second World War Casualty Index