They made the Ultimate Sacrifice
Alan Dickson Campbell

Able Seaman, V22882, RCNVR

Born: 17 Nov 1920, Bowmanville, Ontario

Died: 10 Feb 1942 at sea

Book of Remembrance
CAMPBELL, Alan Dickson, AB, V22882, RCNVR, MPK - 10 Feb 1942, HMCS SPIKENARD - Son of Alan and Isabel Mary Campbell, of Toronto, ON.
AB Campbell died when his ship, HMCS SPIKENARD, was torpedoed and sunk by U-136, about 465 nautical miles west of Malin Head, Ireland while escorting convoy SC-67. Of her crew of 65, there were only 8 survivors.
Able Seaman Alan Dickson Campbell graduated from Oakwood collegiate before joining the navy a year and a half ago. A star athlete, Campbell played on Oakwood's senior hockey team which won the city title in his last year. He was an outstanding swimmer and a member of school rugby teams until he suffered an injured shoulder. After that, he was manager of the rugby team. When he joined the navy to take a radio locator course, Campbell was sent back to collegiate for several months, then took his course at University of Toronto. His closest friend in the class was John R. Hall of Brockville, also missing with the Spikenard. Campbell and Hall left Toronto for active duty last May. They operated the vessel's submarine detector apparatus. Campbell's elder brother, Gordon, is in the R.C.A.F. as a radio technician. Another brother is in the reserve army.
Ships served in:
TORONTO DIVISION RCNVR - Enlisted 27 Jan 1941. Commenced Active Service 17 Feb 1941 as an OS, RCNVR
HMCS STADACONA - Drafted to STADACONA 18 Jun 1941 as an OS, RCNVR
HMCS SPIKENARD - Drafted to SPIKENARD 09 Aug 1941 as an OS, RCNVR
* Rated AB 08 Dec 1941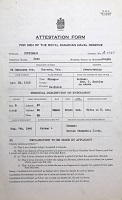 Documents from the Service File of Alan Campbell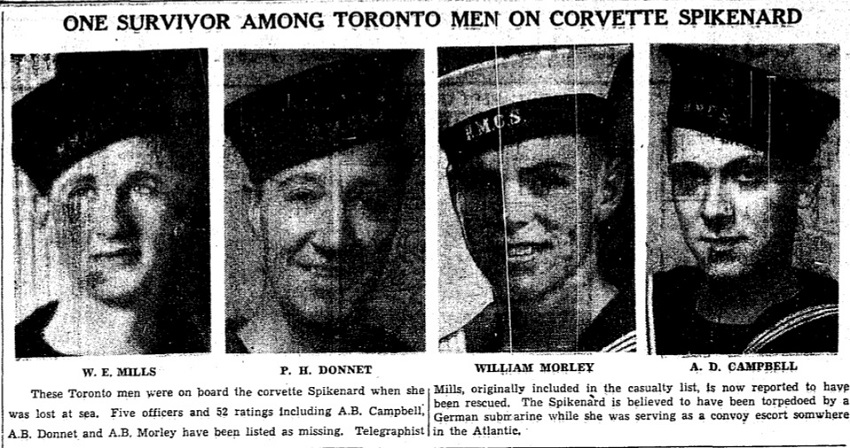 ---
Second World War Casualty Index