They made the Ultimate Sacrifice
Stanley Raymond Curr

Able Seaman, V5972, RCNVR

Born: 07 Sep 1921, Lake Macaza, Quebec

Died: 10 Feb 1942 at sea

Book of Remembrance
CURR, Stanley Raymond, AB, V5972, RCNVR, MPK - 10 Feb 1942, HMCS SPIKENARD - Son of Mark and Camilia Curr, of Montreal, Quebec.
AB Curr died when his ship, HMCS SPIKENARD, was torpedoed and sunk by U-136, about 465 nautical miles west of Malin Head, Ireland while escorting convoy SC-67. Of her crew of 65, there were only 8 survivors.
Able Seaman Stanley Raymond Curr, 20-year old son of Mr. and Mrs. Mark and Camilia Curr, 2311 Montgomery Street Montréal. He enlisted at eighteen soon after attending the Sarah Maxwell Memorial School and Strathearn Commercial High School, and O'Sullivan's College. At the age of fourteen he joined the Sea Cadets. Stanley Curr was a Canadian of Polish descent and was unmarried. A brother and sister live at home in Montréal.
Ships served in:
MONTREAL DIVISION RCNVR - Enlisted 09 Aug 1940. Commenced Active Service 17 Sep 1940 as an OS, RCNVR
HMCS STADACONA - Drafted to STADACONA 02 Oct 1940 as an OS, RCNVR
HMCS VENTURE - Drafted to VENTURE 02 Dec 1940 as an OS, RCNVR
HMCS STADACONA - Drafted to STADACONA 28 Mar 1941 as an OS, RCNVR
HMS AURANIA (Armed Merchant Cruiser) - Drafted to AURANIA 29 Mar 1941 as a OS, RCNVR
HMCS STADACONA - Drafted to STADACONA 29 Apr 1941 as an OS, RCNVR
HMCS SPIKENARD - Drafted to SPIKENARD 05 Aug 1941 as an OS, RCNVR
* Rated A/AB 17 Sep 1941
* Rated AB 05 Nov 1941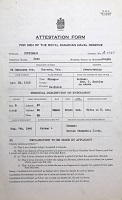 Documents from the Service File of Stanley Curr
---
Second World War Casualty Index