They made the Ultimate Sacrifice
Kenneth Harry Dearlove

Ordinary Seaman, V5780, RCNVR

Signalman, 4085, RCN

Born: 29 May 1921, Montreal, Quebec

Died: 10 Feb 1942 at sea

Book of Remembrance
DEARLOVE, Kenneth Harry, Sig, 4085, RCN, MPK - 10 Feb 1942, HMCS SPIKENARD - Son of Harry N. and Margaret Dearlove, of Montreal, Quebec.
Sig Dearlove died when his ship, HMCS SPIKENARD, was torpedoed and sunk by U-136, about 465 nautical miles west of Malin Head, Ireland while escorting convoy SC-67. Of her crew of 65, there were only 8 survivors.
Signalman Kenneth Harry Dearlove, age 21 was the son of Mr. and Mrs. Harry N. and Margaret Dearlove, 5720 Waverley Street, Montréal. He attended the Montréal High School and worked for Fairbanks-Morse Company before enlisting two years ago. There are three sisters, Misses Geraldine, Phyllis and Maud Ella, and a brother, John.
Kenneth Dearlove - May 29, 1921 - February 19, 1942 Signalman Lost at sea off the coast of Ireland. H.M.C.S Spikenard. Gone but never forgotten, your sister Gerry. (Montreal Gazette 10 Nov 2012)
Ships served in:
MONTREAL DIVISION RCNVR - Enlisted 30 May 1940. Commenced Active Service 25 Jun 1940 as an OS, RCNVR
HMCS STADACONA - Drafted to STADACONA 05 Aug 1940 as an OS, RCNVR
* Discharged 14 Nov 1940 - Transferred to the RCN
HMCS STADACONA - Drafted to STADACONA 15 No 1940 as an O/Sig, RCN
* Rated Sig 02 Mar 1941
HMCS NIOBE - Drafted to NIOBE 10 Apr 1941 as a Sig, RCN
HMCS SPIKENARD - Drafted to SPIKENARD 05 Jun 1941 as a Sig, RCN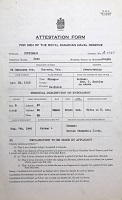 Documents from the Service File of Kenneth Dearlove
---
Second World War Casualty Index