They made the Ultimate Sacrifice
Daniel Heron Donnet

Able Seaman V22305, RCNVR

Born: 24 Apr 1941, Bannockburn, Stirling, Scotland

Died: 10 Feb 1942 at sea

Book of Remembrance
DONNET, Daniel Heron, AB, V22305, RCNVR, MPK - 10 Feb 1942, HMCS SPIKENARD - Born 24 Apr 1911 son of Thomas and Mary Donnet, Toronto, ON.
AB Donnet died when his ship, HMCS SPIKENARD, was torpedoed and sunk by U-136, about 465 nautical miles west of Malin Head, Ireland while escorting convoy SC-67. Of her crew of 65, there were only 8 survivors.
Able Seaman Daniel Heron Donnet was a native of Scotland, Able Seaman Donnet, age 30, is a member of a family which has contributed many men to the armed forces of the empire. His father, Thomas Donnet, Eaton Ave. grocer, served on H.M.S. Curlew, a light cruiser, in the last war and he has seven cousins in various services now. One, with the New Zealand army, is a war prisoner; three are serving with the South African army, one is in the British army, one is in the R.A.F. and still another is in the Royal Canadian navy. Before enlisting with the navy in October, 1940, Donnet worked in his father's shop. He came to Canada from Scotland with his parents, brother Robert and sister Isabel in 1929. He spent his last leave here in late October and since then has written regularly, his last letter reaching the family Feb. 09, 1942.
Ships served in:
TORONTO DIVISION RCNVR - Enlisted 18 Sep 1940. Commenced Active Service 17 No 1940 as an OS, RCNVR
HMCS STADACONA - Drafted to STADACONA 23 Apr 1941 as an OS, RCNVR
HMCS SPIKENARD - Drafted to SPIKENARD 05 Aug 1941 as an OS, RCNVR
* Rated A/AB 17 Nov 1941
* Rated AB 04 Dec 1941
(DD01) Documents from the Service File of Daniel Donnet
(DD02 - Excerpt form a Toronto Telegram article on Daniel Donnet - Feb 1942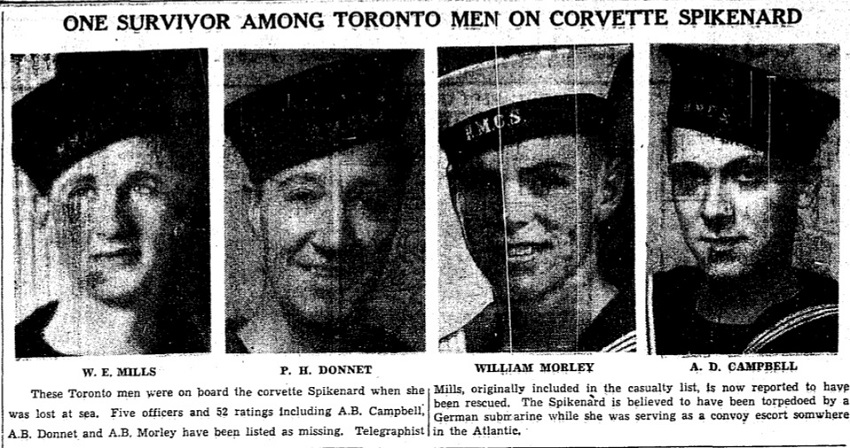 Article from the Toronto Star - Feb 1942
---
Second World War Casualty Index