They made the Ultimate Sacrifice
Charles Cavour Fawcett

Lieutenant, O-23140, RCNVR

Born: 29 Jan 1910

Died: 10 Feb 1942 at sea

Book of Remembrance
FAWCETT, Charles Cavour Lt, RCNVR, MPK - 10 Feb 1942, HMCS SPIKENARD - Husband of Ella Isabel Fawcett, Grantville, Nova Scotia.
Lt Fawcett died when his ship, HMCS SPIKENARD, was torpedoed and sunk by U-136, about 465 nautical miles west of Malin Head, Ireland while escorting convoy SC-67. Of her crew of 65, there were only 8 survivors.
With the onset of WWII Charles Fawcett joined the Royal Canadian Navy Volunteer Reserve (R.C.N.V.R.) in Montréal and was stationed there when he married Ella Grant in July 1940. Having been an ex-officer of the R.C.A.F. at Camp Borden he entered the Navy as a Lieutenant, initially serving as an instructor then transferring to Saint John, NB, in the spring of 1941 in the examining and signaling service. Later in 1941 he was stationed in Halifax and in January, 1942, transferred to St. John's, NL, to join the crew of corvette HMCS Spikenard. He was a native of Sackville, New Brunswick. He was a graduate of Rothesay Collegiate School and Mount Allison University. Before the war he was employed by Canadian Vickers, Ltd., for several years.
Ships served in:
MONTREAL DIVISION RCNVR - Enlisted 07 Jun 1940 as an A/Lt, RCNVR
HMCS STADACONA - Appointed to STADACONA 03 Sep 1940 - for travel time
HMCS STADACONA - Appointed to STADACONA 04 Sep 1940 as an L/Lt, RCNVR for Training and Disposal
NOIC SAINT JOHN - Appointed to NOIC SAINT JOHN 03 Feb 1941 as a Lt, RCNVR
HMCS SPIKENARD - Appointed to SPIKENARD 12 Jan 1942 as a Lt, RCNVR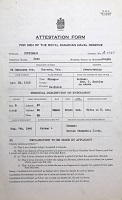 Documents from the Service File of Charles Fawcett

Biography from the Mount Allison University, 1935 yearbook, University Graduates, Science
---
Second World War Casualty Index