They made the Ultimate Sacrifice
Edmond James Fisher

Able Seaman, Seaman Torpedoman, V23034, RCNVR

Born: 12 Aug 1913, Memmingford, Quebec

Died: 10 Feb 1942 at sea

Book of Remembrance
FISHER, Edmond James, AB, V23034, RCNVR, MPK - 10 Feb 1942, HMCS SPIKENARD - Son of Richard and Elizabeth E. Fisher, Barrington, Quebec.
AB Fisher died when his ship, HMCS SPIKENARD, was torpedoed and sunk by U-136, about 465 nautical miles west of Malin Head, Ireland while escorting convoy SC-67. Of her crew of 65, there were only 8 survivors.
Able Seaman Edmund James Fisher youngest son of Mr. and Mrs. Richard B. Fisher and nephew of the late Hon. Martin B. Fisher, Seaman Fisher, among those listed as missing in the sinking of HMCS Spikenard last month, is considered lost. Born on August 12, 1913, he was educated at Hemmingford High School and for a time was employed in the Provincial Revenue Office, Montréal. His great-grandfather, James Fisher, was a United Empire Loyalist and was one of the first settlers in Hemmingford, and his uncle the late Honourable Martin B. Fisher, M.L.C., was one time Provincial Treasurer for the Province of Québec. He was unmarried and is survived by his father, Mr. Richard Fisher, a sister in Plattsburg and two brothers in Barrington survive.
Ships served in:
MONTREAL DIVISION RCNVR - Enlisted 20 Aug 1940. Commenced Active Service 17 Sep 1940 as an OS, RCNVR
HMCS STADACONA - Drafted to STADACONA 21 Nov 1940 as an OS, RCNVR
* Rates S.T. 17 Feb 1941
HMS RANPURA - Drafted to RANPURA 19 Feb 1941 as an OS, RCNVR
HMCS STADACONA - Drafted to STADACONA 19 Apr 1941 as an OS, RCNVR
HMCS SPIKENARD - Drafted to SPIKENARD 05 Aug 1941 as an OS, RCNVR
* Rated A/AB 17 Sep 1941
* Rated AB 06 Oct 1941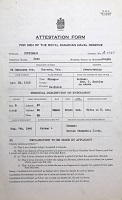 Documents from the Service File of Edmond Fisher
---
Second World War Casualty Index