They made the Ultimate Sacrifice
Patrick Bernard Griffin

Signalman, V5682, RCNVR

Born: 20 May 1916, Renfrew, Ontario

Died: 10 Feb 1942 at sea

Book of Remembrance
GRIFFIN, Patrick Bernard, Sig, V5682, RCNVR, MPK - 10 Feb 1942, HMCS SPIKENARD - Son of Richard William and Mary T. Griffin, of Verdun, Province of Quebec.
Sig Bernard died when his ship, HMCS SPIKENARD, was torpedoed and sunk by U-136, about 465 nautical miles west of Malin Head, Ireland while escorting convoy SC-67. Of her crew of 65, there were only 8 survivors.
Signalman Patrick Bernard Griffin, age 25 was the son of Mr. and Mrs. Richard William and Mary T. Griffin, Verdun, Quebec. He graduated from Loyola High School in 1935 and left a position with Perkins Tissue Mills to join the Navy soon after the war started. A brother Francis is also in the Navy. There are two other brothers and three sisters.
Ships served in:
MONTREAL DIVISION RCNVR - Enlisted 30 Jan 1940. Commenced Active Service 25 Jun 1940 as an OS, RCNVR
HMCS STADACONA - Drafted to STADACONA 05 Aug 1940 as an OS, RCNVR
* Rated O/Sig 19 Oct 1940
* Rated Sig 07 Dec 1940
HMCS SPIKENARD - Drafted to SPIKENARD 13 Dec 1940 as a Sig, RCNVR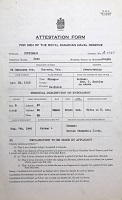 Documents from the Service File of Patrick Griffin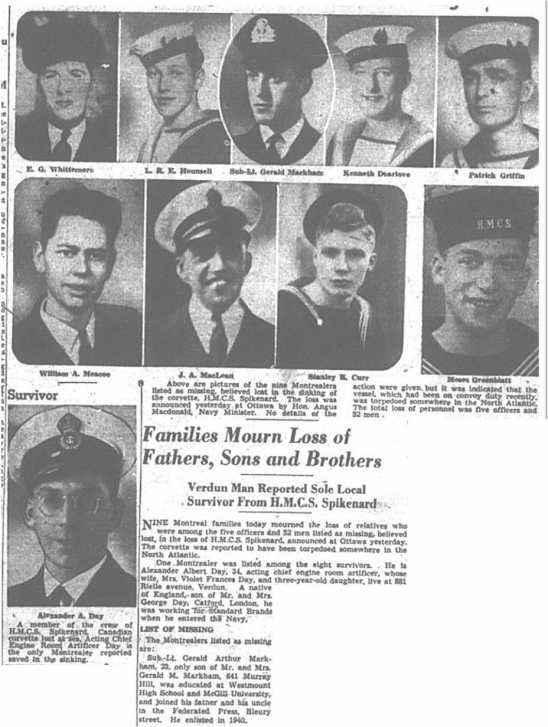 ---
Second World War Casualty Index