They made the Ultimate Sacrifice
Robert Alexander Hughes

Lieutenant, RCNVR

Born: 12 Mar 1912, Galt, Ontario

Died: 10 Feb 1942 at sea

Book of Remembrance
HUGHES, Robert Alexander, Lt, RCNVR, MPK - 10 Feb 1942, HMCS SPIKENARD - Son of Edwin Arthur and Isabel Hughes, of Dundas, Ontario; husband of Esther Hughes, of Dundas.
Lt Hughes died when his ship, HMCS SPIKENARD, was torpedoed and sunk by U-136, about 465 nautical miles west of Malin Head, Ireland while escorting convoy SC-67. Of her crew of 65, there were only 8 survivors.
Lieut. Robert A. Hughes, RCNVR, first officer of the Canadian corvette Spikenard, is missing and presumed lost in action, according to word received by his parents, Mr. and Mrs. E.A. Hughes of Dundas, Ont. He was 29, married, with an 18-months-old son, Robert, J. His wife lived at the Eastern Canadian port which wast the base of Lieut. Hughes' ship.
Robert's brother, David Hughes, died in the sinking of HMCS ESQUIMALT
Ships served in:
HAMILTON DIVISION RCNVR - Enlisted 21 Nov 1939 as an A/Lt, RCNVR
HMCS STADACONA - Appointed to STADACONA 30 Jul 1940, "For Barracks" as an A/Lt, RCNVR
HMCS ASSINIBOINE - Appointed to ASSINIBOINE 19 Sep 1940 as a A/Lt, RCNVR
HMCS STADACONA - Appointed to STADACONA 13 Jan 1941 Add'l for Disposal as a Lt, RCNVR
HMCS STADACONA - Appointed to STADACONA 14 Jan 1941 for RCN BARRACKS (Divisional Duties) as a Lt, RCNVR
HMCS STADACONA - Appointed to STADACONA 26 Jun 1941 Add'l for Training and Disposal as a Lt, RCNVR
HMCS SPIKENARD - Appointed to SPIKENARD 27 Jun 1941 as a Lt, RCNVR, XO
(RH01) Lt Hughes on the bridge of HMCS SPIKENARD (newspaper article)
(RH02) Article on the death of Lt Hughes
(RH03) Documents from the Service File of Robert Hughes
Article on Lt Robert Hughes and his brother L/SA David Hughes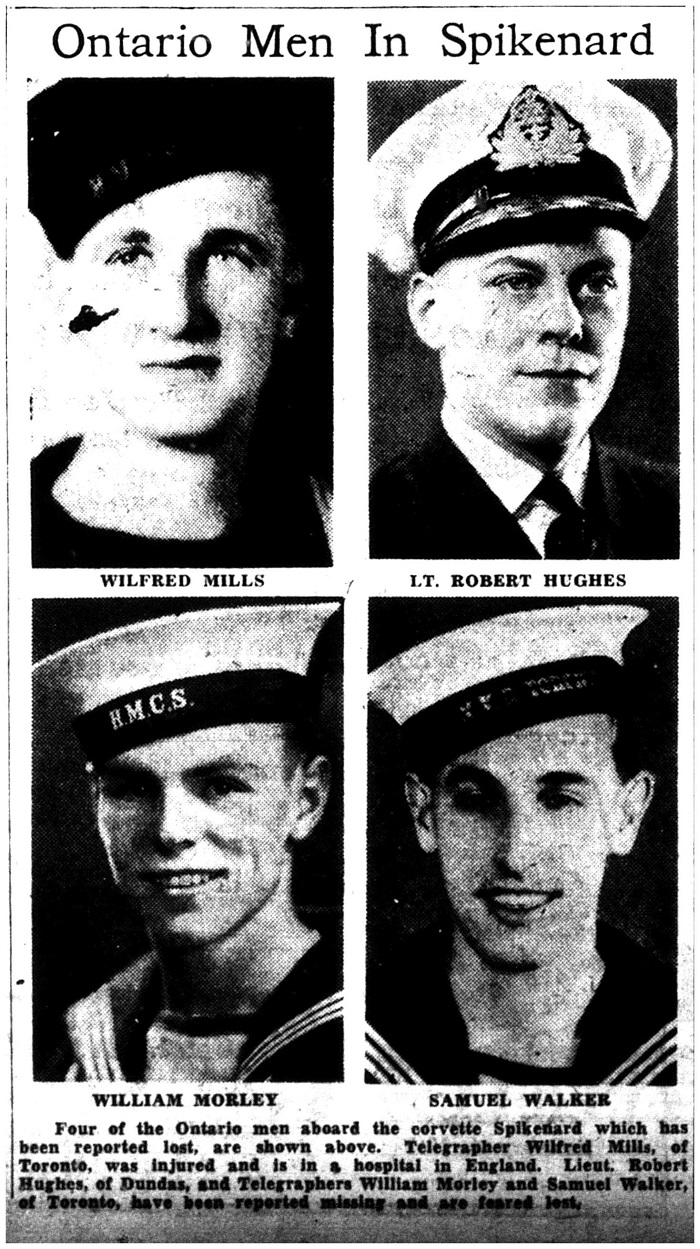 Article for the Toronto Telegram Feb 1942 on SPIKENARD casualties
---
Second World War Casualty Index